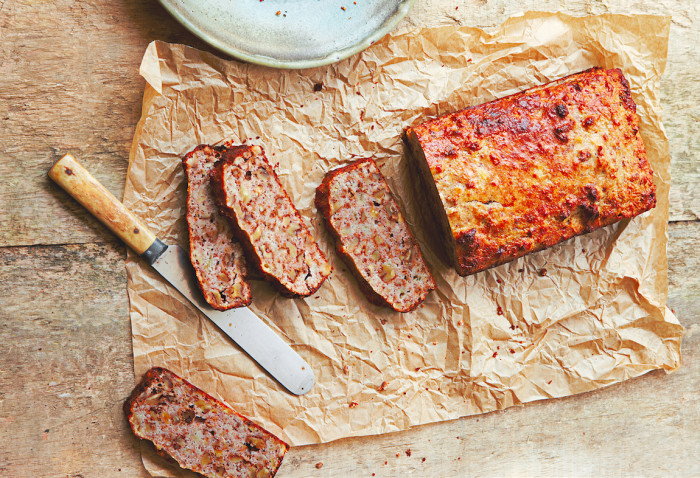 Kick-start your new year with a few essential Paleo recipes. Daniel Green, a.k.a. The Model Cook, has refined his caveman-friendly repertoire with his latest book The Paleo Diet. That's right, a really good Paleo cookbook has a killer banana bread recipe. You might never use flour in yours again. 
I first tried this fantastic banana bread when filming a show with the American cooking icon, Paula Deen. I have tried many versions to reduce the fat, and think this one is the winner.
Reprinted with permission from The Paleo Diet: Food Your Body Is Designed To Eat
Ingredients
oil, for greasing

2

ripe bananas

3

eggs

1

heaping cup

almond flour

1 1/2

tablespoons

raw honey

3/4

cup

walnuts, roughly chopped
Directions
Preheat the oven to 350°F and lightly oil an 8 x 4-1/2 inch nonstick loaf pan.
In a large bowl, mash the bananas thoroughly with a fork.
In a separate bowl, whisk together the eggs, then add the flour and honey.
Stir in the walnuts and mashed banana.
Pour the cake mixture into the pan and bake for 20-30 minutes, or until a thin skewer inserted into the center of the cake comes out clean.
Remove from the oven and cool in the pan for a few minutes, then turn out onto a wire rack to cool completely before serving.
Author's Tip: Walnuts are high in calories and fat, but like avocados, it is the healthy kind of fat, which keeps you feeling full. They're also a great source of fiber and protein.
Find more banana desserts on Food Republic: