Kulcha Shock: How To Make Indian Pizza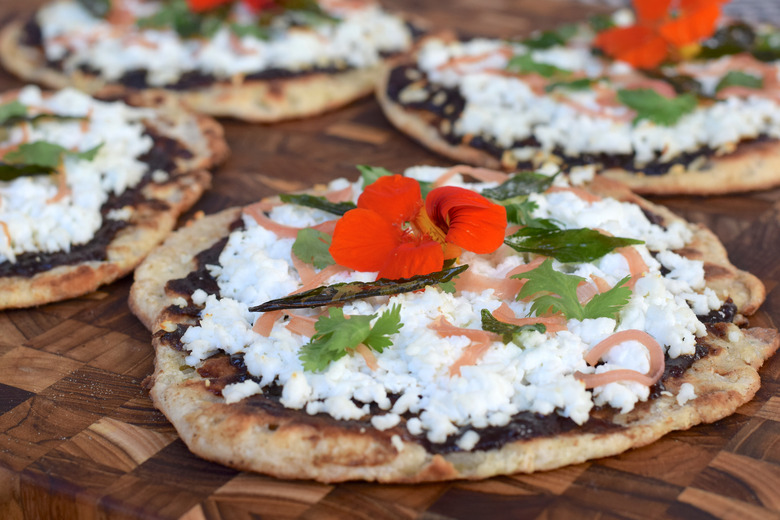 If you don't know what onion kulcha is, you're missing out, and it would be my pleasure to introduce you: Kulcha is a type of Indian/Pakistani flatbread, and the onion version is rolled out with chopped onions stuffed in the middle. They're usually cooked in a clay oven until golden brown. They're a little crispy, a lotta chewy and packed with delicious sweet and slightly charred onion flavor. You can eat them with curry or just slathered in butter/ghee, but bottom line is they're delicious.
Recently, I was craving some onion kulcha, but also had just an insane amount of cheese from a kitchen project I had been working on, so I picked up a pile of kulchas with some tamarind chutney, brought them home, melted some mozzarella on top, and had what at the time felt like the meal of a lifetime. My taste buds told my brain, "These things should go together more often." And thus, the Indian Pizza was born.
Now, I'm lucky enough to live in an area of Manhattan where I can get kulchas and tamarind chutney on demand during normal business hours. You, however, might not be so lucky. So we're making our own kulchas and tamarind chutney for our pizzas. Like any bread-making, making kulchas takes a little bit of time and work, but when you get it right, the end result is totally worth it.
Kulcha Shock: How To Make Indian Pizza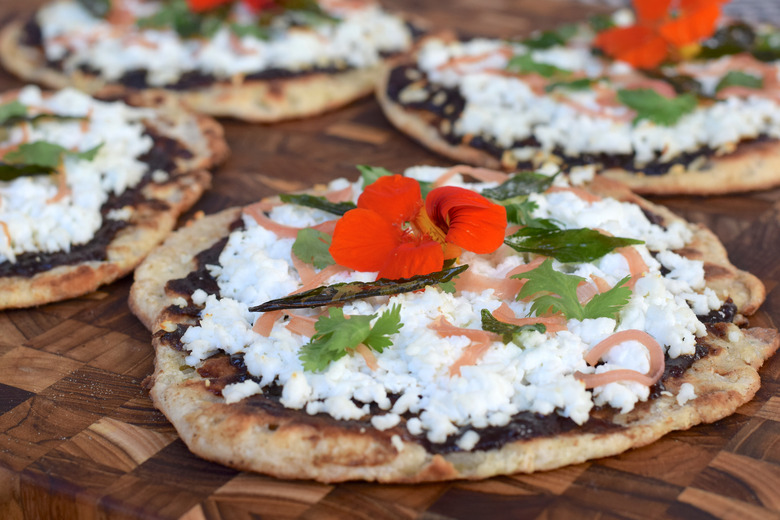 Ingredients
3 cups all-purpose flour
1 1/2 cups yogurt (not the Greek kind, the normal thinner kind)
1 tablespoon ghee
1 teaspoon sugar
3 teaspoons salt
1/2 teaspoon baking powder
1/2 teaspoon baking soda
1 packet instant yeast (not active dry yeast)
1 medium sweet onion
6 garlic scapes or 2 cloves garlic
2 dried bird's eye chilies
1/4 cup fresh oregano
1 teaspoon cumin
1/2 teaspoon ground ginger
3 tablespoons ghee
3 tablespoons tamarind concentrate
2 cups broth of your choice
1 cup jaggery or dark brown sugar
1/2 teaspoon salt
Roux made with 1 tablespoon ghee and 2 tablespoons flour
1 pound paneer
1/2 pound mozzarella
pickled onions
curry leaves
3 tablespoons ghee
1/4 cup ghee
6 nasturtium blossoms (optional)
Directions
Mix all kulcha ingredients except onions, and knead well into a cohesive dough, about 10 minutes of kneading. Stand mixers work great for this.
If the dough is cracking, add a little water. If after kneading the full time it still feels really sticky, add a little more flour.
Let the dough rest and rise about 4 hours.
While your dough is rising, you can make the chutney.
Blend the garlic scapes, bird's eye chilies, and oregano in a food processor.
Add cumin and ground ginger to your mix.
Heat a saucepan on medium high, and add 3 tablespoons ghee.
Fry the blended mix for about 3-4 minutes.
Add the tamarind concentrate, broth, jaggery and salt, and mix well.
Cook down for about 20 minutes. At the 15-minute mark, heat a separate small pan on medium-high, and add 1 tablespoon ghee.
Add 2 tablespoons flour to the ghee in the small pan, mix well with a whisk, and cook until starting to brown, just a couple minutes.
Add the roux you just made (ghee and flour) to the sauce, and incorporate.
Cook additional 5-10 minutes, or until nice and viscous. Remove from heat and set aside.
Heat 3 tablespoons ghee again over medium-high heat. Drop in curry leaves a few at a time, and fry for about 30 seconds. Be careful, the leaves tend to pop a little bit, so drop them into the ghee and step away!
Set on paper towels, then set aside for later.
Heat oven with pizza stone (max oven temp).
Portion your kulcha dough into 4-6 pieces.
Roll the dough out into discs.
Place 1/4 cup chopped onions into the middle, and wrap edges up over the onions to make a bundle.
Roll each onion bundle out into a disc about 10-12 inches in diameter (needs to fit into your cast-iron skillet. If your first one is too big or too small, you know you need to go back and reportion your dough.
Heat a cast-iron skillet over high heat, and add about 1/4-1/2 teaspoon ghee. Cook the kulcha on the first side until browned, about 3-4 minutes.
Add another 1/4-1/2 teaspoon ghee to the top, flip, and cook until brown, another 3-4 minutes.
Repeat until you've cooked all the kulchas.
Top each kulcha with tamarind chutney cheese blend (mix the mozzarella and paneer) and pickled onions.
Put on the pizza stone and cook until cheese is melted, about 5 minutes.
Sprinkle with sea salt, then top with fired curry leaves and nasturtium blossoms.