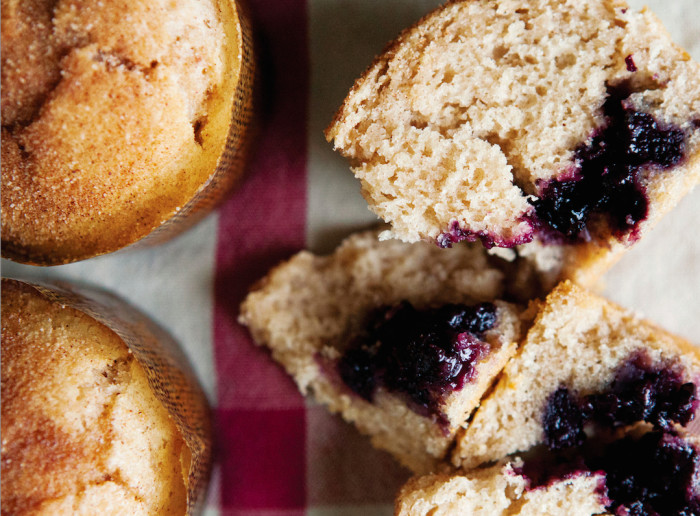 If you're never been to the Ovenly bakery in Greenpoint, Brooklyn, put it on your culinary bucket list and prepare for pastry nirvana. The award-winning duo of Erin Patinkin and Agatha Kulaga are unbeatable at the baking game, so we picked up a copy of their brand-new cookbook, very simply titled Ovenly.
When we were craving doughnuts but making muffins, we realized that the in-between was a cinnamon-sugar batter filled with our homemade blueberry jam. A doughnut, but a muffin, too!
Ingredients
softened unsalted butter or nonstick cooking spray or 12 baking cups, for greasing or lining the muffin tin

2

cups

all purpose flour

1 1/2

teaspoons

baking powder

1

teaspoon

ground nutmeg

1

teaspoon

ground cinnamon

1/2

teaspoon

salt

3/4

cup

sugar

1/4

cup

canola oil

1

large

egg, at room temperature

3/4

cup

whole milk

1/4

cup plus 2 tablespoons

jam of your choice, for filling

1/4

cup (4 tablespoons)

unsalted butter, for brushing

1/3

cup

sugar

1

tablespoon

ground cinnamon
Directions
Preheat the oven to 350°F.
Grease the wells of a 12-cup muffin tin with softened butter or nonstick cooking spray, or use baking cups.
In a medium bowl, whisk together the flour, baking powder, spices and salt. Set aside.
In a large bowl, whisk together the sugar, canola oil and egg.
Add the whole milk and whisk until smooth.
Add the flour mixture to the egg mixture and stir with a spatula until just combined.
Using a scoop or a spoon, fill each muffin tin well with 2 tablespoons of batter (you can eyeball it). Spoon 1 1/2 teaspoons jam onto the very center of the batter (it should not touch the sides of the muffin tin well), and then top with another 2 tablespoons of batter.
Repeat until all the wells have been filled.
Bake for 22 to 24 minutes, or until a toothpick inserted in the center of a few muffins comes out clean.
Five minutes before the muffins are done baking, in a small saucepan over low heat or in a small, microwave-safe bowl in a microwave oven, melt the butter and set aside to cool.
In a small bowl, combine the sugar and cinnamon. Set aside.
Remove the muffins from the oven and let cool for 5 minutes.
Dip the top of each warm muffin into the melted butter, and then lightly dip it into the cinnamon-sugar topping, coating each muffin evenly.
Let cool and serve.
Find more muffin recipes on Food Republic: