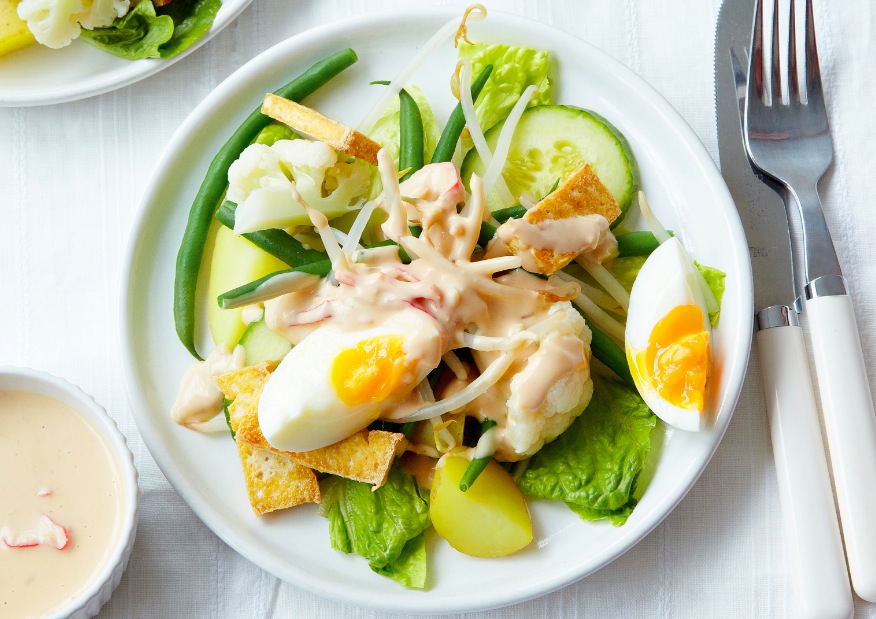 Extend spring cleaning past the closet and do something good for your body with help from culinary authority Jenny Chandler. Her latest book, The Better Bean Cookbook, extols the virtues of vegetarian, protein-packed legumes and offers a world of ways to prepare them. Boost your salad with a peanut-based dressing and you'll never go back to "lite Italian."
A vibrant, fresh and filling salad that I virtually lived on while backpacking around Indonesia and Malaysia many moons ago. Any combination of cabbage, bok choy, spring greens or carrot can be added to the mix. But where are the beans? The bean sprouts, tofu (soy bean curd) and even the peanuts are actually legumes. It goes to show that legumes offer so much more than their hearty image suggests.
For convenience, I happily use peanut butter to make the sauce, but if you're a purist you could roast and grind some peanuts yourself.
Ingredients
Peanut sauce
2

tablespoons

vegetable oil

1

ounce

shallots, finely diced

2

garlic cloves, finely chopped

2-3

fresh red chilies, finely chopped

5

heaped tablespoons

unsweetened, organic peanut butter or 5 tablespoons ground, roasted (but not salted) peanuts

1 3/4

cups

canned coconut milk or water

juice of

1/2-1 lime or lemon or tamarind paste
Salad
9

ounces

new potatoes, quartered or halved

1

teaspoon

ground turmeric

salt

3

eggs, boiled

1/2

small cauliflower, divided into florets

3 1/2

ounces

green beans

3 1/2

ounces

bean sprouts

1/2

cucumber, sliced thickly

1/2

cos or romaine lettuce, sliced

3 1/2

ounces

tofu, sliced into fingers and well drained (optional)
Garnish
2

tablespoons

roughly chopped cilantro leaves

large handful of

fish crackers
Directions
For the sauce:
Heat the oil over a medium heat and cook the shallots until soft.
Throw in the garlic, chilis and ginger, and cook for a minute or two. Add the soy sauce, sugar, peanut butter or ground peanuts, and stir around for a moment.
Now add the coconut milk (which I strongly recommend) or water to the sauce and bring it to the boil, then simmer for about 15 minutes to thicken.
Remove from the heat and add your citrus juice or tamarind. Taste. Add more soy, sugar, sour juice and chili until you have a really fresh and feisty sauce. Set aside.
For the salad:
Boil the salad potatoes with the turmeric and a pinch of salt until tender. Drain.
Boil the eggs for 7 minutes and then plunge into cold water and shell.
Steam or blanch the cauliflower (about 5 minutes), the beans (3 minutes) and the bean sprouts (1–2 minutes) until just tender. Refresh in cold water and drain.
Brush a frying pan with vegetable oil and cook the tofu until golden on all sides.
Arrange the vegetables and tofu along with the cucumber and lettuce on individual plates. Quarter and add the eggs.
For assembly:
Warm the peanut sauce over a low heat, adding a little water if it seems very thick. Tip over the assembled vegetables. Garnish with cilantro leaves and serve with crisp fish crackers.
Try out these vegetarian salad recipes on Food Republic: