How To Make Lee Anne Wong's Loco Moco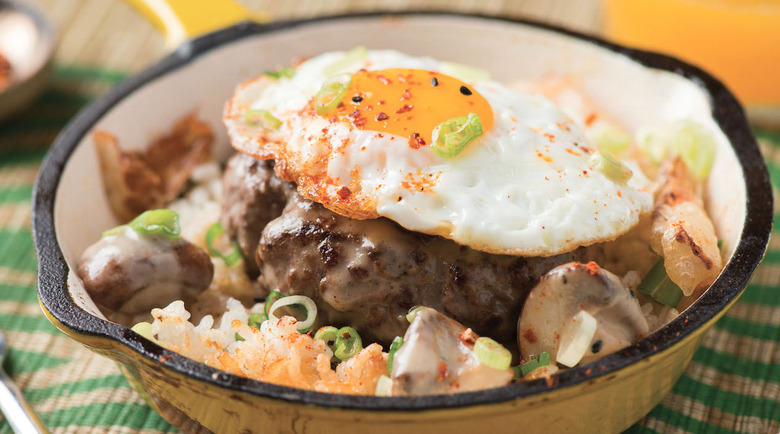 We may receive a commission on purchases made from links.
Longtime FR contributor Adeena Sussman has a new cookbook out, and when she launches a book, we go nuts. Cook your way through America's Best Breakfasts and make sure you stop in Honolulu for this signature dish.
At her island-cool Honolulu restaurant, chef Lee Anne Wong is celebrating the cuisine of her adopted state with dishes that honor Hawaiian traditions — but with a twist. According to Wong, the first loco moco originated on the Big Island of Hawaii in 1949, gaining favor with locals as a rib-sticking, inexpensive staple. In Wong's signature "Koko Moco," a highly seasoned, grass-fed beef patty rests on a crunchy-crusted skillet of rice; her house-made, umami-rific mushroom gravy is a vegetarian wonder.
Cook's Note: Wong's recipe calls for several ingredients common in Asian kitchens and increasingly easy to find. Maggi Seasoning is a dark, salty, deeply flavorful liquid proudly bolstered with MSG and prized for its massive umami punch. If you can't find it, use liquid Kitchen Bouquet instead. Togarashi is a catchall Japanese term for all kinds of dried hot peppers. It comes pure, or in a blend with other ingredients often referred to as nanami or schichimi togarashi.Reprinted with permission from America's Best Breakfasts
How To Make Lee Anne Wong's Loco Moco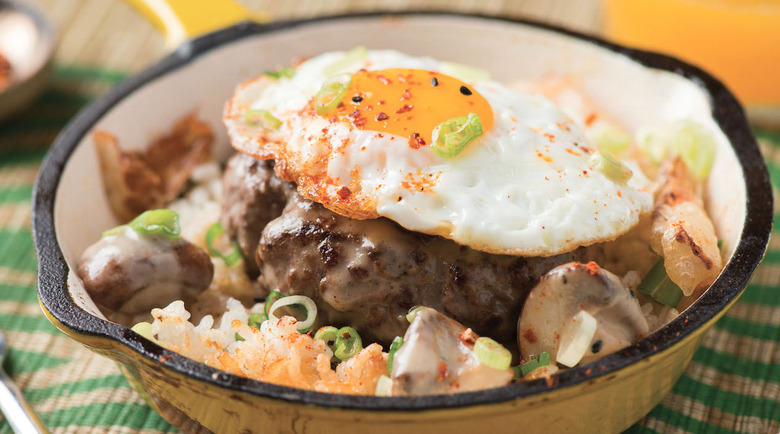 Ingredients
1 tablespoon soy sauce
1 tablespoon worcestershire sauce
1/2 teaspoon ground black pepper
1/2 teaspoon salt
1 1/2 pounds grass-fed ground beef
1 cup vegetable oil
12 large garlic cloves
4 cups cooked white sticky rice
4 large eggs
2 2/3 cups mushroom gravy (see below)
1 scallion
Togarashi
Toasted white or black sesame seeds
1 cup dried shiitake mushroom caps
6 tablespoons butter
1 cup finely minced yellow onion
1 tablespoon minced garlic
2/3 cup all-purpose flour
3 tablespoons Maggi Seasoning (see Cook's Note)
3 tablespoons mushroom soy sauce
1/2 tablespoon sugar
1 teaspoon freshly ground black pepper
3 cups cremini mushrooms
1 tablespoon dried sage, or 3 tablespoons fresh sage
1 cup heavy cream
3 tablespoons garlic oil for sautéing
kosher salt
Directions
:::gravy:::
Remove the rehydrated shiitake mushrooms from the water, squeeze out the excess liquid, and reserve the mushroom water. Slice the rehydrated shiitakes into 1⁄4-inch-thick slices and set aside.
In a medium saucepan, melt the butter over medium-high heat and cook the onions, stirring, until they begin to soften, 5 minutes. Add the garlic and cook for 1 minute more. Sprinkle the flour over the mixture and stir well until incorporated (it will become thick like a dough). Slowly add in the mushroom soaking liquid, stirring out any lumps with a whisk until all of the liquid has been added. Continue to whisk and cook over medium heat for 3 minutes. Stir in the Maggi Seasoning, mushroom soy sauce, sugar, and black pepper.
In a small saucepan, bring the cremini stems, sage, and cream to a simmer and cook until the stems are tender, 5 minutes. Puree the cream and mushroom mixture in a blender until smooth, making sure to allow steam to escape through the lid. Add the puree to the mushroom gravy pot. Bring the mushroom gravy to a boil, whisking until smooth. Transfer the gravy to the blender and puree, being careful to fill the blender pitcher only halfway and allowing steam to escape through the lid. Return the finished gravy to a clean pot.
In a large skillet, heat the garlic oil over high heat and add the quartered mushrooms; season with salt and pepper. Cook the mushrooms for 2 to 3 minutes, stirring often. Add the sliced shiitakes to the pan and cook until all of the mushrooms are cooked and tender and have released their water, 3 to 4 minutes more. Add the cooked mushrooms to the mushroom gravy. Keep warm or refrigerate until needed (extra gravy will keep refrigerated, for 3 to 4 days).
:::koko moco:::
Make the beef patties: In a small bowl, whisk together the soy sauce, Worchestershire, salt and black pepper. Using your hands, massage the mixture into the ground beef until well mixed, being careful to not overwork the meat. Form the beef into four 6-ounce patties, about 4 inches in diameter and 1⁄2 inch thick. Refrigerate, covered, until needed.
Make the garlic oil: In a small saucepan, simmer the oil and smashed garlic cloves over low heat until the garlic begins to turn golden and the oil is fragrant, 20 to 30 minutes; cool to room temperature and remove the garlic cloves (save the cloves for another purpose if desired).
Make and assemble the dish: Heat 4 individual 6-inch skillets on high heat until they begin to lightly smoke (or you can use a large nonstick pan and cut the rice in quarters once finished). Add a tablespoon of garlic oil to each of the skillets (or 1⁄4 cup oil to a large skillet, if using) and press one cup of rice into the bottom of each skillet (or all 4 cups if using a large skillet). Reduce the heat to medium-high and cook until lightly golden, 5 to 6 minutes. Add 1⁄4 teaspoon of the minced garlic on the top of the rice and gently stir in; season with salt.
Meanwhile, preheat a grill or grill pan over medium heat. Season the beef patties with salt and pepper and grill the beef patties until medium rare, 3 to 4 minutes per side. While the patties are grilling, in a medium nonstick skillet, heat 1 tablespoon garlic oil over medium-high heat. Fry the eggs two at a time, sunny-side up, and season with salt and pepper.
Place a cooked patty on top of each skillet, and ladle 2⁄3 cup gravy on top of each burger. Top with a fried egg and garnish with the sliced scallion, togarashi, salt, and toasted sesame seeds. Serve immediately.