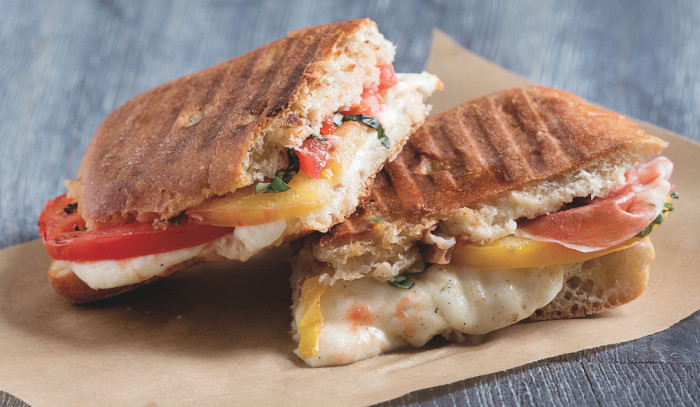 Food writer and chef Anna Watson Carl's book, named after her blog, the Yellow Table, is a dinner party host's best friend. Whether it's an informal gathering of friends or a full-on event, boost your confidence with expert tips and spectacular recipes that are sure to help you pull it off like a pro. What to do with all those heirloom tomatoes? Well, mozzarella is involved.
You kind of can't go wrong with any combination of tomatoes, mozzarella, prosciutto, and basil — especially when it's in panini form. Feel free to use a large cast-iron skillet or nonstick griddle.
Ingredients
1

large loaf

fresh ciabatta bread

2

tablespoons

extra-virgin olive oil, divided

8

ounces

fresh buffalo or cow's milk mozzarella, thinly sliced

4

thin slices

prosciutto

1/3

cup

torn fresh basil leaves

Fine sea salt and freshly ground black pepper
Directions
For the panini
Preheat a panini press, nonstick griddle, or large cast-iron skillet. (For anything on the stovetop, preheat the pan over medium-high heat.)

Slice the ciabatta bread in half horizontally and drizzle both sides with about 1 tablespoon olive oil. Layer the bottom half with mozzarella, tomatoes, prosciutto, and torn basil. Season to taste with salt and pepper. Place the other half of the bread on top of the sandwich and lightly brush both sides of bread with the remaining 1 tablespoon olive oil.

Press the sandwich in the panini press until the bread is golden and the cheese begins to melt, 3-4 minutes total.

If you use a nonstick griddle or cast-iron skillet, place another pan on top of the sandwiches while they're cooking to give them a nice crispy exterior, and be sure to flip them over midway through cooking.

Cut into 4 sandwiches and eat while warm.