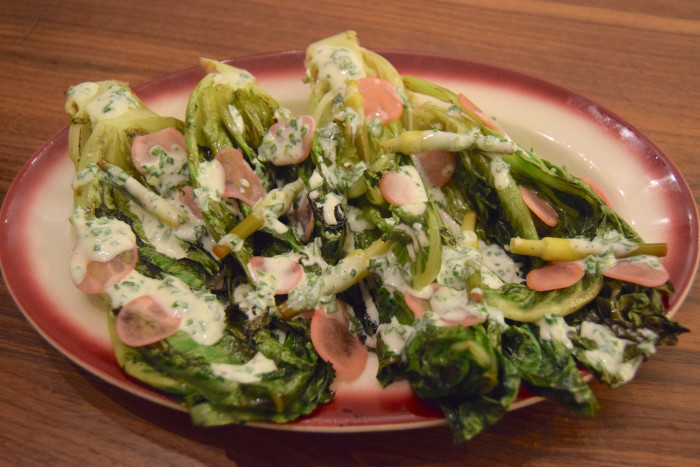 When I picked up my second CSA of the summer and saw that there were 4 heads of lettuce included, I knew I was in for a lot of salad. But I also knew I didn't have to have the same boring salads you see everywhere. Since two of the heads were frisee, I made classic frisee salads for my girlfriend and myself (a favorite of hers: frisee with crispy lardons, a poached egg, and a nice tart vinaigrette). But for the other two heads (one green leaf and one red leaf), I decided to incorporate one of my favorite summer pastimes: grilling. That's right, you're going to grill the lettuce. Sounds crazy, maybe, but it's not. It's just delicious. You'll be surprised at how satisfying this salad is.
I added some pickled vegetables (feel free to substitute, depending on what you've got), and finished it off with an amazing buttermilk-herb dressing. You'll have enough dressing left over to keep dunking the vegetables you didn't pickle.
Ingredients
2

heads

lettuce (green leaf, red leaf, romaine, frisee, doesn't really matter)

1/4

cup

sliced pickled radish

8

pickled garlic-scape tops (or other pickled vegetable of your choice)

2

tablespoons

olive oil
Dressing
3/4

cup

buttermilk

3/4

cup

sour cream

2

tablespoons

chardonnay (or other white wine) vinegar

1/3

cup

parsley, finely chopped

1/3

cup

chives, finely chopped

1

tablespoon

garlic scapes, sliced

2

tablespoons

fresh oregano, chopped

2

teaspoons

salt

1

teaspoon

black pepper
Directions
For the salad
Heat a grill to high heat.

Split lettuce heads in half; try to do it in a way that keeps as many leaves on each side as you can.

Brush the split lettuce heads with olive oil and grill 2-3 minutes on each side.

Whisk dressing ingredients together in a medium bowl.

Top with pickled radishes and garlic scapes, then top with dressing (go easy on the dressing — you'll likely use about half of it, and the rest is good for a week after that).