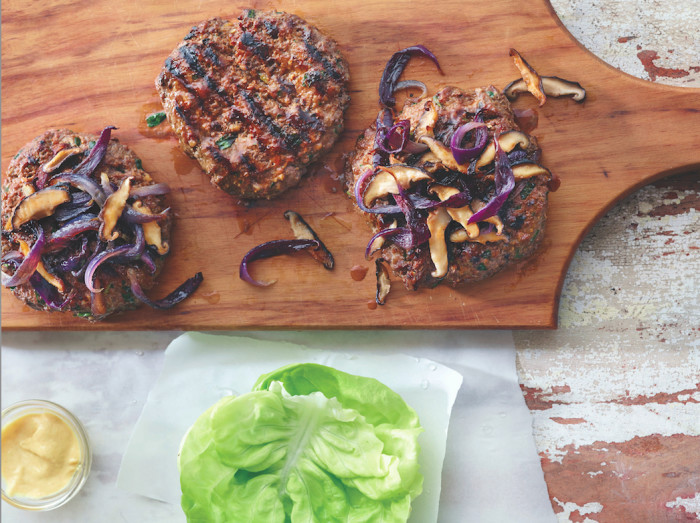 Feel like a pick-me-up? For your general disposition, that is. Chef and wellness expert Rebecca Katz, along with writer Mat Edelson, penned The Healthy Mind Cookbook. It's full of recipes for dishes that are packed with flavor and extra nutrition where you need it most, and best of all, they look stunning on the plate, like this healthy burger overflowing with beautiful mushrooms.
I know it says bison here, but that lean meat (bison = buffalo) is really just a great excuse to hold a mushroom-a-palooza while getting a load of brain-boosting B12. First, we mix the bison with chopped cremini mushrooms. Then a few crispy shiitakes that have been tossed with smoked paprika and olive oil go on top. In between? Caramelized onions (mmmmmmm). Put it all on a lily pad of butter lettuce and it tastes like a tower of umami! The mushrooms also provide a bit of hard-to-find vitamin D, which University of Kentucky researchers say plays an important role in reducing oxidative damage in the brain that impacts learning.
Ingredients
Topping
8

ounces

shiitake mushrooms, stems removed and thinly sliced

4

tablespoons

extra-virgin olive oil

1/4

teaspoon

sea salt

1/2

large red onion, sliced
Burgers
1

pound

ground bison

3

ounces

cremini mushrooms, stemmed and finely processed in a food processor

3

tablespoons

parsley, coarsely chopped

1/2

teaspoon

freshly ground black pepper

2

skinless and boneless anchovies

Sea

salt

1

teaspoon

extra-virgin olive oil

1 1/2

tablespoons

garlic, minced

pinch

of red-pepper flakes

4

leaves

butter lettuce, washed and dried
Directions
To make the topping:
Preheat your oven to 375°F. Line a baking sheet with parchment.
Place the shiitake mushrooms in a bowl and drizzle with 2 tablespoons of the olive oil, salt, and paprika, tossing until evenly coated. Arrange the mushrooms in a single layer on the prepared sheet pan and roast until crisp and browned, about 20 minutes.
To caramelize the onions, heat the remaining 2 tablespoons of olive oil in a large skillet over medium-high heat. When the oil starts to shimmer, add the onion and a generous pinch of salt. Cook slowly, stirring occasionally, until the onion is caramelized and very soft, about 20 to 25 minutes. Remove from the pan.
Note: When it comes to caramelizing onions, patience is a virtue. During cooking, the onions slowly change appearance, turning from translucent to a deep golden brown as they release their yummy sugars. Keep in mind that onions will cook down to less than one-third their original value as they caramelize. You'll want to stir the onions, but resist the urge. The key is to cook them slow and low. After about 20 minutes, the onions should begin to wilt and take on a golden hue, and if you have the patience to let them go 10 minutes longer, they will take on a deeper color and become even sweeter. Caramelized onions hold well in the fridge and add a lot of flavor to other dishes, so make extra if you want.
To make the burgers:
Place the bison, cremini mushrooms, parsley, and black pepper in a large bowl.
Rinse the anchovies and, in a small bowl or mortar and pestle, mash them to a paste with 1/2 teaspoon of salt. Using the same skillet as the onions, heat the 1 teaspoon of oil over medium heat. Add the garlic and red-pepper flakes to the mashed anchovies, stirring to combine. Sauté for 1 minute, then transfer to the large bowl with the meat and mushroom mixture. Using your hands, gently mix until everything is well combined. Shape into 4 equal-size patties.
Heat a grill or grill pan to medium-high heat and lightly coat it with a neutral-flavored oil. Grill the patties, turning once, for 3 minutes per side.
Serve each patty on a lettuce leaf topped with some caramelized onion and crispy shiitake mushrooms.
Note: When you mix the bison with the other ingredients, use a light hand. If you overwork the meat, the burgers will be tough. Store the cooked patties, tightly wrapped in plastic wrap, in the refrigerator for up to 3 days, or uncooked patties, tightly wrapped, in the freezer for up to 1 month.
Try more bison with these recipes from Food Republic: