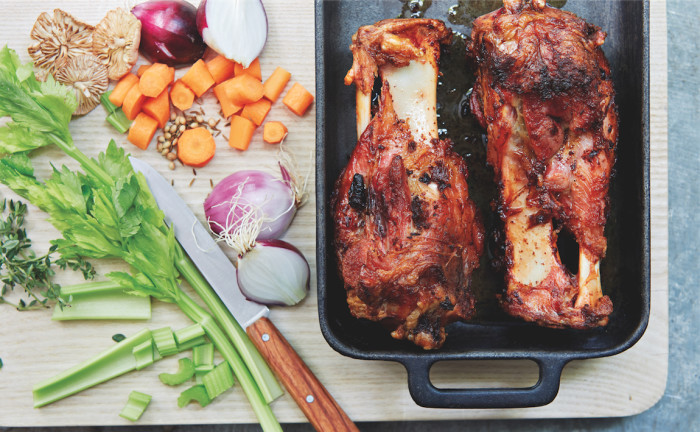 The founders of the Bare Bones Broth Company not only know how to name a broth company like nobody's business; they brew up a pot of hearty goodness that will cure what ails you and just launched a cookbook. This simple clear soup has never been trendier, and despite what you may have heard, it doesn't have to involve bones. Don't throw away that ham hock, incidentally. 

Not many would consider making a broth from a ham hock, and yet it is both delicious and an abundant source of marrow. You can buy ham hock bones from your butcher, who has cut away virtually all the ham-on-the-bone, and who will usually discard the bone altogether. Most butchers will just give you these. If you have ever cooked osso buco, with veal bones, you know how tasty the marrow is from these bones, and the ham hock broth is similar. I have been known to smear the marrow straight onto the best spelt or rye toast and eat it with simply a splash of lemon juice – delicious brain food, which you won't be able to buy in the store!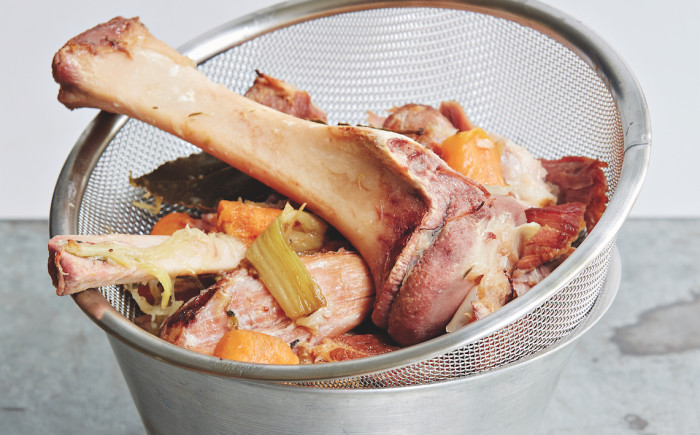 Reprinted with permission from The Bare Bones Broth Cookbook
Ingredients
2

medium ham hock bones with meat removed or a little meat left on them

8

cups

water

2

large red onions, roughly chopped

3

medium carrots, chopped

2

bay leaves

1

bunch

thyme or parsley (or both)

1

teaspoon

coriander or cumin seeds

10

black peppercorns

2

portobello mushrooms, sliced
Directions
For the broth
Preheat the oven to 190ºC/375ºF/gas mark 5. Spread the ham hock bones in a large roasting pan and transfer to the oven to cook for 45 minutes, allowing the fat to drain out of the bones and into the pan. Lower the oven temperature to 180ºC/350ºF/gas mark 4.

Transfer the bones to a heavy ovenproof casserole dish (Dutch oven), and pour over the water. Add the remaining ingredients, cover, and bring to a boil over a high heat. Once boiling, transfer to the oven and leave to cook, covered, for 4-5 hours.

Remove from the oven, allow to cool, then strain the stock through a double sieve (strainer) into a container. Store in the fridge overnight, then remove any fat from the top of stock before using. This can be kept in the fridge for up to 6 days, or frozen for up to 3 months.