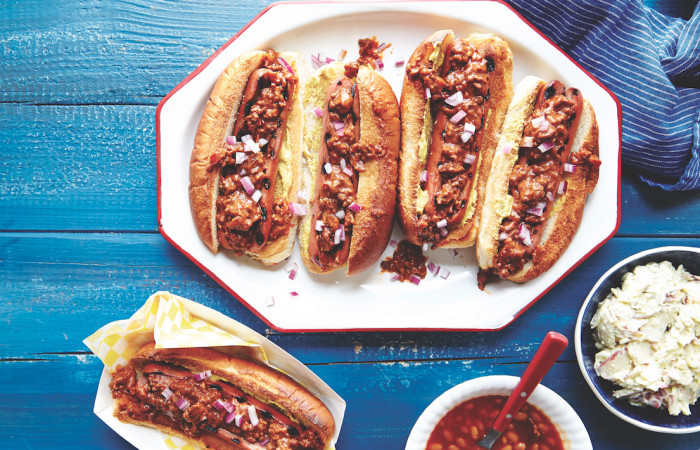 Food blogger Daina Falk (daughter of renowned sports agent David Falk) just published a cookbook of her favorite tailgating dishes. From rookie recipes to legendary snacks, entrees and desserts, The Hungry Fan's Game Day Cookbook has a winner for every sports fan out there.

Jeff Green is a fellow Marylander and such a great guy. He is one of my favorites of my dad's clients and also one of the first that was in college when I was. Jeff is a big food fan like I am, and when I asked him what his favorite sports food is, he quickly replied D.C.-style spicy half smokes served with potato salad and honey barbecue baked beans. (I think someone used to frequent the classic D.C. spot Ben's Chili Bowl.) Here you have Jeff's half smokes recipe. Per his advice, serve these with potato salad and my BBQ Baked Beans.

Reprinted with permission from The Hungry Fan's Game Day Cookbook
Ingredients
2

tablespoons

extra-virgin olive oil

4

cloves

garlic, minced

1/2

large white onion, diced

1

Fresno chili pepper, minced

1

pound

80/20 ground chuck beef

1

tablespoon

Yellow mustard

1

teaspoon

brown mustard seeds

1/2

teaspoon

ground cumin

1

teaspoon

sea salt

2

tablespoons

chili powder

1/2

teaspoon

cayenne pepper, or more for extra heat

2

tablespoons

tomato paste

3

tablespoons

apple cider vinegar

2

tablespoons

salted butter

1/4

cup

all-purpose flour

1 1/2

cups

chicken or beef broth

6

jumbo hot dogs

6

hot dog buns, lightly toasted

Hot mustard, optional

1

small red onion, diced
Directions
For the hot dogs
Heat the olive oil in a large skillet over medium-high. Add the garlic, onion, and chili pepper, and sauté until the onions start to become translucent, about 5 minutes. Lower the heat to medium, and stir in the ground beef, mustard, mustard seeds, cumin, salt, 1 tablespoon of the chili powder, and cayenne pepper. Mix well, and cook for about 12 minutes, using a spoon to break up the clumps of meat.

Stir in the tomato paste, and cook for 4 minutes. Add the vinegar, and deglaze the skillet, stirring well and scraping up any browned bits from the bottom of the skillet, another 4 minutes.

Melt the butter in a separate medium skillet over medium. Add the flour and the remaining 1 tablespoon chili powder, and stir well. Slowly pour in the broth, whisking continuously to remove any clumps. Continue to cook, reducing the liquid by a quarter while continuously whisking, about 4 minutes.

Add the flour mixture to the chili and mix well to combine. Cook for 5 minutes over medium, continuing to stir.

Preheat your grill. Slice the hot dogs lengthwise about three-quarters of the way through, and then grill them, cut sides down, for about 8 minutes. Spread mustard inside each bun, if desired. Place a hot dog in each, and top with a large scoop of chili. Sprinkle with some red onions.