Bake It Savory: Everything Bagel Rugelach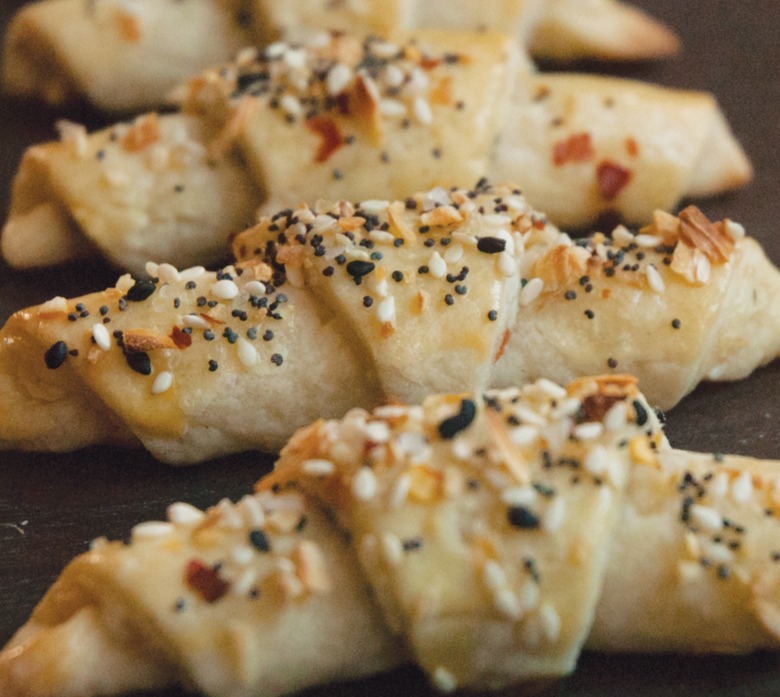 We may receive a commission on purchases made from links.
Step into a Jewish bakery and prepare to be overwhelmed with sweet, toasty smells and more variety than you may be prepared for. Thankfully blogger Shannon Sarna of The Nosher has a new book of recipes out that demystify the unfamiliar and bring the favorites to your own home kitchen. This everything bagel rugelach is a perfect example. 
I just adore these everything bagel rugelach. They are crunchy, delicate, and a little sweet —  the perfect treat for brunch or cocktails. If you like it spicy, make sure to add some crushed red pepper flakes to your everything bagel topping.
Bake It Savory: Everything Bagel Rugelach
Demystify the unfamiliar and bring the favorites to your own home kitchen. This everything bagel rugelach is a perfect way.
Servings
2
1/2 dozen pastries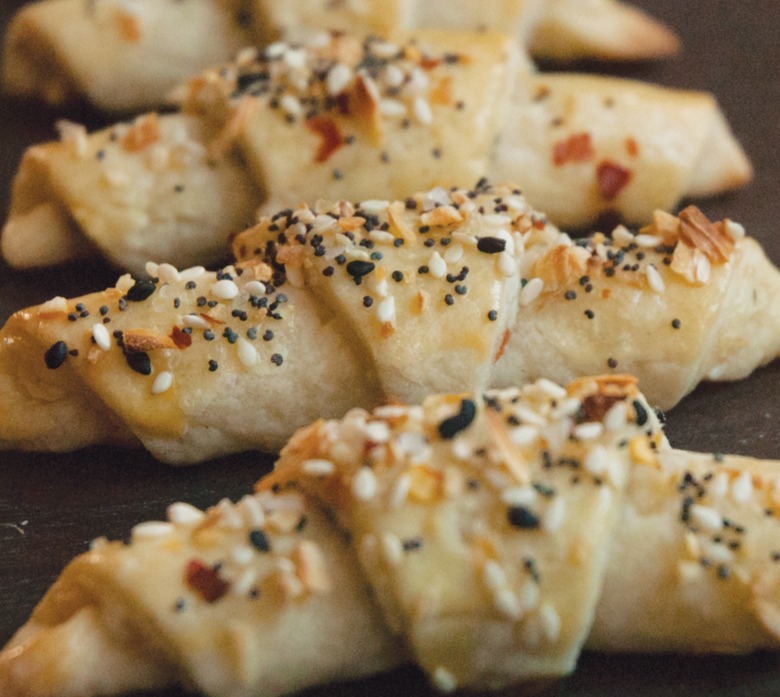 Ingredients
1 cup unsalted butter
20 ounces full-fat cream cheese
2 tablespoons sugar
1/4 teaspoon salt
2 cups unbleached all-purpose flour
1 tablespoon lemon zest
1 tablespoon fresh chopped dill
pinch sea salt
1 tablespoon Everything Bagel Topping plus additional 2-3 tablespoons, for topping
1 egg
2 tablespoons sesame seeds
2 tablespoons black sesame seeds
2 tablespoons poppy seeds
2 tablespoons dried garlic pieces
2 tablespoons dried onion pieces
1 tablespoon coarse sea salt
1 heaping teaspoon red pepper flakes (optional)
Directions
:::everything bagel topping:::
Add all ingredients to a small bowl and combine. Store in an airtight container for up to 2 to 3 months.
:::rugelach:::
In a stand mixer fitted with a paddle attachment, beat the butter and 8 ounces of the cream cheese until smooth. Scrape down sides of bowl. Add the sugar and salt and beat until combined. You can also do this by hand.
Add the flour and mix just until dough comes together. Divide the dough into four pieces. Wrap in plastic wrap and place in the fridge for 1 hour or up to 24 hours.
Preheat oven to 375°F.
To make the filling, combine the remaining 12 ounces cream cheese with lemon zest, dill, and sea salt.
Roll each piece of dough into a large circle. Using an 8- or 9-inch round, cut dough into perfect circles. I recommend using a pizza cutter for this task.
Spread each circle of dough with one- fourth of the cream cheese mixture in a thin layer, leaving ¼- inch border all around. Sprinkle each circle with ¾ teaspoon Everything Bagel Topping.
Using the pizza cutter, cut the dough into 8 even triangles. Starting at the longer end, roll up each triangle.
Place the point side down on a baking sheet lined with parchment paper or silicone baking mat.
Brush each rugelach with beaten egg and top with additional everything bagel topping.
Bake for 16 to 18 minutes, until golden. Allow to cool on wire rack.