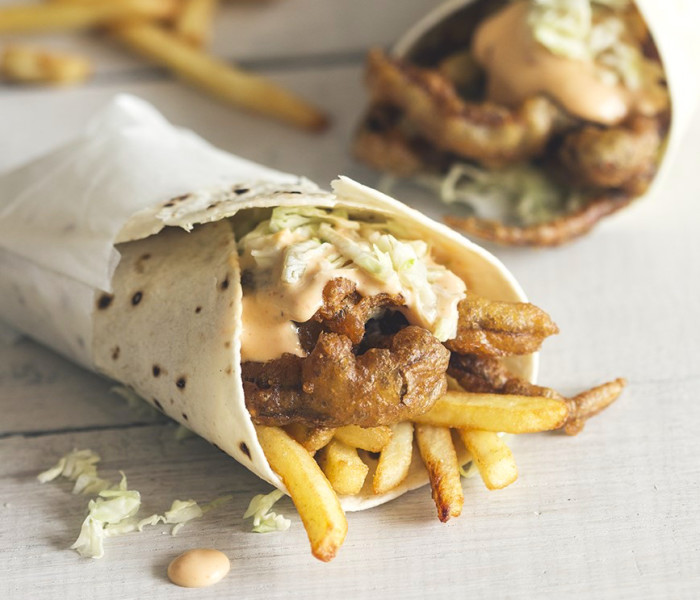 Australian chef and author Billy Law's new release, Man Food, is an ode to all things, well, man food. And real men make their "epic burgers" out of Wagyu beef (plus, Law was on Masterchef, what exactly's not to love there?). Pick up a copy and just wait 'til you see the sandwich section. Here's a deep-fried seasonal peek.   
Souvlaki — that popular Greek street food — is so versatile. It works with grilled meat, vegetables or seafood, wrapped inside pita bread with garnishes and sauces, so you can eat it on the go. This soft-shell crab version is inspired from the one I've tried at George Calombaris's restaurant in Melbourne.
Ingredients
4

soft-shell crabs

1

pound, 2 ounces

frozen French fries

oil, for deep frying

sea salt flakes

4

souvlaki breads (pita or gyros bread)
cabbage slaw
1

cup

caster superfine sugar

2

cups

white vinegar

1

teaspoon

salt

10 1/2

white cabbage, freshly shredded
Sriracha mayo
1/2

cup

mayonnaise

1

tablespoon

Sriracha chile sauce
batter
1 1/2

cups

all-purpose flour

1

teaspoon

baking soda

1

teaspoon

salt
Directions
For the slaw
Dissolve the sugar in the vinegar in a large bowl and add the salt. Add the cabbage to the pickling liquid, then top it up with water until all the cabbage is fully submerged. Cover with plastic wrap and refrigerate for at least 1 hour, or preferably overnight. When it's ready to use, drain and squeeze out all the liquid.
For the Sriracha mayo
Mix together the mayonnaise and Sriracha in a bowl, then cover and refrigerate until it's ready to be used.
For the batter
Mix the flour, baking soda and salt together in a bowl, then gradually whisk in 2 cups of water and keep whisking until smooth. The batter should have a thick pancake-mix consistency. Set aside and let it rest for 15 minutes.
For the crabs
To clean the crabs, pull the little flaps on the underside off and remove all of the guts inside. Using a pair of kitchen scissors, trim the head off to remove eyes and mouth, which can taste bitter. Pry one side of the soft-shell cover without removing it, then pull off the feathery gills underneath. Repeat this step on the other side. Rinse and pat dry, then cut the crabs in half.

Use a deep-fryer if you have one. If not, fill a large, deep saucepan with the oil to about a third full. Bring the oil temperature up to 355° F over a medium-high heat.

In batches, fry the French fries until crisp and golden, about 5 minutes. Remove and drain on paper towel. Sprinkle with sea-salt flakes while still hot.

Give the batter another quick whisk. In batches of 2-3 pieces of crab, dip them in the batter, then lower into the hot oil, deep-fry until crispy and golden brown, about 4-5 minutes. Drain on paper towel.

Meanwhile, heat a frying pan over low heat and warm up the bread, about1 minute on each side.

To serve, place a handful of fries on each bread, top with two halves of soft shell crab, then the slaw. Add a few dollops of Sriracha mayo, wrap it up and serve.