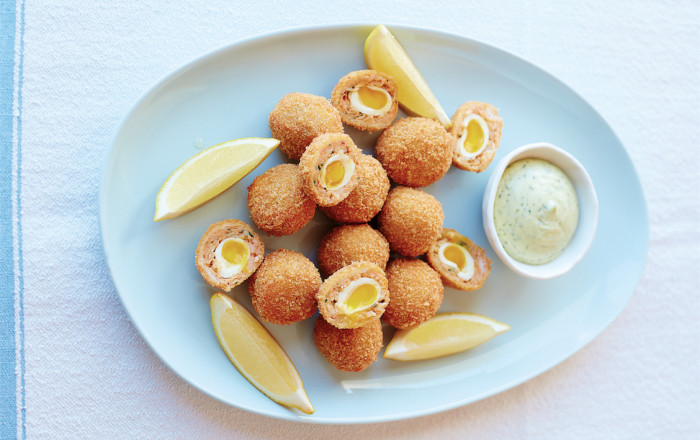 Chef Nathan Outlaw has a new collection of seafood recipes out, with a focus on budget and nature-friendly dishes the home cook will love making over and over again. From fresh salads and simple fish fillets to more complex entrées requiring a bit of technique, like these crab scotch quail eggs, there are tons of delicious things in Everyday Seafood for you.
Okay, so these little nibbles are not real Scotch eggs, but they are just as tasty in my opinion, and they work so well with the peppery watercress mayonnaise. If the idea of crab doesn't float your boat, we do a fabulous smoked fish version too—just replace the crab with smoked haddock and proceed in the same way.
Ingredients
Crab Mix
7

ounces

fresh raw cod fillet, diced

1/2

cup

brown crabmeat, strained

Heaping 1 1/4

cups

white crabmeat, picked

Finely grated zest of 1 lemon

2

tablespoons

chopped chives

sea salt and freshly ground black pepper
For the eggs
14

quail eggs (includes 2 extras in case of breakage)

3/4

cup

all-purpose flour, for coating

2

medium hen eggs, beaten

3

slices

day-old bread, crumbed in a blender

Sunflower oil for deep-frying
For the watercress mayonnaise
2

egg yolks

3/4

teaspoon

English mustard

1/4

cup

grated aged sharp Cheddar cheese

1 1/2

tablespoon

white wine vinegar

3

tablespoons

watercress, chopped

1 1/4

cups

sunflower oil
Directions
For the eggs
Put the cod fillet into a food processor with a good pinch of salt and blend for 30 seconds. Add the brown crabmeat, and blend for an additional 30 seconds. Scrape into a bowl, and add the white crabmeat, lemon zest, chives, and seasoning. Mix together well, cover, and place in the fridge.

Place the quail eggs in a pan, cover with cold water, and bring to a boil over high heat. Meanwhile, get ready a bowl of ice water. As soon as the water begins to boil, take the eggs out of the pan, and plunge them into the ice water. Let cool, then peel the eggs.

Set up three bowls: one with flour, one with beaten eggs and one with bread crumbs. Using clean hands, carefully mold the crab mixture around each quail egg and pass through the flour, then the egg and finally the bread crumbs to coat. Put the coated eggs aside, or in the fridge if you are cooking them later.

To make the mayonnaise, put the egg yolks into a blender or small food processor with the mustard, grated cheese, wine vinegar, and watercress. Process for 1 minute, and then, with the motor still running, slowly pour in the oil. Once it is fully emulsified, stop the machine and season the mayonnaise with salt to taste. Transfer to a bowl, cover, and refrigerate.

When ready to serve, heat the oil in a deep-fat fryer or other suitable deep, heavy pan to 325ºF. Deep-fry the Scotch eggs in the hot oil, in batches as necessary, for about 3 minutes until golden. Drain on paper towels, and season with a little salt.

Spoon the watercress mayonnaise into a bowl. Place the Scotch eggs on a warm platter with the bowl of mayonnaise and lemon wedges.