How To Make Swirly Cinnamon Honey Bun Cookies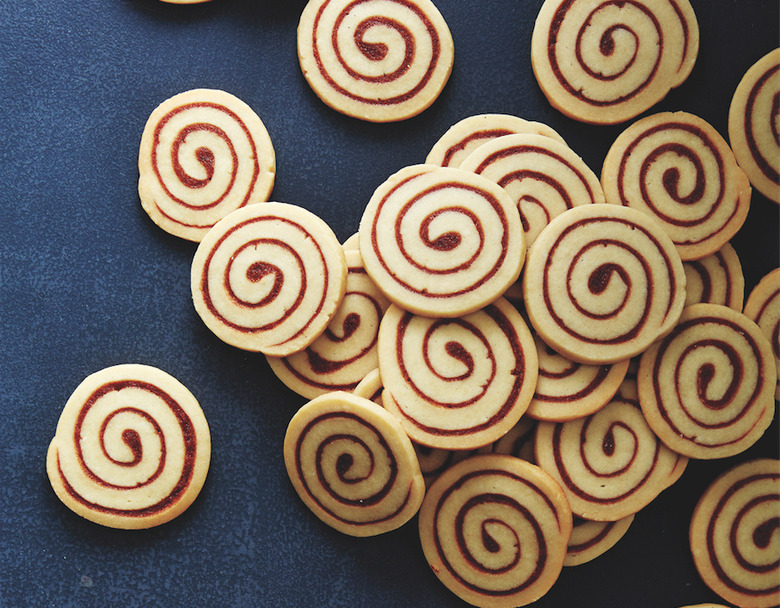 We may receive a commission on purchases made from links.
Pastry chef and blogger Irvin Lin has a new cookbook out that will have you reaching for the nearest sheet pan. Love to bake? Like elaborate projects? Grab a copy of Marbled, Swirled and Layered and get ready to impress some folks! Start with these wonderfully simple cinnamon honey bun cookies. 
I took these cookies to a holiday cookie swap years ago. The host, a fellow food blogger, let me know that she had invited a number of other food bloggers, which, in turn, made me feel the pressure to bring my A game. Not that food bloggers are judgmental, but you always want to present your best when faced with folks who write and make food for an Internet audience. Luckily these cookies more than did the trick and were snapped up quickly by everyone.
Make sure the butter for the cinnamon filling is truly at room temperature or even slightly warmer than that. It makes spreading the filling so much easier.
You can make and freeze this cookie dough for future baking. Once it's been frozen for an hour, place the log in a labeled zip-top plastic bag. Slice and bake cookies at your convenience. The dough should keep for up to 2 months in the freezer.
How To Make Swirly Cinnamon Honey Bun Cookies
Grab a copy of "Marbled, Swirled and Layered" and get ready to impress some folks! Start with these wonderfully simple cinnamon honey bun cookies.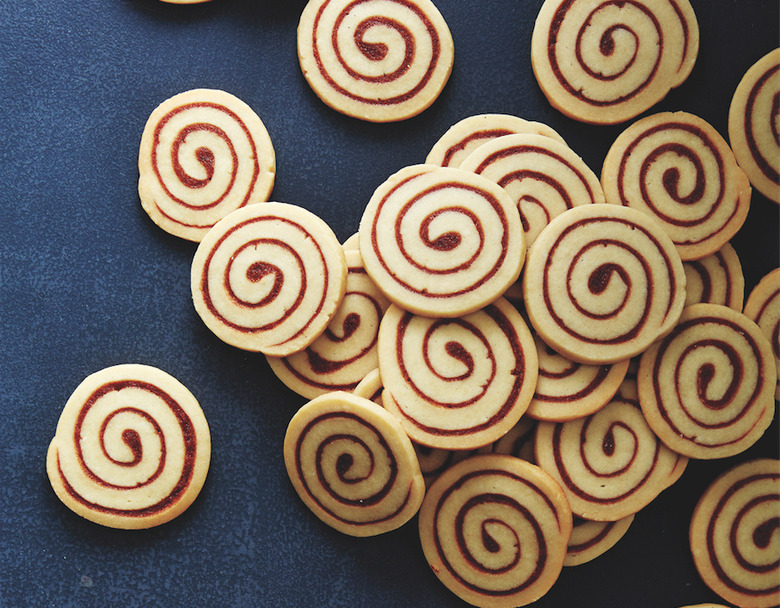 Ingredients
1 1/2 cups powdered sugar
1 cup unsalted butter
1/2 teaspoon kosher salt
1/2 teaspoon baking powder
2 teaspoons vanilla extract
1 large egg
2 1/2 cups all-purpose flour
6 tablespoons unsalted butter
1/4 cup packed dark brown sugar
3 tablespoons all-purpose flour
1 tablespoon honey
1 tablespoon ground cinnamon
1/2 teaspoon ground nutmeg
2 tablespoons honey
1 tablespoon buttermilk or whole milk
1 teaspoon vanilla extract
1/2 to 3/4 cup powdered sugar
Directions
:::cookie dough:::
Combine the powdered sugar, butter, salt, and baking powder in the bowl of a stand mixer fitted with the paddle attachment. Start mixing on low speed and slowly increase the speed to medium until the butter looks creamy and starts to cling to the sides of the bowl, about 2 minutes. Add the vanilla and beat on medium speed until incorporated. Add the egg and beat until incorporated. Add the flour and mix on low speed, then slowly increase to medium speed until the flour is incorporated and a dough forms. The dough will be soft.
Scrape the dough out onto a clean, floured surface and shape into a ball. Flatten into a circle and then square off the edges. Roll out the dough into a 13-by-14-inch rectangle with a long side facing you, occasionally adding more flour to the bottom and top of the dough so it doesn't stick.
:::cinnamon filling:::
Combine the butter, brown sugar, flour, honey, cinnamon, and nutmeg in the mixer bowl (no need to clean it). Beat together until the filling is uniform in color, fluffy, and light, about 2 minutes. Scrape the filling out onto the rolled-out dough and spread to cover the entire surface. You may need to use your fingers for this, as the filling will need to be spread thinly. Tightly roll up the dough, starting from the bottom edge. Wrap with plastic wrap and freeze for 1 hour. Preheat the oven to 350°F and line baking sheets with parchment paper or Silpats.
Remove the dough from the freezer and unwrap. Carefully slice 1⁄4-inch-thick cookie disks from the rolled log, slicing straight down (do not saw back and forth). Place on the baking sheets, spacing the cookies about 1 1⁄2 inches apart. Bake until the edges of the cookies start to turn golden brown, 12 to 14 minutes. Let cool on the baking sheets for 5 minutes, then move to a wire rack to cool completely. Repeat with the remaining dough.
:::glaze:::
Combine the honey, buttermilk, vanilla, and 1⁄2 cup (60 grams) powdered sugar in a bowl and stir together. If the glaze looks too thin, add more powdered sugar, 1 tablespoon at a time, until it has thickened to the right consistency. Brush the glaze onto the cooled cookies with a pastry brush.