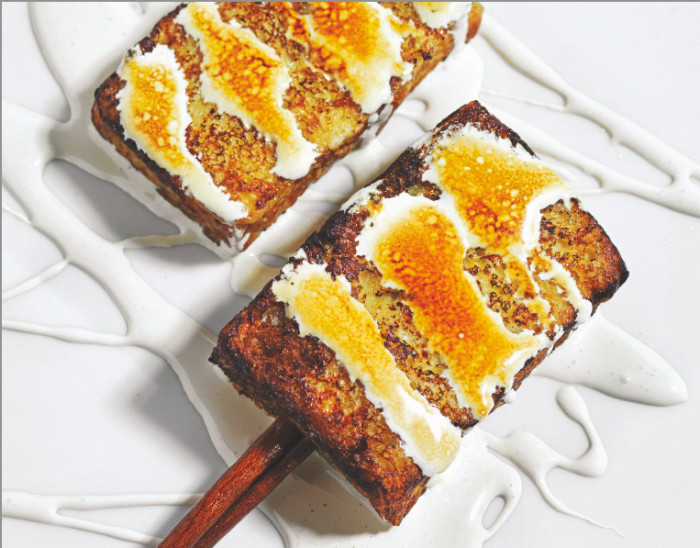 This recipe for French toast from Top Chef's Richard Blais uses buttery brioche for an extra-rich brunch experience. Use long cinnamon sticks to skewer them and infuse with extra cinnamon flavor. Following the food on a stick theory, these are better than any kind of regular French toast we can think of.
I made this French toast for a very sophisticated audience when I did a cooking segment on the PBS Sprout kids' program The Sunny Side Up Show, where I appeared with the resident star, a squawking chicken puppet named Chica. The recipe is standard egg-dipped French toast, but I cut slices of day-old brioche into long rectangles and use cinnamon sticks to skewer them, so the overall effect is of French-toast-on-a-stick.
Ingredients
4

large eggs

1

cup

whole milk

1

vanilla bean, split, seeds scraped out and seeds pod reserved

1

teaspoon

kosher salt

1

teaspoon

ras el hanout (Moroccan spice blend; optional)

4

(2-inch-thick)

slices brioche

12

cinnamon sticks

2

tablespoons

unsalted butter, plus (optional) more for serving

2

dried hibiscus flowers, crushed (optional)

1/2

teaspoon

dried lavender flowers (optional)

pure maple syrup, warmed, for serving
Directions
Preheat the oven to 300°F. Place a cooling rack over a baking sheet and set aside.
In a shallow dish, whisk the eggs, milk, vanilla seeds, salt and ras el hanout together.
Cut the crusts from the brioche slices and cut each slice crosswise into 3 strips. Insert a cinnamon stick into one end of each strip. Dip each piece of bread in the egg mixture, letting it soak for at least 5 seconds on each side, and transfer to the cooling rack to drain.
Heat a pancake griddle or electric skillet over medium-low heat. Add the butter, the vanilla pod, and hibiscus and lavender flowers, if using, and cook until the butter is melted and bubbling. Add half of the soaked bread pieces and cook, turning once, until golden, 2 to 3 minutes per side. Transfer them to the rack-lined baking sheet and keep warm in the oven while you cook the remaining bread.
To serve, stack 3 skewers on each of four plates. Spread a little more butter on them, if desired, drizzle warm syrup over them, and serve.
Try out these French toast recipes on Food Republic: