Chocolate Soufflé Tartlets With Salted Caramel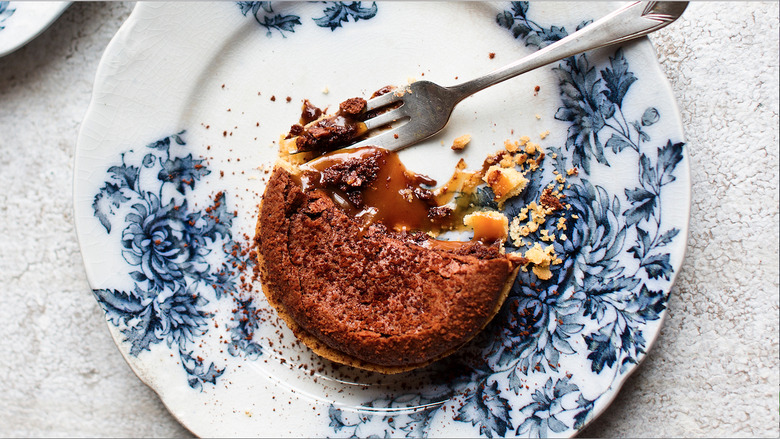 We may receive a commission on purchases made from links.
If you're going to make a foray into the art of French patisserie, you're going to need help from a very experienced, classically trained pastry chef with a killer blog. Baking master Edd Kimber's book, Patisserie Made Simple, is the next best thing to having your very own culinary tutor, so pick up a copy and some flour and get ready to soufflé.
To be totally honest, this isn't a classic French recipe. It is, however, inspired by two very French ideas — chocolate mousse and salted caramel — and it uses them to create one of my all-time favorite recipes. Rather innocent-looking, these tartlets are filled with a layer of liquid salted caramel and topped with a layer of chocolate mousse that is baked, so that when you cut into the tartlet you get a light-as-a-feather chocolate cake with a liquid caramel filling.
Chocolate Soufflé Tartlets With Salted Caramel
Servings
6
individual tartlets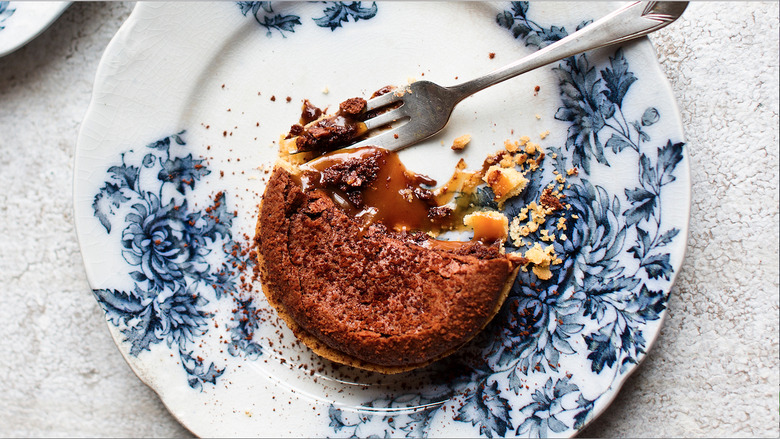 Ingredients
1/2 recipe Pâte Sucrée
1 vanilla bean or 2 teaspoons vanilla bean paste
Scant 3 cups all-purpose flour
1/3 cup ground almonds
1/2 cup powdered sugar
Pinch of salt
2 1/4 sticks unsalted butter
2 extra-large egg yolks
About 1 tablespoon ice-cold water
2/3 cup superfine sugar
Pinch of flaked sea salt
Generous 1/2 cup heavy cream
Heaping 1 tablespoon unsalted butter
Scant 3/4 stick unsalted butter
3 1/2 ounce bar chocolate
2 extra-large eggs
6 tablespoons superfine sugar
Directions
:::pâte sucrée:::
Cut the vanilla bean, if using, in half and scrape out the seeds. Put the seeds or vanilla bean paste in the bowl of a food processor. Add the flour, almonds, powdered sugar, and salt, and pulse to combine. Add the butter and pulse until the mixture resembles bread crumbs. Add the egg yolks and pulse until fully combined. (Alternatively, put the flour, almonds, powdered sugar, salt, and vanilla in a large bowl and mix to combine. Add the butter and rub together using your fingertips, or use a pastry cutter, until the mixture resembles bread crumbs. Add the egg yolks and mix together until the dough just starts to come together.) If the pastry isn't coming together into a uniform mass, add 1 tablespoon of ice-cold water and pulse, or mix, until the dough starts to come together. Be careful not to overprocess the dough, or the finished pastry will be tough and chewy.
Turn the dough out onto a lightly floured countertop and gently knead into a smooth, uniform dough. Divide into two pieces, pressing into a flat round if making large tarts and into thick logs if making individual tartlets. Wrap the pastry in plastic wrap and put it in the refrigerator for at least 1 hour before using.
As with most pastry, this can be chilled and kept for up to one week before using, or it can be frozen for up to two months.
:::tartlets:::
Line a baking sheet with parchment paper. To make the salted caramel, put the superfine sugar in a small pan over medium heat and leave, without stirring, until it has dissolved and turned a golden brown. Be careful that it doesn't cook too far as it can burn easily.
Meanwhile, put the salt, cream, and butter in a small pan over medium heat and heat until just below boiling. Once the sugar has caramelized, carefully pour half the cream mixture into the caramel, still on the heat. Once the bubbling has subsided, pour in the remaining cream and stir to combine. Pour the caramel into a heatproof pitcher and let sit.
Line six individual flan rings or tartlet pans with the pâte sucrée, then put them on the prepared baking sheet, and transfer them to the refrigerator to chill for 30 minutes or until firm. Preheat the oven to 350°F.
Line each tartlet with parchment paper and fill with baking beans or rice. Bake for 15 minutes, then remove the baking beans and parchment, and return to the oven for an additional 5 minutes.
Divide the caramel between the tartlets and let cool to room temperature, then chill in the refrigerator while you make the topping.
To make the chocolate soufflé, put the butter and chocolate in a large, heatproof bowl set over a pan of gently simmering water, making sure the bottom of the bowl doesn't touch the water. Stir the chocolate occasionally until fully melted. Remove from the heat and let cool slightly. In a separate bowl, beat the egg yolks with ¼ cup / 50 grams of the sugar until thick and pale. Beat this into the slightly cooled chocolate mixture.
Put the egg whites into a clean, grease-free bowl, and using an electric mixer, whip until they form soft peaks. Continue to whip while you slowly pour in the remaining sugar until the meringue is stiff and glossy. In three additions, fold the meringue into the chocolate mixture.
To assemble, remove the tartlets from the refrigerator and top with the mousse mixture. Bake for 15 minutes, or until the mousse looks set. Allow to cool a little before serving slightly warm or, if you prefer, at room temperature. The tarts will keep for up to two days, but are best gently reheated in the oven at 250°F for 10 minutes.