Chicken Under A Brick Is The Answer. Here's A Recipe And How-To-Brick Video.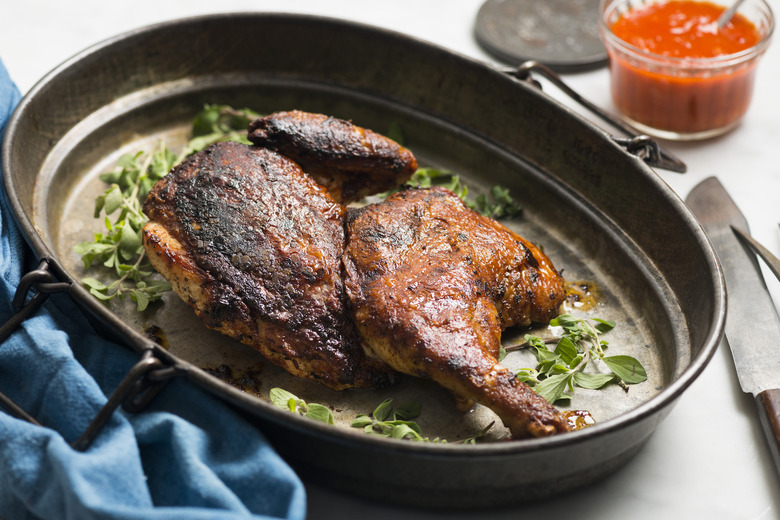 Photo: Evan Sung, Stylist: Kaitlyn DuRoss
We may receive a commission on purchases made from links.
This recipe is part of Crispianity: a column devoted to all foods crispy and crunchy, two of the most underappreciated attributes of a great dish. Author Adeena Sussman is a food writer and recipe developer, pairing here with her photographer friend Evan Sung. Sussman's most recent cookbook, coauthored with Lee Brian Schrager, is Fried and True: More Than 50 Recipes for America's Best Fried Chicken and Sides.
My devotion to crispy chicken skin is well-known (heck, I coauthored a whole book in which it plays a prominent role). So the fact that I'll go to great lengths to achieve a top layer of shattering goodness, designed to contrast with the juicy, perfectly cooked bird beneath, should be no surprise.
If you do end up using actual bricks — I bought mine for $1.19 apiece at the local hardware store — make sure to wrap them well in foil unless you want your chicken coated with terra-cotta crumbs. If you can't find real bricks, a second cast-iron skillet works like a charm. Though I was happy with my initial experiments seasoning the chicken with nothing more than herbs, salt and pepper, I was looking for something with a little more kick, and feared dried spices might burn at 500 degrees. Enter harissa, the beguiling, "unscorchable" cumin- and coriander-inflected North African  hot-pepper paste. You can slather it on right before cooking, but allowing the chicken to marinate in the Harissa overnight makes the finished product even more special.
Learn the technique in the smoking-hot video below:
Chicken Under A Brick Is The Answer. Here's A Recipe And How-To-Brick Video.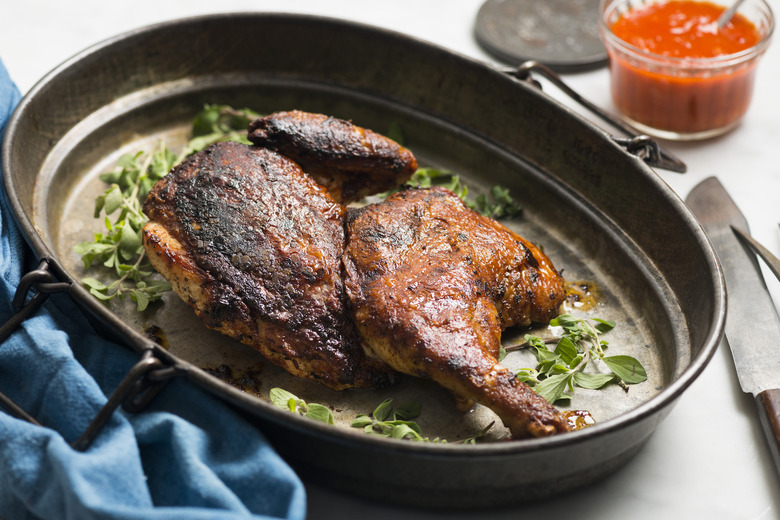 Ingredients
1 smallish (2 1/2 - 3 1/2 pounds) whole chicken
Salt and pepper to taste
Olive oil
1/4 cup harissa paste
4 cloves garlic
2 bricks
Directions
Preheat the oven to 500°F.
Double-wrap your two bricks in aluminum foil. 
Place the chicken, breast side down, on a cutting board. Using kitchen shears or a sharp knife, cut out the backbone (or, in other words, make a cut on either side of that little piece of skin that sticks out at the end of the chicken, then cut a 1 1/2-inch wide strip up through to the other side of the chicken). Discard this, or pop it in a Ziploc bag and freeze it for stock if you're so inclined.
Flatten the chicken with your hands, then, using a sharp chef's knife, cut the chicken into two equal-sized halves.
Trim off any excess skin and trim the last joint off the wings (this helps the chicken lie flatter in the skillet). Season the chicken generously with salt and pepper. In a small bowl, combine the harissa with the garlic and shmear it all over the chicken.
Heat a standard cast-iron skillet over medium-high heat for 5 minutes, add the oil and heat until the oil shimmers — this will happen fast, so don't go doing anything else while you're waiting.
Place chicken skin-side down in the skillet, weigh down with the foil-covered bricks, and cook for 7-8 minutes to really begin developing that crispy crust.
Transfer to the oven (use both hands; we're talking bricks on chicken on cast iron, people) and cook an additional 12-13 minutes. The chicken may smoke a little at this high heat, so make sure you open a window or turn on the exhaust fan. 
Remove from the oven, remove the bricks (they'll be hot — use oven mitts!), flip using tongs, return to oven and finish cooking for an additional 10 minutes.
Remove from oven, let rest for a couple of minutes, then carve, trying to preserve as much of that incredible skin as you can and serve with additional harissa. 
Illustrated Guide: How To Make A Traditional Roast Chicken
Spanish-Style Roast Chicken Recipe
Roast Chicken With Garlic Sauce