Cheez-It Mac And Cheese Recipe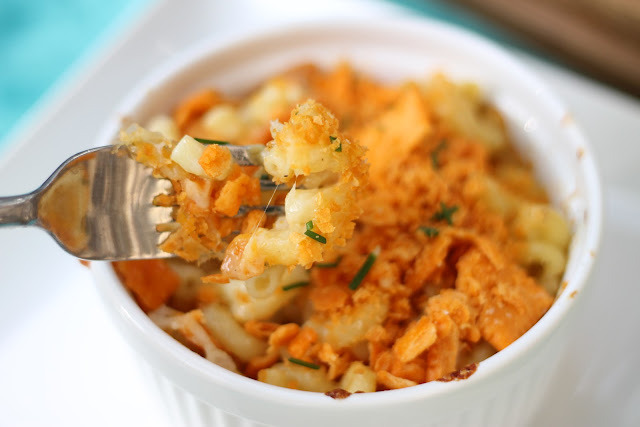 Extra cheesy texture thanks to Cheez-Its. (Photo: Michelle Oddis.
Some people just really have a knack for pairing two perfect things. Boozy caramel jello and tart, juicy green apples. If you want to take it down a notch, bacon and chocolate chips. Or if you want to add insult to injury, real sharp cheddar cheese and crunchy, wonderfully not real cheddar cheese. Thankfully, there's Michelle Oddis, author of food blog That's So Michelle and creator of all these good things.
Yes, Cheez-Its make up the breadcrumb crust for this baked macaroni and cheese recipe. The crunchy texture and amped up cheesiness works so well you'll wonder why you haven't been crumbling those little devils over your macaroni for decades. Plus if you have kids, they'll think you're a superhero.
Cheez-It Mac And Cheese Recipe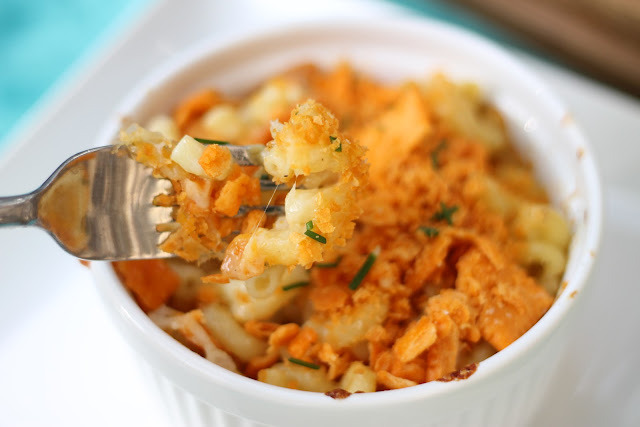 Ingredients
1 box elbow macaroni
3/4 stick butter
8 ounces cheddar cheese
1/2 cup heavy cream
2 cups Cheez-Its
Salt and pepper
chopped chives
Directions
Preheat oven to 375 degrees.
Boil macaroni until it's tender. 7-10 minutes (check firmness). Strain and set aside. 
Melt the butter in a medium saucepan, then add a splash of cream. Add a handful of cheese and stir until combined. Add another splash of cream and stir again, add more cheese and stir again. Repeat this process until you only have a little cheese left (reserve that to sprinkle on top).
Return macaroni to pot, pour cheese sauce on top and stir. Pour into an oven-safe pan or casserole dish. Stir in some crushed Cheez Its and salt and pepper.
Sprinkle remaining cheese and Cheez-Its on top.
Bake for 15-20 minutes or until Cheez -Its are lightly toasted on top. Serve with a chive garnish
Macaroni and Brie with Crab
Mac and Cheese With Soubise
Truffle Baked Macaroni and Cheese