Cathead Honeysuckle Blackberry Collins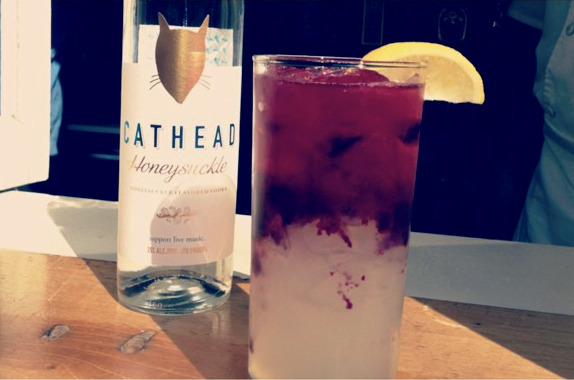 If Charleston, SC's James Beard Award-winning Hominy Grill is serving local Cathead Vodka cocktails, you know that's what you want in your glass. Executive Chef David Uecke created this drink to showcase South Carolina's exceptionally sweet local blackberries:
"We want to make our all of our cocktails very southern, like you would make for a guest in your house. In Southern cocktails and all the classic Southern punches, the things you see are ginger and lemon — those are pretty much the backbone. The honey balances out the lemon and brings out the natural honeysuckle flavor."
Read our interview with the co-founders of Cathead Vodka, Mississippi's first and only legal distillery, and shake up a blackberry Collins or two from the comfort of your own porch.
Cathead Honeysuckle Blackberry Collins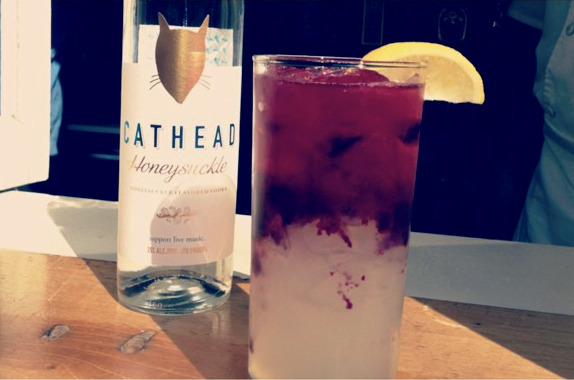 Ingredients
2 ounces Cathead honeysuckle vodka
4 ounces fresh lemonade
2 ounces club soda
2 tablespoons blackberry-ginger syrup
lemon wheel or slice
2 pints ripe blackberries
1 tablespoon fresh ginger
juice of half a lemon
2 tablespoons honey
Directions
Heat honey, ginger and lemon juice and in a non-reactive pot over medium heat until the mixture forms large bubbles.
Add blackberries to mixture and simmer until mixture is reduced by half. Remove from heat and allow to cool completely.
Strain through fine mesh strainer. Syrup will keep in a bottle or jar in the refrigerator for three weeks.
Fill a 10-ounce Collins glass  with ice and add vodka, lemonade and club soda.
When drink is filled, drizzle syrup over top so that it trickles down slowly.
Garnish with a lemon wheel or wedge.
Exit Strategy Craft Cocktail
The "Fast Running Break" Cocktail
Persimmon Fizz Cocktail