Burning Love: How To Make Smoked Deviled Eggs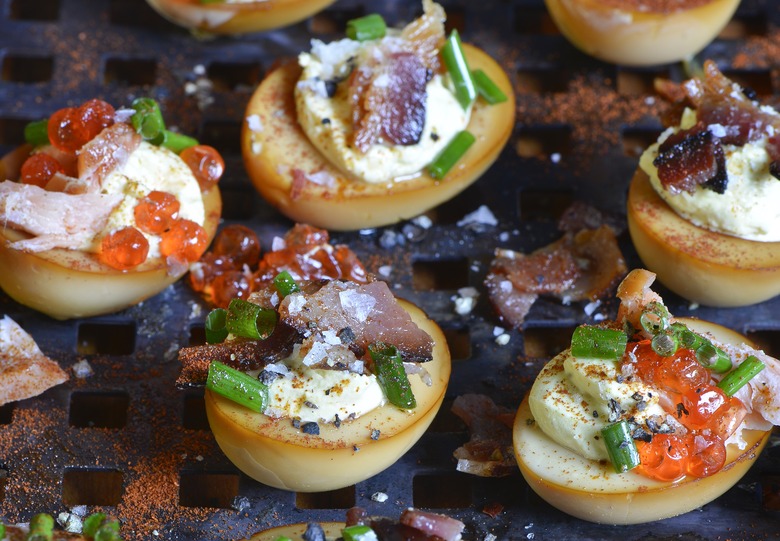 We may receive a commission on purchases made from links.
Barbecue Hall of Famer, writer and best-selling cookbook author Steven Raichlen has a new volume of recipes out that grilling enthusiasts won't want to miss. Burners of wood and utilizers of combustion by-products (smoked-food lovers, we're looking squarely at you) will be thrilled and delighted by Project Smoke, a book dedicated to all things smoke-infused. Happy grilling season!
Eggs may be latecomers to America's barbecue repertoire. But elsewhere on the world's barbecue trail, grilled and smoked eggs are common currency. Cambodians grill cilantro- and chili-stuffed eggs on bamboo skewers over charcoal braziers. The chef at the Auberge Shulamit in Rosh Pina, Israel, smokes eggs to make the most remarkable egg salad you'll ever taste, served on, what else, grilled bread. Smoke takes the commonplace egg in gustatory directions you've never dreamed of. Hard-boiled egg? Okay. Smoked hard-boiled egg? Inspired.
Fuel: Hickory, apple, or hardwood of your choice — enough for 20 minutes of smoking.
Shop: Organic eggs when possible.
What else: You have two options for smoking eggs: hot-smoking or cold-smoking. The former is faster, but you have to smoke the eggs over a pan of ice or the whites will become rubbery. Cold-smoking eliminates this risk but takes longer. For even more smoke flavor, cut the hard-cooked eggs in half before smoking,
Burning Love: How To Make Smoked Deviled Eggs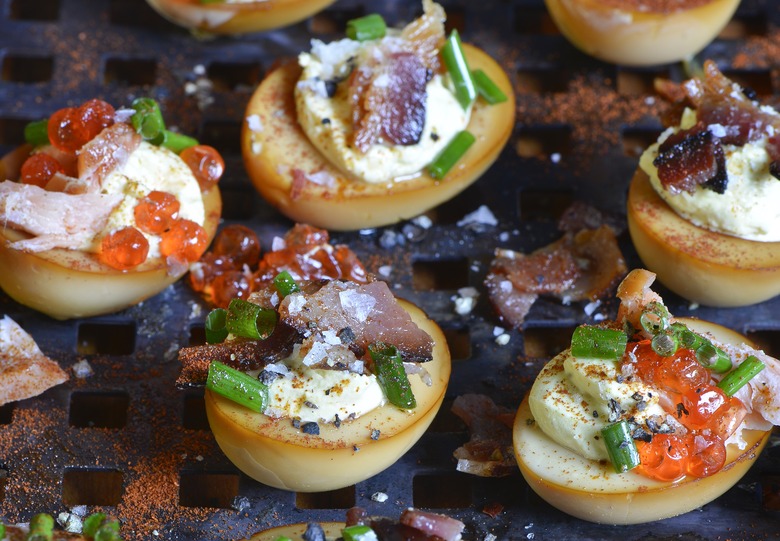 Ingredients
12 smoked eggs
1/3 cup mayonnaise (preferably Hellmann's or Best Foods)
1 tablespoon Dijon mustard
1 teaspoon sriracha, Tabasco sauce or other favorite hot sauce, or to taste
1 teaspoon worcestershire sauce
chopped chives
Spanish smoked paprika (pimentón)
Regular or smoked salmon caviar
Fried bacon slivers
Finely shredded smoked beef brisket or pulled pork
12 large eggs
vegetable oil
Directions
:::smoked eggs:::
To hard-cook the eggs, place them in a large saucepan with cold water to cover by 3 inches. Bring to a boil over high heat, then reduce the heat and simmer the eggs for 11 minutes (a few minutes longer if you live at a high altitude). Drain the eggs and fill the pan with cold water. Cool the eggs in the pan until they're easy to handle but still warm. Peel the eggs. (It's easier to peel them while they're still warm.) Return the eggs to the cold water to cool completely, then drain well and blot dry with paper towels. The eggs can be cooked and peeled up to 48 hours ahead, stored in a container covered with plastic wrap, and refrigerated.
Set up your smoker following the manufacturer's directions and preheat to 225°F. Add the wood as specified by the manufacturer.
Place the eggs on a lightly oiled wire rack placed over an aluminum foil pan filled with ice (the eggs should not touch the ice). Place in the smoker, and smoke the eggs until bronzed with smoke, 15 to 20 minutes. Let cool to room temperature. Store, covered, in the refrigerator for up to 3 days. Eat as you would hard-cooked eggs or use to make deviled eggs or egg salad.
:::deviled eggs:::
Cut the eggs in half lengthwise. Cut a thin slice off the bottom of each half so it won't wobble. Pop out the yolks and place them and the egg white trimmings in a food processor. (Alternatively, you can mash the yolk mixture with a fork.)
Add the mayonnaise, mustard, sriracha, and Worcestershire sauce, and process to a thick puree. For a creamier filling, add more mayo.
Spoon the mixture back into the egg white halves or pipe it in with a pastry bag or a resealable plastic bag with a lower corner clipped off. Top the eggs, if desired, with a sprinkling of chives and/or smoked paprika, or a dollop of salmon caviar, bacon, or shredded brisket or pork. Refrigerate in a covered container or loosely covered with plastic wrap until serving.
Variation: Cold-Smoked Eggs If you'd like to cold-smoke the eggs, you'll need enough fuel for 1½ hours of smoking time. Preheat the cold smoker to 100°F or less. Place the eggs in the smoker and smoke until they're bronzed in color, 1 to 1 1/2 hours.