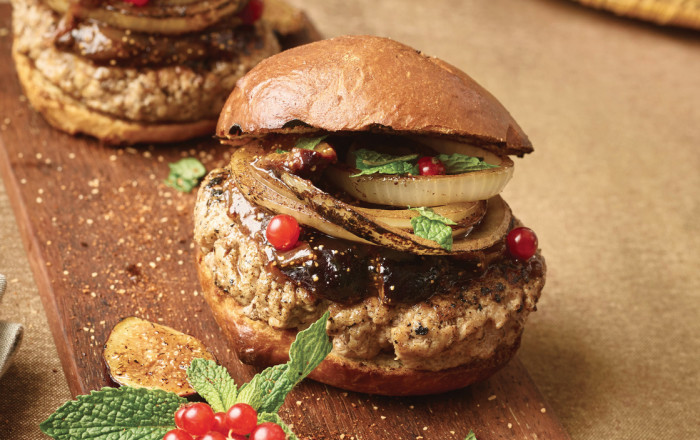 Grillmaster Lex Taylor is at it again with a book of recipes inspired by grilling techniques around the world. Whether you're craving meat, fish or vegetables from any food culture that cooks with fire, you'll find a brand-new way to enjoy it right here. This sweet and savory pork burger with fig compote is a thoroughly satisfying experience.
Ground pork is great. The next time you visit your butcher ask him or her to grind up a good mixture of tenderloin, bacon, shoulder, or a combination of those. Be sure to keep some fat in the mix for good flavor, just as you would for beef patties. I usually make pork patties thinner than beef patties, since I'm not looking for a pink center. In fact I want these pork burgers well done (above 145°F ).
Ingredients
Fig Compote
10

black figs

2 to 3

tablespoons

butter

2

tablespons

white wine (or beer)

1/4

cup

honey

1/4

teaspoon

herbes de Provence

1/2

teaspoon

ground allspice

Salt and fresh ground pepper to taste
Burger
baby arugula

1

pound

80/20 ground pork

1

tablespoon

Maldon Salt

4

fresh brioche buns

20

currants

8

mint leaves
Directions
For the compote
Cut the figs in half and add them to a small saucepan with the butter.

Cook the figs and butter over medium heat until they are soft, about 5 minutes.

Add the wine or beer to the fig mixture and cook it for another minute or so.

And the honey, herbes de Provence, and allspice to the mixture, blend it well, and cook it for another 2 to 3 minutes.

Serve the compote with a little salt and pepper to taste.
For the burger
Prepare the Fig Compote (below) and clean the baby arugula in advance. Set aside.

Bring the grill to medium heat.

Shape the ground pork into thin patties, 1⁄2-inch thick, and pat them dry.

Sprinkle the patties with salt, and grill them immediately for 7 minutes on each side.

Serve the burgers on a toasted bun with a generous dollop of Fig Compote and some baby arugula leaves.

Garnish with currants and mint leaves if desired.