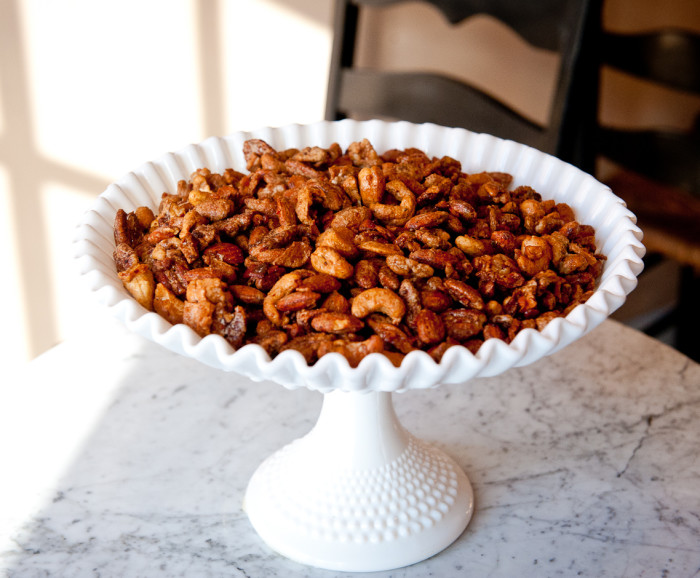 Molly Quirk is chef/owner of Sips & Bites in Williamsburg, Brooklyn. If you haven't had a thoughtfully handcrafted sandwich in a while, there's no better place to get your fix. She's generously donating a few of her tailgate food recipes to our cause: feeding you during football season.
These bacon candied apple spiced nuts are addictive! Sweet, salty, spicy, crunchy, chewy — it's all there. This recipe makes a good-sized bowl for a crowd — once baked, they keep for a few days at room temperature and actually improve after a day or two on the counter.
The base recipe for the nuts is super-easy and you can use it without the add-ins listed here or come up with your own. Any dried fruit works: cranberries, blueberries, mangoes and pineapple are all delicious choices. We chose apples because they're a classic combo with bacon and a great way to kick off fall and football season.
Ingredients
8

cups

mixed unsalted nuts

1

pound

thick-cut bacon

1

cup

dried apple rings, chopped

2

egg whites

2

teaspoons

water

1/2

cup

light brown sugar

1

teaspoon

salt

1

teaspoon

black pepper

1/2

teaspoon

white pepper

1/2

teaspoon

ground cinnamon

1/4

teaspoon

cayenne pepper
Directions
Cook the bacon until crisp, drain on paper towel, roughly chop, set aside.
Preheat oven to 300 degrees Fahrenheit
Combine the sugar and the spices in a small bowl, set aside.
In a large clean bowl vigorously whisk the egg whites until they become foamy. Add the water and continue to whisk until you have soft peaks and there is no water on the bottom of the bowl. Be careful not to go too far — whites should be soft, light and foamy, not stiff.
Toss the nuts into the bowl and coat the nuts in the egg whites lightly, using your fingertips. Sprinkle the sugar and spice mixture over the nuts and gently toss until everything is completely coated.
Spread in a single layer onto parchment-lined baking sheets. Bake for 20 minutes, stirring and flipping with a spatula occasionally.
After 20 minutes take the sheet pans out and sprinkle the bacon and apple, toss one more time and return to the oven for another 10 minutes.
Remove from oven and let nuts cool completely on the baking sheets. When they are cool use your hands to break up any larger clumps and serve.