How Belle Isle Craft Spirits Learned To Love Infused Moonshine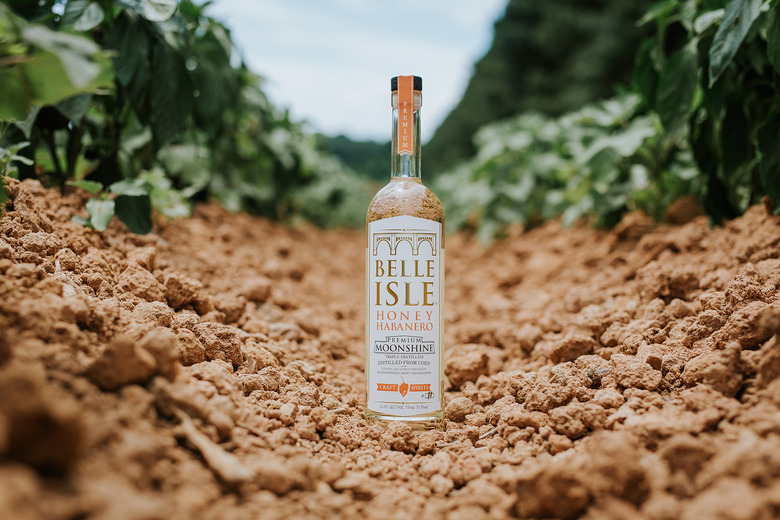 The world of spirits doesn't exactly hold moonshine in high regard. Its critics deride it as an oxymoron—how can it be moonshine if it's legal? Others argue that it's an inferior product, an unaged corn whiskey, or a wannabe bourbon without the color, flavor or heritage of the good stuff. Even the craft spirits brands that produce moonshine usually consider it a first effort on the way to making something more substantial.
The latter scenario is how the Richmond, VA startup Belle Isle Craft Spirits approached its debut product, Belle Isle Black Label. Meant to get the brand up and running, the initial moonshine served as a base for several infusions that founder and CEO Vince Riggi used to stand out at the premiere Richmond Moonshine Festival in 2014. The overwhelming reaction led Riggi and his team to embrace infused moonshine, and the brand concentrated on honey habanero and cold brew infusions. It also sourced locally, as Riggi and Gregg Brooks, Belle Isle's director of production, discuss in the latest edition of our emerging food and drink brand column, What's Your Story?
How'd you get the idea to make flavored moonshine? 
RIGGI: In order to best explain this evolution, a bit of context is necessary. When we launched Belle Isle, infusions were never on our radar. We believed so strongly in Belle Isle Black Label as a blank canvas for creativity that the idea of adding infusions to our product line never occurred to us.
It was not until the fall of 2014, when we were invited to Richmond's first-ever "Moonshine Festival," that everything changed. We were among 25 or so other spirits brands asked to showcase our spirit to the public. We knew we had to stand apart from the crowd and really generate some buzz during the event. We decided to create a badass infusion lineup to showcase the incredible versatility of our base spirit. We immediately reached out to one of our favorite bartenders and infusion expert, Gregg Brooks (now our Director of Production), to assist with the project. After some careful thought and R&D, we served four infusions that absolutely blew the doors off: Cranberry Tangerine, Cinnamon Shine, Pumpkin Spice and Honey Habanero. They all stole the show that day, but none more than Honey Habanero.
There was a constant line of 50-100 people, all asking the same question: "Where can I buy the Honey Habanero?" All day, we answered that question with our easy infusion recipe: "Take our base spirit, add honey, add habaneros, and let it sit for a few days." We soon realized that this people didn't want to make the infusion; they simply wanted to know where to buy it.
We love to listen to our fans as they're the reason we've been successful. Simply put, our fans were telling us to give them Honey Habanero, so we quickly pivoted from our initial mindset, ran fast, broke some things, and rolled out our first infusion a few months later. We haven't looked back and have since launched Ruby Red Grapefruit and Cold Brew Coffee infusions, with Blood Orange on deck to release this summer.
Today, Belle Isle Honey Habanero is the #1 selling Virginia-owned craft spirit in the state of Virginia.
How do you source your honey?
BROOKS: We source the honey from a man named Bubba. No, we're not kidding. We use 100% pure, raw clover honey from Bubba's Sweet Nectar. They are an operation based deep in the Shenandoah Valley of Virginia, and their product is natural, non-pasteurized, non-ultrafiltered, unblended and contains no additives or artificial preservatives. We use this honey in both the Honey Habanero and Cold Brew Coffee products. Locally, Ardent Brewery also used this same honey to make their Honey Ginger Saison beer. Bubba's has been a great partner since the very first batch of Honey Habanero.
Where do you source the habaneros?
BROOKS: We are so very lucky to be able to work with Jordan Brandon and Old Dominion Organic Farms to grow our habanero peppers. Jordan is a 12th generation farmer, dating back to 1654, and ODO Farms is the largest certified organic farm in the Mid-Atlantic. They are located 55 miles southwest of Richmond, and they grow peppers year-round, moving them to their massive greenhouse in the colder months.
What coffee do you use to infuse the Cold Brew Moonshine?
BROOKS: Food & Wine just named Blanchard's Coffee Roasting company as the best coffee roaster in Virginia. We agree wholeheartedly. The Blanchard's crew was instrumental in helping us perfect our Cold Brew Coffee infusion. We use their Basecamp beans, which are Honduran beans that are certified organic, Fair Trade, Rainforest Alliance and bird-friendly. The actual cold brew coffee that is blasted into the spirit for the final production process is also made from these same beans. We pride ourselves on working with like-minded companies, and we love Blanchard's model and practices.
Most moonshine companies eventually start making whiskey or bourbon or something else. Any plans to move beyond moonshine at this point?
RICCI: This sounds a bit contradictory at this point, considering our story about infusions above, but we're big believers in staying in our lane and not chasing the shiny object. There are so many talented distillers out there making fantastic aged spirits that we're completely at peace with our focus on the moonshine category. We've found something we're good at and our goal is to make fantastic infusions using only real all-natural ingredients. There is still so much to unpack with America's Original Clear Spirit, and we feel like it's just the tip of the iceberg.
But never say never, right?