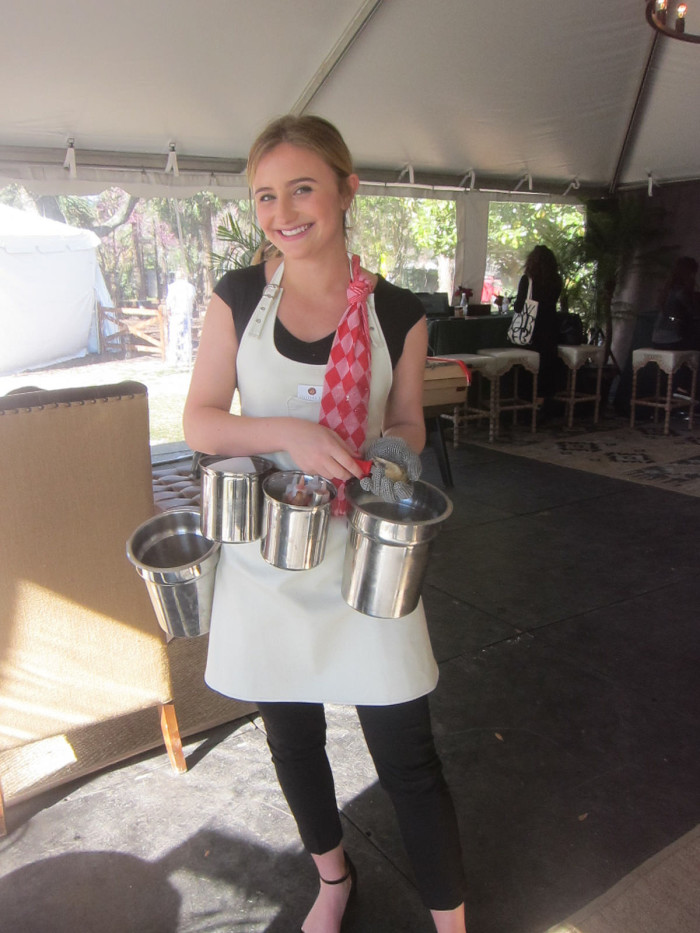 While the Northeast dealt with a Nor'easter named Riley, Charleston, SC dealt with some inclement weather of their own: a steady gale blew all weekend during the numerous outdoor events at the 13th edition of the Charleston Wine+Food Festival. Fortunately, denizens of the Holy City are a hearty lot and braved the elements, wrapping their jackets a little tighter around themselves and huddling a little closer to the ubiquitous huge Cowboy Cauldrons that were distributed around town for chefs to cook on during live fire events.
As would be expected at a coastal Southern event, seafood was on prominent display at many events, including winsome shuckers who traveled from event to event wearing belt-mounted buckets filled with bivalves on ice, bottles of hot sauces and mignonettes and a convenient bin to stash empty shells. These self-contained oyster delivery systems proved quite popular, especially among festival attendees who weren't fully proficient with an oyster knife.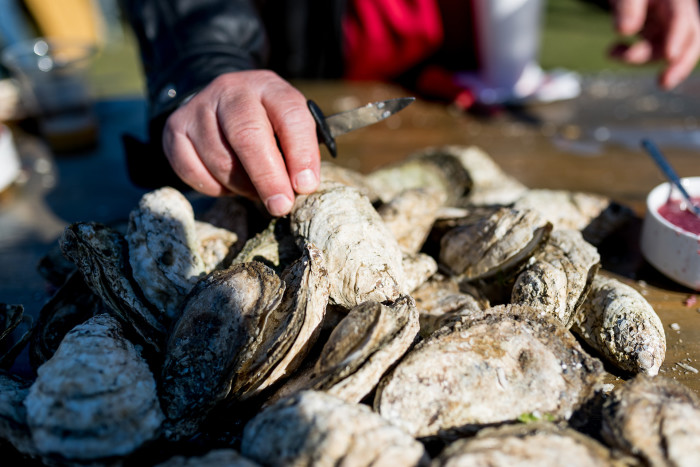 Charleston locals certainly would not qualify as novice shuckers as they gathered around the traditional plywood on sawhorse tables to dig into large clusters of roasted oysters at the annual Shucked event, moved to Riverfront Park near the Navy Yard for this year. It's always entertaining to watch young ladies demurely open their purses to remove a pointed instrument of destruction, their own pearl-handled oyster knife, and then rip through a dozen like a hungry longshoreman.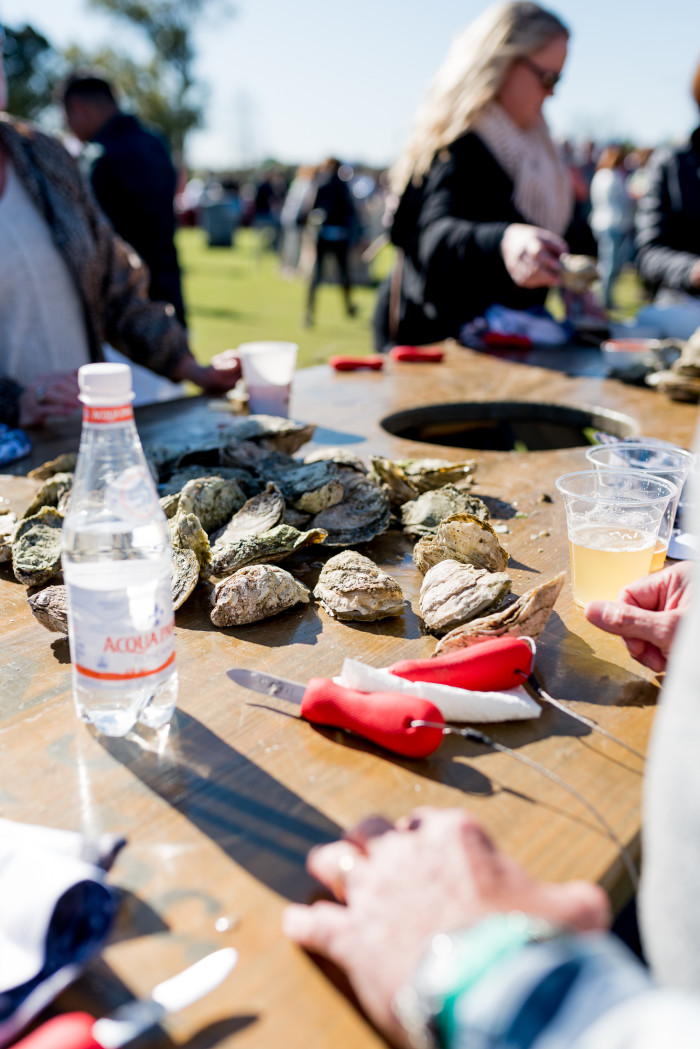 For those not quite as advanced in their oyster knowledge, Travis and Ryan Croxton offered an educational seminar at their Rappahannock Oyster Bar. In addition to pairing their three varieties of Rappahannock River oysters with wines from Virginia, the Croxtons and their award-winning professional shucker Bella Cain educated students in the science of oysters and the skill of removing them from their shells without destroying the lovely meat inside.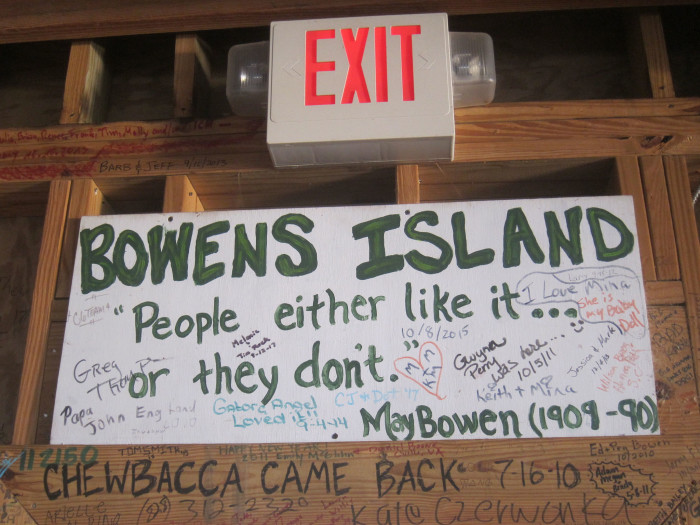 The other big oyster event was a laid-back party at Bowen's Island, and old-time seafood shack about twenty minutes from downtown. Chef stations were set up around the grounds offering up seafood-centric dishes from renowned restaurants across the region. Smart visitors took advantage of the shelter inside Bowen's dining room upstairs to grab a respite from the wind and spend a little time reading years of tourists' scrawlings on the plywood walls.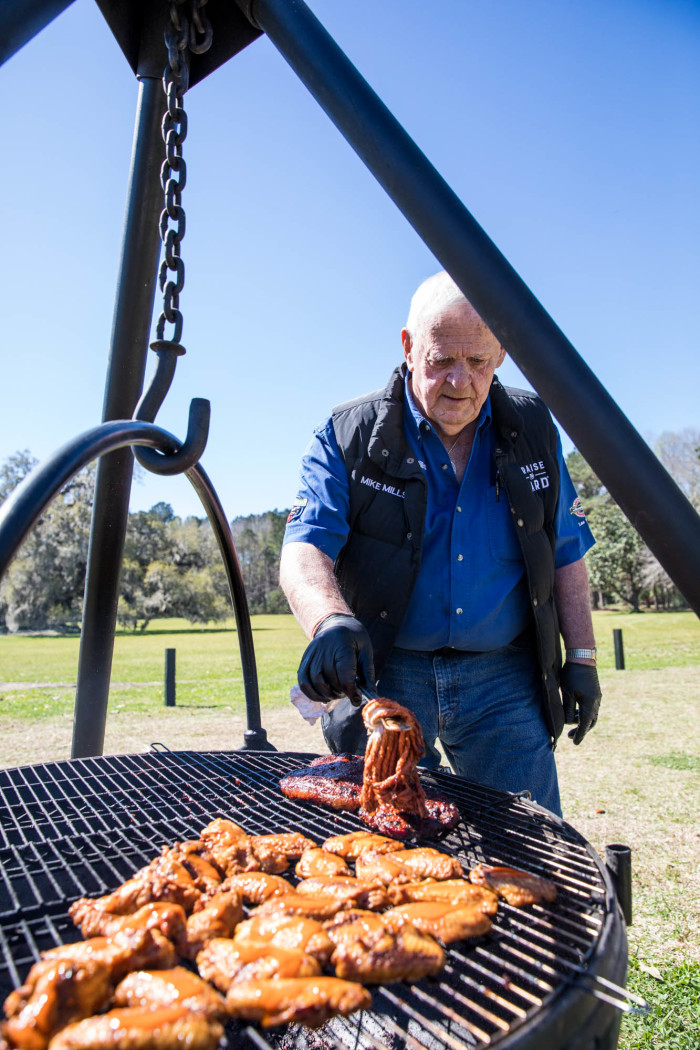 Of course, man can't live by fish alone, and those cauldrons were working overtime at other events both off-site and within the Culinary hub of the festival. Carey Bringle, the Peg Leg Porker, realized that it was difficult to cook food all the way through during his allotted one-hour cooking time at the Culinary Village, especially when the wind kept blowing the heat off the fire for his grill. What did he do? Whipped up a couple hundred chicken kebabs dressed with his beloved white BBQ sauce. With his food ready long before the other cooks in his timeslot, he ran out quickly and intentionally, freeing himself up to move on to other events where he could consume instead of produce.
Food Republic favorite Matt Bolus of 404 Kitchen in Nashville offered up a simple but soulful dish of smoked sausage and grilled cabbage under the watchful eyes of Adam Richman and FR editorial director Richard Martin as part of the Nassau St. Saloon party at Lewis BBQ.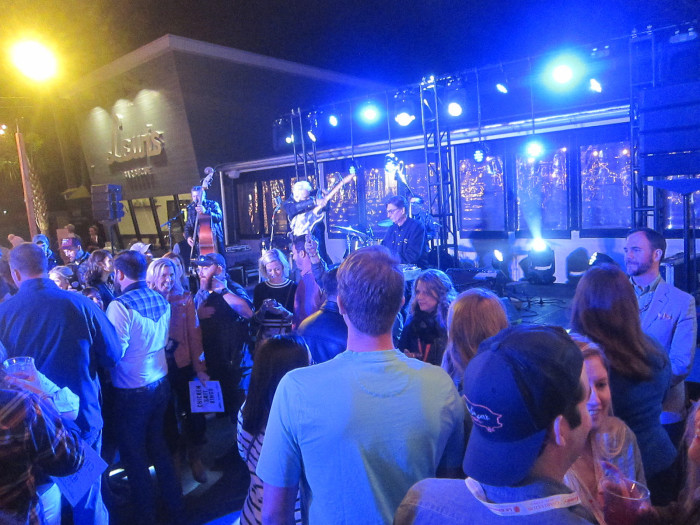 Along with providing some excellent entertainment in the form of Western-style swing music, Austin-based musician Dale Watson also served as the caller for several competitive rounds of Chicken Shit Bingo.
While the words "barbecue" and "exclusive" usually don't go together, Charleston Wine+Food Festival did offer up an intimate event with fewer than a hundred tickets available. Guests able to travel to Runnymeade Plantation communed with nature in a field surrounded by a half dozen of the nation's top pitmasters. In addition to local favorites Tank Johnson of Holy City Hogs and the crew from Home Team BBQ, the cadre of pitmasters included the aforementioned Peg Leg Porker, Blue Oak BBQ from New Orleans, LowCo BBQ from nearby Columbia, SC and the father/daughter team of Mike "the legend" Mills and Amy Mills of 17th St. BBQ in Murphysboro, IL.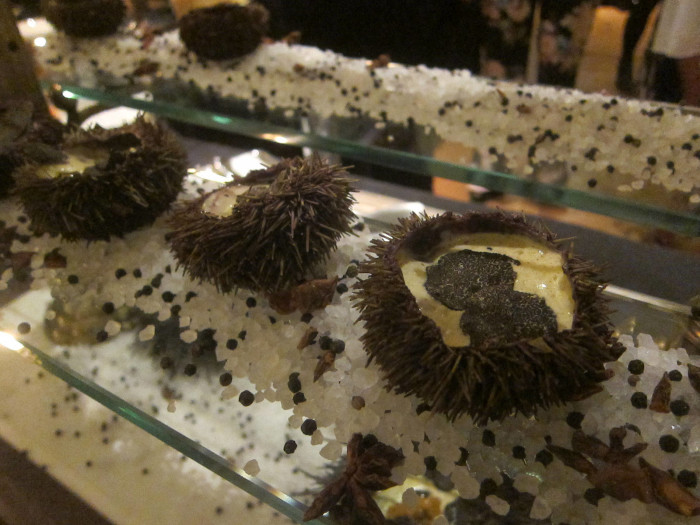 Probably the toughest ticket in town wasn't an official CHSWFF event, but rather a Williams Sonoma soiree hosted by Gail Simmons at the swanky Dewberry Charleston, recently nominated as a James Beard semifinalist for Outstanding Bar Program. Luxe to the max, this event featured buckets of caviar, seafood towers that reached close to the ceiling of the shiny ballroom, pyramids of champagne and an uni bar offering the choice of with truffles or without.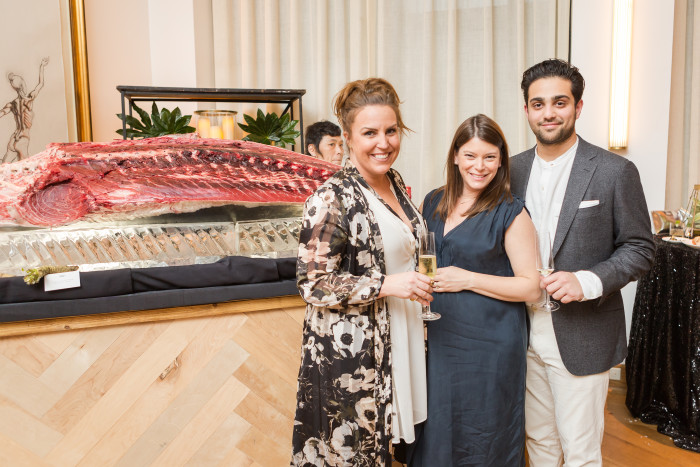 While the guest list was intentionally quite limited and exclusive, if you counted everyone who said they were planning to attend as part of casual conversation during the festival, you could have filled the Charleston RiverDogs' minor league baseball stadium. Another aspect of the party that seemed to grow in reputation over the course of the weekend was the massive tuna flown in especially for the event. The professed weight of the fish grew from 400 pounds to 600 to a half-ton over the recourse of retelling, but it was indeed a monster. Videos of the carcass being wheeled into a reefer truck for storage prior to the party were shared virally among festival attendees, and the fish did not disappoint when it was presented as the showpiece of the evening.
At Charleston Wine+Food, it's always a case of go big or go home, and the organizers did indeed deliver this year. Now where can I buy a tub of Carmex to deal with the windburn?