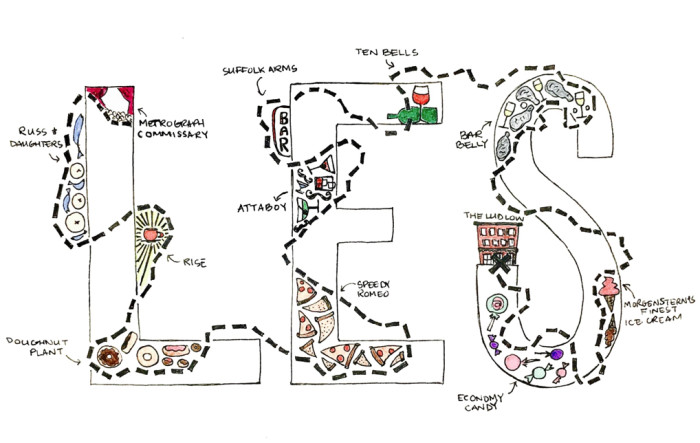 If there's one thing New York City hotels all need, it's a friendly, concise, expertly curated guide to the neighborhood's best eats. Lower East Side mainstay The Ludlow is handing out these cool little maps to make sure you end up exactly where you want. Here's the map's legend — check out all these great spots with expert "good to know" tips!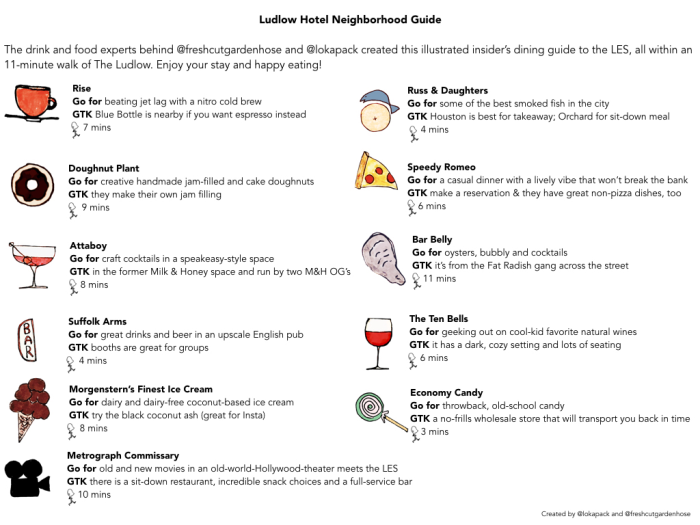 The map's creators, longtime friends Maryse Chevriere and Yasmin Fahr, are veterans of the food media industry. Chevriere is a sommelier and freelance food and beverage writer who was most recently the Wine Director at Dominique Crenn's acclaimed San Francisco restaurant, Petit Crenn. In 2016, she won the James Beard Award for humor for her Instagram account, @Freshcutgardenhose. Fahr is the founder of travel site LokaPack, and a food and travel writer with more than a decade of experience writing about hundreds of restaurants and hotels. This is the team you want giving you dining recommendations.
"Whenever I checked into a hotel, especially in a new city, I always wished there were a curated list of cool and interesting things to do nearby available in the room," says Fahr. "Something that was put together by someone I could trust (a.k.a. not randomly pulled from a Google search)." Says Chevriere, the illustrator, "These are perfect for boutique hotels that don't necessarily have a dedicated concierge staff or especially for homestay experiences where you're really on your own when it comes to this kind of advice."
The Ludlow Hotel guide is their first creation, and they're currently meeting with other hotels and homestay programs to create customized guides. The maps are presented as double-sided postcards, so they can serve as a memento you can easily slip into your bag or bring home to tack on the fridge. That way you can show everyone you ate your weight in, say, smoked fish at Russ & Daughters.
"The idea is to make dynamic, easily digestible and — most importantly — genuinely useful dining guides for travelers," adds Chevriere. "They'll be tailored to the neighborhood and vibe/clientele of the hotel. I know we're all on our phones 24/7, but I think there's something to be said for an efficient, tangible, trustworthy guide that saves you a little time from all the scrolling and cross-referencing of blogs and food websites."
Take another look and tell us you're not revving up your engine to hit a world-renowned candy store, small-batch ice cream shop and cutting-edge raw bar all in one delectable afternoon.