This Company's Answer To Sustainable Snacking Is Kelp Jerky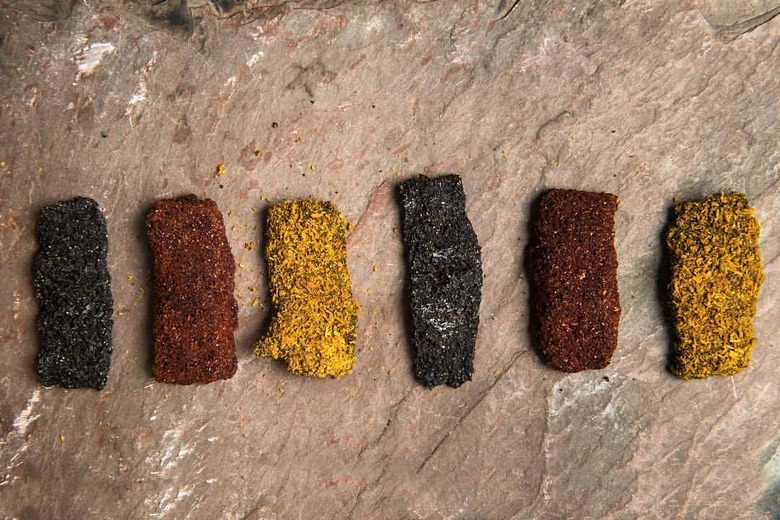 This company's out to make kelp jerky the next big snack. (Photo: Beyond the Shoreline/Facebook.
Chances are, you've probably already eaten your fair share of seaweed (and if you haven't, here's our guide to getting started). Startup Beyond the Shoreline has found a way to sell this super-sustainable snack as jerky.
The company was co-founded by environmentalist Courtney Boyd Myers and co-owner of Duck's Eatery and Harry & Ida's Meat and Supply Co. in New York City, William Horowitz. Beyond the Shoreline makes their jerky in three flavors: sea salt, barbecue and "High Thai'd" featuring coconut and trendy turmeric. According to Fast Company, the jerky's made by emulsifying and dehydrating seaweed. To make the jerky "meatier," mushroom stems — a fantastic source of natural umami — are added to the recipe. The stems are are a byproduct of mushroom harvesting, which means the snack's also aiding the fight against food waste.
EXTRUSION! 💪🏻After we mix our sugar kelp, mushrooms, superfoods, and spices, we extrude the mix on trays for the dehydrator racks. This is one of the members of our Seaweed Lab @cheftomcoughlan in action.👨‍🍳#kelpjerky #seaweedinnovation
A post shared by Beyond the Shoreline 🌿 (@beyondtheshoreline) on
Boyd Myers tells Fast Company that kelp absorbs five times the amount of carbon in water than plants do on land. It also grows exponentially, dodging the potential problem of over-farming.
The startup will begin selling the product this coming January on their website. Thereafter, the company plans to reach national markets through Amazon and specialty food stores in Boston, New York, Los Angeles and San Francisco.