How To Eat Vegetarian In Thailand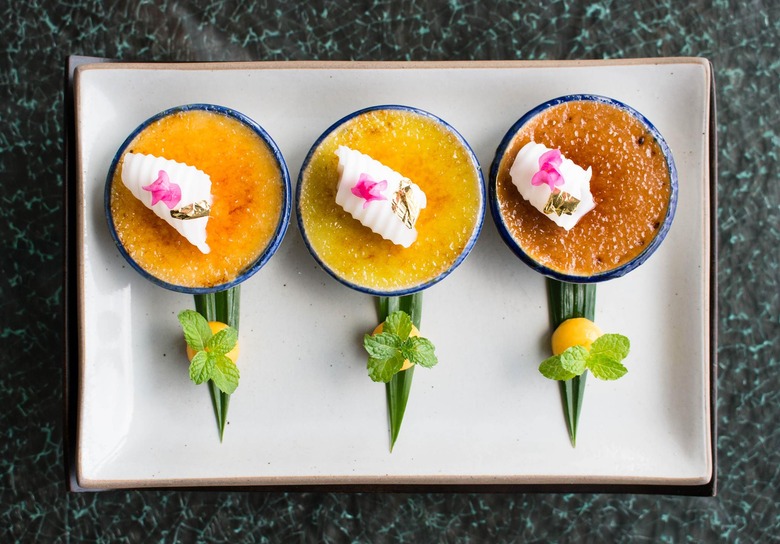 In many ways, Thailand is paradise for food lovers. You can't cross a street without the aroma of frying garlic and chillies drawing you in, or smoke pouring from a street grill hitting your nose. Everywhere you go there's a new temptation, whether it's spicy papaya salad, fragrant coconut milk curry or traditional roti pancakes sizzling away.
But in Thailand, navigating what's safe to eat can be a minefield.'Vegetarian' generally means not eating meat or seafood: anything else, including meat stock, shrimp paste or fish sauce, is fair game. Get it right and you'll be feasting on a variety of aromatic and flavorful dishes; get it wrong and you'll find yourself inadvertently chewing on some gristle. Here's how vegetarians can eat well in Thailand.
BANGKOK
As Thailand's exciting, frenetic capital, Bangkok is almost always on travelers' itineraries, and one of the greatest things about the city is the amount of street food it offers. Traversing these walkways, jostling your way through the crowds and vendors, is the best way to explore Bangkok, but much of the food is meat-orientated – even if it doesn't appear to be. However, there are some excellent vegetarian dishes to be found at most food markets, if you know what you're looking for.
One of the most popular comfort foods in Bangkok is khai jiao, an omelet cooked around rice and vegetables. Golden and fluffy, with soft inner layers and crispy edges, this deep-fried omelet is a joy to eat. Unlike western omelets which are often eaten alone, the khao jiao is an accompaniment to rice, and is cooked around blend of tofu, vegetables and rice to make it a kind of omelette crepe. The vendors cook it in front of you (it has to be served steaming hot straight out of the pan) so you'll be able to direct them if they get the urge to throw some shrimp in.
Another common vegetarian dish – once you ask for no fish sauce – is som tum, green papaya salad. Som tum is very popular throughout Thailand, so it's definitely worth getting a taste for it. Raw, flavorsome and packed with fresh vegetables, it's ideal if you feel carbed out after too many noodles. Made from shredded unripe papaya, sliced tomatoes, raw yardlong beans, peanuts and garlic, it's usually bathed in a sweet, salty, and tangy sauce made of sugar, lime juice and chilli. Be warned that authentic Thai food is very hot. The first time I ate som tum my lips burned for the next 30 minutes.
One other street food dish that's everywhere in Bangkok is roti. A pan-fried bread snack with Muslim origins, roti is usually eaten as a sweet treat, stuffed with sweetened condensed milk, sugar, banana and sometimes chocolate and peanut butter. I preferred the savory versions, which are easy to find in Bangkok: common fillings are eggs, corn and cheese. Watching the dough be expertly kneaded and stretched into a thin layer before being dropped onto a sizzling buttery grill is part of the pleasure.
Of course, you can't visit the Thai capital without sampling a few bowls of pad Thai. You can find pad Thai carts on nearly every street, but there's one restaurant you must visit. Thip Samai is the most famous pad Thai place in the city, and it's easy to spot by the ever-present long line outside. Get there at 5 pm, just before it opens, to miss the worst of it.
So what's so good about Thip Samai? By using charcoal, the chefs are able to get the fierce heat required to produce the authentic scorched flavour – something lacking in pad Thai in the west. Thick handfuls of dry rice noodles are soaked in sauce and oil in the pan, and then tofu, leeks, bean sprouts and eggs are tossed in. The charcoal roasted flavour is unique, and you can add other ingredients like jumbo prawns along with 'essential' garnishes like cilantro, chilli flakes, peanuts and lime.
On the higher end of the spectrum is Saffron, a stylish restaurant on the 52nd floor of Banyan Tree, from where you can admire sensational views over the city as you dine. The menu is focused on classic dishes served in innovative new ways: highlights were a selection of Thai hors d'oeuvres like banana blossom salad, fragrant green curry with salted egg, and saffron rice crackers with a range of sauces like coconut dipping sauce and Northern Thai green chilli dip. The desserts are just as good – if in doubt, go for the trio of crème brûlée, which comes in coconut, pandan and Thai tea flavours.
CHIANG MAI & BEYOND
As Thailand's northern capital, Chiang Mai has long been popular with travelers, and this historic city is an alluringly laidback alternative to chaotic Bangkok. Despite its old-world associations, Chiang Mai today is a thoroughly modern city, one that embraces freshness and change as much as its cultural past. The best way to explore Chiang Mai's food scene is by visiting the traditional markets, which are a glorious fusion of sights, sounds and mouth-watering smells.
The best markets are on Chang Khlan Road (every evening), Wualai Road (Saturdays) and Ratchadamnoen Avenue (Sundays). You can buy all kinds of treasures here, but most people are here for the food. As night falls, walk past stalls selling kaeng khanun (jackfruit curry), som tum (spicy papaya salad, a variation that's a little different in the north), and the ever-present pad Thai. Look out for what looks like a large red 17 emblazoned above the stalls ­– this is the Thai symbol for vegetarian.
The best place to get a feel for modern Chiang Mai cuisine is at the newly opened Street Pizza. I've tried to avoid recommending pizza and pasta places, because so often they're the generic fall-back option for vegetarians. But sometimes a restaurant is so enjoyable to visit, and the food so good, that I must. Decorated in a rustic style, Street Pizza is a beautiful environment to enjoy dinner, and the pizza is as good as in Italy, with thin, crispy bases dark around the edges. The basil used is Thai basil, which adds a homegrown aromatic twist.
After sampling a few varieties, it was the potato and rosemary pizza that impressed me most: thin slices of tender potato, mozzarella and pungent rosemary unite beautifully with a rich tomato sauce. But it isn't just the pizza that's so good here. Situated on the busy Thapae Road, it's an excellent spot for people watching. If you can, sit outside on the balcony, and spot how many people are lured in by the smell of baking pizza.
One drawback to being vegetarian in Thailand is that you can find yourself eating a lot of noodles and rice. One place I unexpectedly found a varied array of healthy vegetarian treats was Phuket's Ringside Restaurant. Popular with Muay Thai fighters, it has a focus on healthy, balanced meals, but rather than relying on meat-based protein, it's very vegetarian friendly. There are delicious salads here, but the best dish is the sweet potato, pumpkin and carrot fritters, which come served with a mustard dipping sauce.
Thailand can be as enjoyable for vegetarians as it is for meat and seafood lovers, but it does take a bit of circumspection. Fish sauce is used like salt here, and chefs have a prevailing fondness for considering shrimp paste and oyster sauce vegetarian. However, due to the prevalence of Buddhism, the concept of veganism is widely understood. If in doubt, rather than asking for an ingredient to be omitted, telling the chef you are "gin jae" probably means you'll fare much better.
Selene Nelson is a U.K.-based journalist who is traveling the world and reporting on her search for vegetarian food in each of the locales she visits.