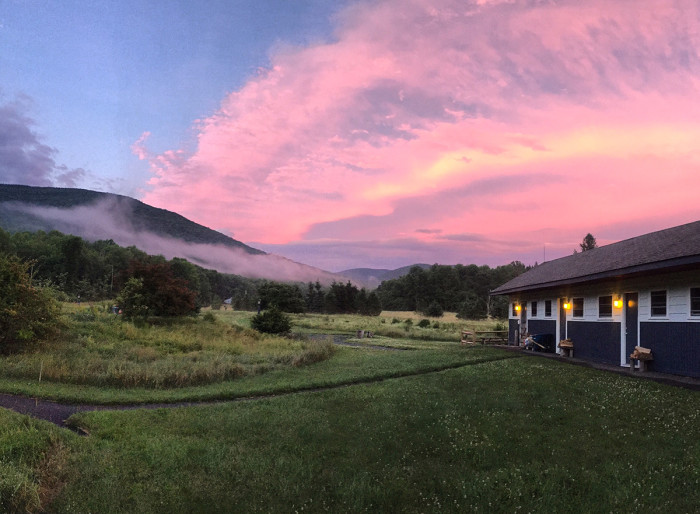 In Hungry Concierge, we travel the world to spot hotels that operate with their guests' food and drink needs squarely in mind — hotels both big and small, that are located in neighborhoods rich with bar and restaurant options. Because there's nothing worse than having your trip derailed by crummy room service. In this edition of Hungry Concierge, we bend the rules and take a trip to the country.
An escape from the hustle and bustle of a city to the quiet, beautiful woods of upstate New York is good for the mind, body and soul. For those who don't have a weekend home, consider the gorgeous Spruceton Inn in West Kill, New York, a little town east of Woodstock and Hudson, about a two and a half hour drive from New York City.
Tucked away close to the end of what may be the longest dead end road in existence (it was about a 25-minute drive from the dead end sign to the inn), Spruceton Inn is a long bungalow with nine rooms and a bar. Marketing it as a "bed and bar," innkeeper Casey Scieszka tells us that she originally wanted to open an inn in Morocco, where she had lived for some time. When she moved back to the States, she decided to bring her inn-opening idea with her, and Spruceton Inn was born. Scieszka runs the inn with her husband, Steven Weinberg. The pair lives in the house across the field from the inn.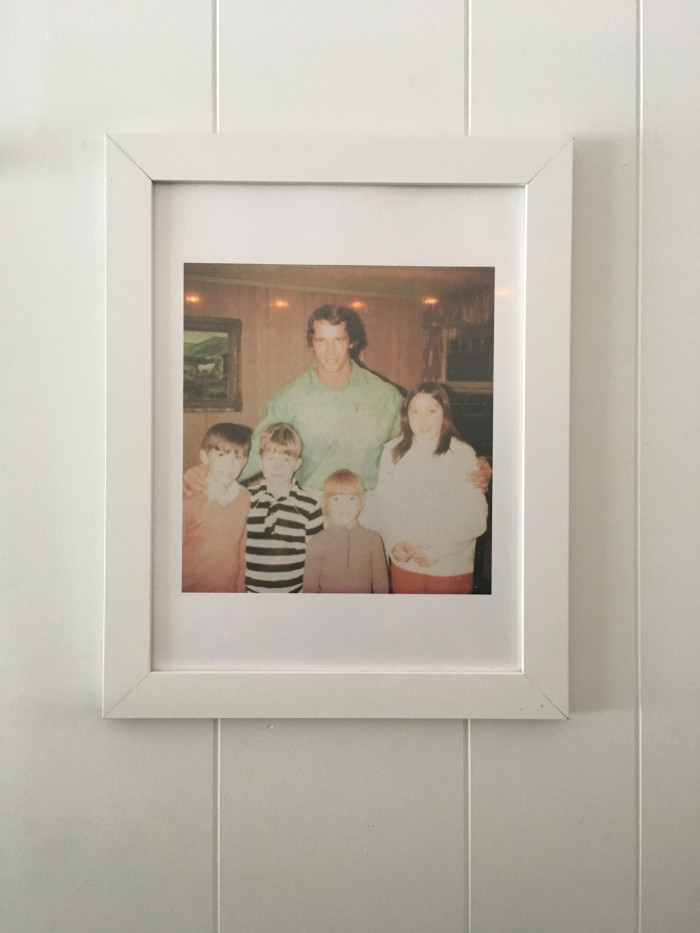 The property is equipped with five fire pits and four grills with complimentary firewood available outside each room. Utensils and charcoal are available for borrowing and sale, respectively. Hungry? Burgers, vegan burgers, soup, eggs are available for purchase for your grilling and cooking needs. Ready-made sandwiches, soups, popcorn, cheeses, meat plates and more are available at the inn's bar. Jerky, granola, trail mix and other treats are available for the area's many daytime hikes.
Local cider and wine is also available at the bar, along with cocktails and beer. Anything with the Sugar Moon maple syrup (tapped right next door!) is highly recommended. While there is no official bartender, assistant innkeeper Brett Kozinn mans the bar. In the morning, complimentary Pop-Tarts and coffee are set up at the bar to ready you for the scenic drive you're about to embark on. For passengers, a flask of bourbon is ready at your dispense.
Before Scieszka bought it, the property was owned by the Schwarzeneggers (yes, those Schwarzeneggers), and run as a bed and breakfast in the 1980s. Scieszka kept the place nearly as it was, only adding a few cosmetic changes.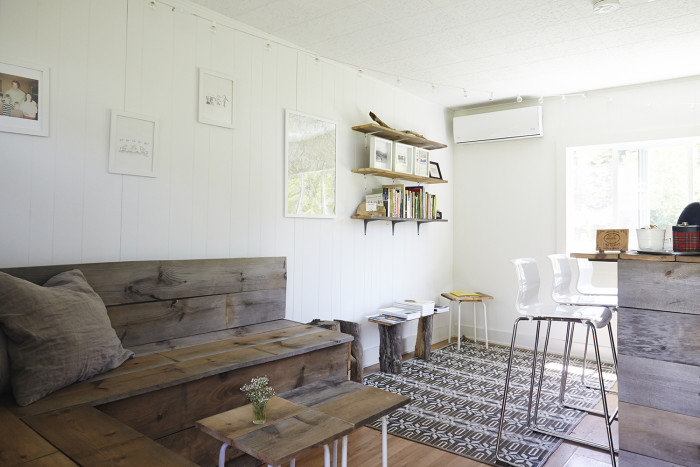 The Look
Surrounded by mountains and expansive meadows, the inn itself is simple and picturesque. Hammocks and wooden swings hang from the many trees on the property. The quaint bar-slash-front desk feels more like your stylish friend's well-kept home. If someone had commissioned Wes Anderson to design a storybook residence for hipster lumberjacks, this inn is probably what it would've looked like. On clear nights, the pinkish-blue sunset is so beautiful it could make anyone question his or her current permanent address.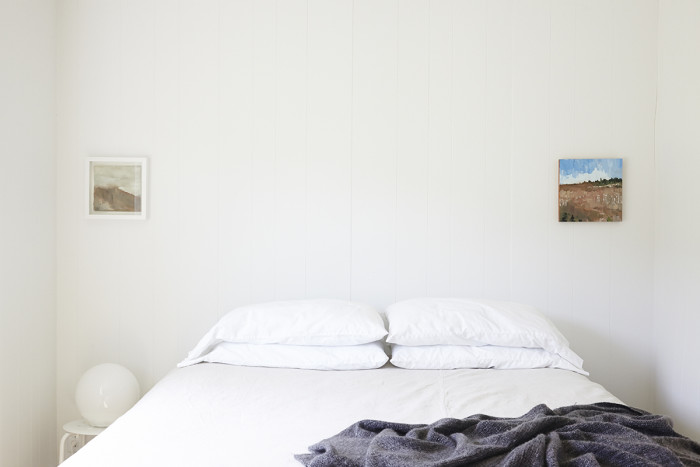 The Rooms
Minimal and bright, the rooms are furnished with just the essentials. There's a bed with white linens, a dining table or couch, a coat rack and a bathroom; yet it feels feel complete, warm and cozy. Of the nine rooms, six include a kitchenette equipped with a two-burner stove, mini-fridge, pots and pans, cooking and eating utensils, olive oil, salt, pepper, dishes and glassware. Standard rooms include a microwave, fridge, dishes, utensils, oil and salt and pepper. Each room looks out to the grassy (or snowy if you go in late March, as I did) field, which ends at a creek. With no television or Wi-Fi available, the outside world can't lay a finger on you.
The Neighborhood
Drive 20 minutes south and you'll find the famed Phoenicia Diner. While it does get busy, the waiting area is equipped with a bar and board games. The attractive menu boasts hearty breakfast and lunch options, from standard egg-and-bacon breakfasts to an extra-filling duck and grits skillet. Upgraded lunch specials like a CBLT (fried crab cake, bacon, lettuce and tomato on house-baked brioche) and fried chicken and waffle sandwiches are also instant eye-catchers.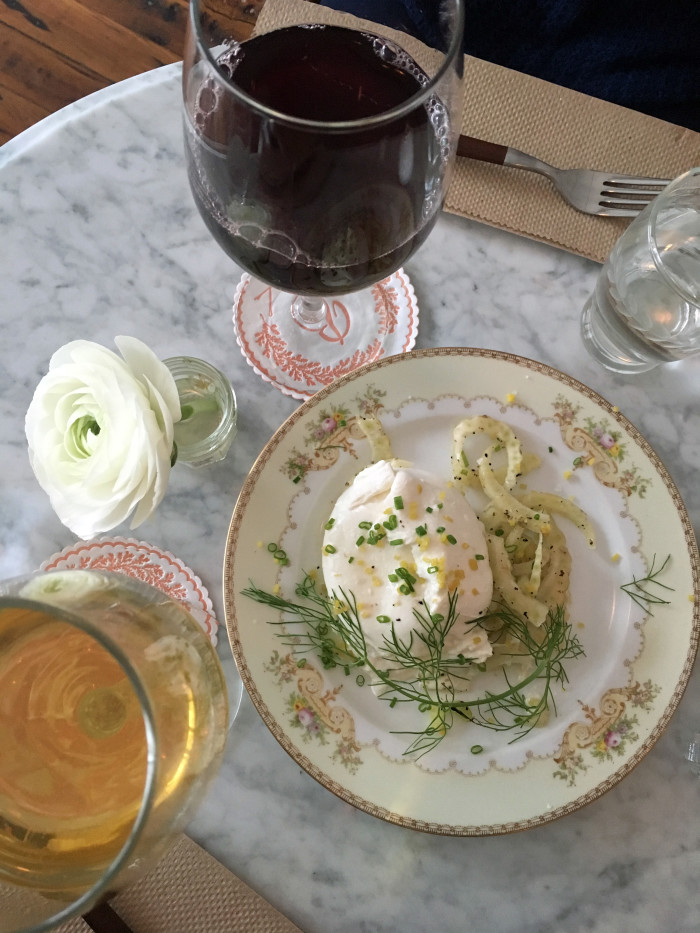 About an hour southwest, Kingston is home to wine bars, farmers markets and thrift shops galore. Brunette Wine Bar looks like something that came out of a French garden fairy's mind: delicate and pretty with a list of all-natural wines. Snack on burrata with fennel and celery and come back for the trout roe "nachos."
For larger parties, the Peekamoose, 20 minutes southeast, offers a constantly rotating menu of generously portioned dishes. Next to the main dining room, the Tap Room offers a more casual feel with local beers and bar snacks like onion rings so large they might be mistaken for doughnuts. House-churned ice cream comes in six different rotating flavors.
Later in the spring, West Kill Brewing will open its doors just down the road from the inn.
Spruceton Inn
2080 Spruceton Road, West Kill, NY 12492
518-989-6404
Rates from $69