Meet Jesse Tyler Ferguson, The Host Of This Year's James Beard Awards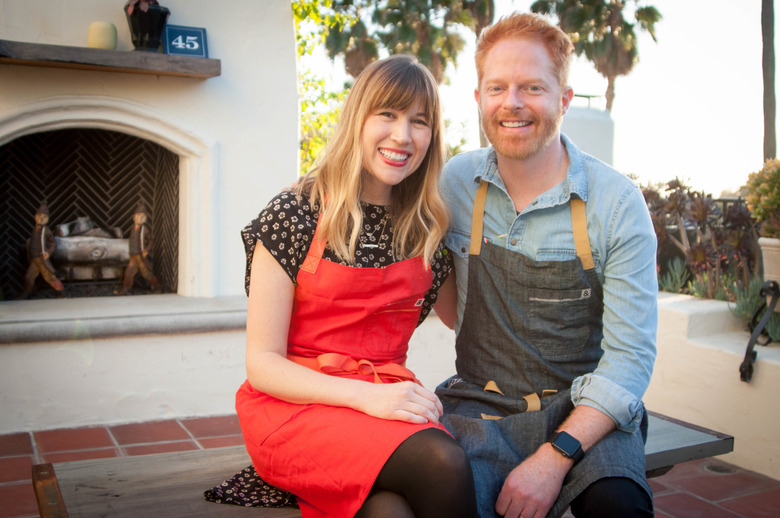 Jesse Tyler Ferguson loves so much, he created a lifestyle and food blog with former Saveur writer Julie Tanous. (Photo: Kevin Rutkowski.)
You may know him as Modern Family's Mitchell Pritchett every Wednesday night on ABC, but come May 1, actor Jesse Tyler Ferguson will be taking on a different kind of role when he hosts the James Beard Awards at Chicago's Lyric Opera. And for those of us who didn't know of the actor's profound love of food — he's the first to admit he'd be a chef if he wasn't an actor — there's more: He created a healthy lifestyle food blog with former Saveur magazine staffer Julie Tanous, and he recently starred in Broadway's Fully Committed, a one-man show about a reservationist at one of New York City's hottest restaurants. Here, we catch up with Tyler Ferguson about the food city that did him in, the many faces of the restaurant world, and his go-to awards show accessories (hint: they're edible).
How would you describe your relationship with the food world — and, more specifically, with the restaurant and bar world today?
I'm a bit of a fan boy when it comes to the culinary world. If I wasn't an actor I think I would have found a career as a chef. Justin, my husband, and I love to eat. It's our favorite thing to do when we travel. Nothing is better than a thoughtfully served meal.
When did you realize that food played a big role in your life?
I think it was after I moved to NYC from Albuquerque. My eyes were opened to flavors I never experienced in New Mexico. I remember the first time I had Indian food, the first time I had sushi. All those cuisines that seemed so intimidating to me were suddenly the things I craved. It was exciting.
What was the last eating or drinking experience that blew your mind?
I think it would have to be my trip to Blue Hill at Stone Barns. Being in the serene setting of this gorgeous farm an hour outside of Manhattan and then eating this mind-blowing and surprisingly straightforward food was too much for me to handle. I couldn't believe that food could taste like that. Everything that came to the table was a work of art. Dining in the same space where the food you are eating is harvested and raised is a truly special experience — it's very emotional.
What was your first reaction to being asked to host the Beards?
I was honored to be consider "in" enough to be in the room where it happens! I admire the culinary world so much as a consumer and as a novice cook. I'm mostly looking forward to meeting so many of the people I have been admiring from afar over the past few years.
What are you planning to wear?
I'll probably dust off an Emmy Awards tuxedo. I've been nominated five times and have never won, so I've collected quite an array. Maybe I'll change five times throughout the course of the night.
How do you expect this awards show might be similar to and different from, say, the Golden Globes or the Emmys?
Well if it's anything like the Emmys, you are trapped in your seat for three plus hours without food. That's always challenging. Piece of advice: always carry a protein bar and a flask of something.
Talk to us about your food blog: What inspired it, and what continues to make the cut for posts?
After moving to LA I inherited a larger kitchen and became more ambitious with my cooking. I have a huge cookbook collection and I love putting my own spin on a recipe. I began sharing a lot of my creations with my friend and cooking partner Julie Tanous on social media. The blog was an easy way to catalogue what we were working on. We get together every few weeks, cook, create, and then post it if it turns out good. There have been several ideas that have been terrible — and you'll never know about them! My friend Sarah Carey, who is the Editorial Director for Martha Stewart Living, is joining us on our next cook day. I'm excited to have her in the kitchen — I love working with people who can teach me.
In Fully Committed you played a reservationist, among other quirky characters, at an NYC "it" restaurant. How closely does this mirror your own dining out experiences? Which character did you best relate to?
I most related to the lead character of Sam, the Reservationist. I never worked as a reservationist, but I had a survival job in a gift shop and in a coffee house while I was a struggling actor. I could really relate to his struggle to stay positive in a business with so much rejection. I have come across many of the prototypes in the play: the masochistic chef, the entitled wealthy upper east sides, the overly aggressive assistant. The restaurant culture is full of them!
What would your last meal be?
I think it would be pasta. Let's go with lasagna. I never eat it, so now's the time. Lots of bread and butter — carbs, carbs, carbs. Wine. At least a bottle of red. Oh, and dessert is a full box of Samoa Girl Scout cookies. I just made myself hungry. I'm going to try a sensible portion of this meal tonight.