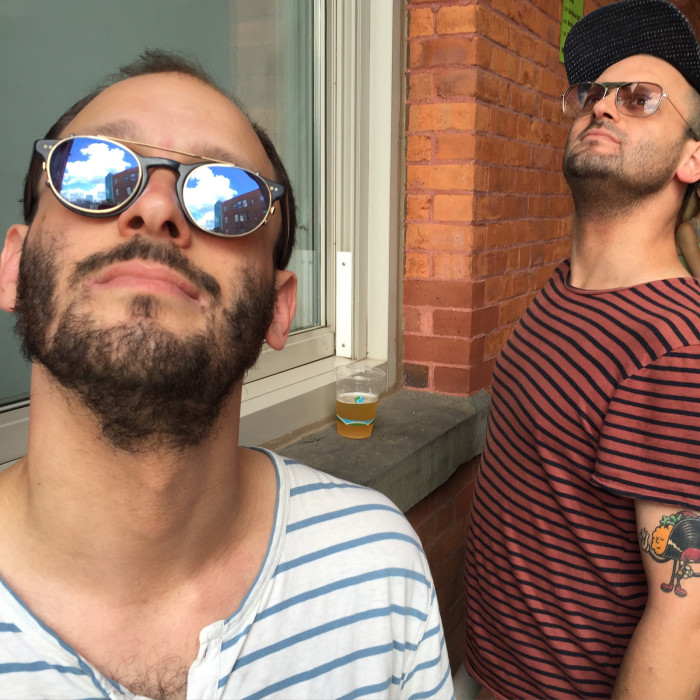 Before there was the "Food Is the New Rock" podcast or the "Chefs are the new rock stars" idiom, there was "Snacky Tunes." The laid-back talk show debuted on Heritage Radio in 2009, pairing chefs and culinary figures with musicians to talk about food, records and whatever else flowed into the freeform conversations. Pizza gets served, songs get played and people from different worlds come together to find common ground.
It's great fun, and it's got legs: This weekend, "Snacky Tunes" will air its 300th episode (Sunday at 4:30 ET on Heritage Radio), costarring Kerry Diamond and Claudia Wu from Cherry Bombe (the food guests) and singer-songwriter Calvin Love. Check it out, but first read the email interview with Greg and Darin Bresnitz, who dish on wayward guests, musical discoveries and that time they got punked on air by Brooks Headley. (Oh, and disclosures: I was a guest on episode 50, and Food Republic was media sponsor of the Bresnitz brothers' Finger on the Pulse series for a few years.)
How did "Snacky Tunes" start?
Greg Bresnitz: I had been doing radio since college (University of Oregon KWVA as co-music director), and had always had a show in some form of another, including live broadcasting from our Brooklyn apartment for the now-defunct Little Radio in L.A.
Darin Bresnitz: Around 2006, we moved our weekly DJ party, Finger on the Pulse, to the Royal Oak in Williamsburg, Brooklyn, where we met Brandon Hoy, one of the founders of Roberta's, and Anthony Falco, one of the original pizzaiolos at Roberta's. Late one night in 2008 Brandon told us he was leaving to open a pizza place, and we were like, "OK, dude," and then we didn't see him for a year or so. Then Roberta's opened and we were like, "Oh, wow, he did it."
GB: I had wanted to get back to radio and was always looking for a way back into it.
DB: We had just sold "Dinner With the Band," the first-ever food-and-music cooking show on TV. It starred chef Sam Mason. Even though that was going, we were still looking for another outlet where we could tell more of these stories, but on a weekly basis.
GB: In 2009, I had heard that Heritage Radio Network was starting to broadcast from the back of Roberta's. The station in its earliest of days was hard-line food only, so when we asked to do a music show, they initially said no. I had been out on this failed date and decided to eat my feelings at Roberta's and got a meeting with the station manager Jack Inslee after Brandon mentioned they were open to music shows.
DB: We then ended up going out for drinks with Patrick Martins, founder and president of Heritage Foods USA, and asked him if we could do a food-and-music show. We told him we'd like to make the show an hour long to give each topic its due. It was during that meeting that we came up with the name "Snacky Tunes," and we got started in July of 2009.
GB: The first shows were very loose.
DB: We didn't really know what we wanted to do or say, especially for the food part.
GB: I remember we used to do bits…
DB: Oh, yeah, like "The Secret Chef," where we interviewed our friend who was a private chef, which I think we did once.
GB: We still keep our food guests pretty broad. Back then, we also only booked DJs for the majority of the first few shows.
DB: That was until you came across the band Freelance Whales.
GB: That's right, I saw them busking in the subway before they got their first break.
DB: What, "Snacky Tunes" wasn't their first break?
GB: Anyway, I saw them busking and invited them on the show. The entire band came on and set up in the studio. They played five songs, and the recording sounded awesome.
DB: That's when we shifted the focus to primarily live bands.
GB: We wound up putting out five live comps. The cover of the fourth was designed by Luther Himes IV, and it wound up becoming our logo we use.
DB: I now have that tattooed on my arm.
At the time the whole "chefs are the new rock stars" idea didn't exist. Was it hard to convince food people to go with the music theme? Any memorable clashes because of this?
GB: We definitely pulled every favor we could when we first started booking. The free pizza helped, too.
DB: I had been working in the food world already for a few years doing TV production, and we knew a lot of people working in the restaurant/bar scene. We reached out to our colleagues and friends for the first few dozen shows, but it took about three and a half months to book our first real chef, Dave Colston from Prime Meats.
GB: This was still early in food's pop culture rise, so a lot of the musicians were really excited to hang out with the chefs and vice versa.
DB: To be honest, I think the guests wanted to talk to each other more than us.
What have been some of the most memorable moments?
DB: There are so many moments from over the years that I love, like our back-and-forth banter with our dear friend, food writer Jordana Rothman, the "tambo" and breakdown from "Cold Eye" by She Keeps Bees, and getting to talk to Niki and Josh from Russ & Daughters.
GB: Chef Marc Vetri playing lead guitar with singer-songwriter Phil Roy stands out. That dude can really shred. Interviewing the late and great Josh Ozersky; he was such a force. Doing the first radio interview with London's Clove Club about their then yet-to-be-named new restaurant (Luca) was an honor.
DB: I really love one of our latest interviews with Pasture, this new restaurant in Auckland, New Zealand. In recent years we've done more traveling and been able to tell more stories from around the world. Sitting down with Berlin-based Nobelhart & Schmutzig, a Michelin-starred restaurant applying Noma-style sourcing techniques, was interesting because we got to hear how modern cooking was being interpreted through the German lens.
GB: I love that eight years in, we have some really amazing repeat guests, like our annual trend show with legendary restaurant consultant Michael Whiteman, and our check-ins with Cherry Bombe Jubilee. It's also so great to send people back to the old podcasts and catch up.
DB: Also, the Thanksgiving interview with our mom (which also has the most insane title juxtaposition) was one of the most special episodes we ever did. We will cherish that one forever.
Who would be the ultimate "Snacky Tunes" chef and musician combo?
GB: We heard that L.A. Times restaurant critic Jonathan Gold plays cello, so that is naturally who we want.
DB: We would love to do an hour with just him, knowing that he has a strong love for punk music, used to cover groups like N.W.A. and obviously is encyclopedic about food. It would just be amazing.
Where can we find the best musical moments from "Snacky Tunes"?
DB: I remember we used to be booking up until the last minute for the first few years. One Monday morning we had our music guest drop out, and we had been hanging out with Dev Hynes (a.k.a. Blood Orange) the night before. He was slated to be on "Dinner With the Band" while he was still performing under the name Lightspeed Champion.
GB: He was showing us a bunch of sleight-of-hand card tricks.
DB: This was near the end of 2010, and I think he had just started writing songs under the name Blood Orange, so we texted him to see if he would come on the show.
GB: He came by with just a guitar and absolutely killed it.
DB: There have been lots of good moments like that over the years, but not always from planning ahead on our part. Hands down one of the most magical performances was from Reggie Watts.
GB: We actually booked a lot bands for their first time ever on the radio due to the nature of the show. People earlier in their careers are down for coming and taping out of two shipping containers. Some of them have gone on to do really well for themselves like Porches, Harsh Crowd, Beacon, Freelance Whales and San Fermin. It's been great to see them come in with us slightly nervous, and then see them crushing it years later.
DB: And a big shout out to Wallpaper for writing our theme song. Originally we thought we would change it up every year, but then he submitted what has been our one and only theme song because he absolutely nailed it.
Any musicians ever surprise you with their knowledge of food, or chefs with their knowledge of music?
GB: Au Revoir Simone has some of the deepest culinary knowledge for a band. They really know their way around a kitchen and always jumped in to ask the chefs some questions that were really just tips they wanted for themselves.
DB: XNY actually cooked for us, and I believe it was ribs, which was based on a past show they had listened to. They knew so much about food, and those ribs were so good.
GB: We did get played once though by chef Brooks Headley. When he was still at Del Posto he came on with fellow chef, Mark Ladner, before they did one of our annual summer "BBQ Blowout" parties. During the musical break, he was like, "Hey, make sure to ask us what we play in the kitchen during prep and service." It was the first question after the break, and his response was, "Nothing." Then dead air.
DB: Well played, Brooks, well played.
Have any guests ever been 86'd from "Snacky Tunes"?
GB: We do not name names, but there was one band.
DB: They are actually still a pretty prominent indie band.
GB: They showed up on time, loaded in and went to the backyard to eat some pizza. We were promoting their performance throughout the first part of the show because we were pretty excited to have them play. It was a big get for us at the time.
DB: During the food part of the show, the drummer came in, grabbed their car keys and stormed out.
GB: Once we wrapped the food interview, one of Roberta's managers came in and said they had kicked the band out. One of the members had been throwing up in the bathroom since he got there and then passed out on one of the picnic tables.
DB: When the manager asked them to get off the table, I believe they responded with, "Who the fuck are you?"
GB: We never thought there would be a band too wild for Roberta's, but there was one.