A friend and colleague of mine not only holds the distinctions of being an awesome person and a great butcher, but she's also got what I consider to be the best handle in the game — meat-filled dough. That's right. She, along with hopefully you by the end of this column, knows and appreciates the harmonious nature of encasing meat in dough. Whether it's empanadas, pitepalts, samosas or Jamaican patties, the texture of a flaky, sometimes crunchy exterior juxtaposed with tender stewed meat, veggies and spices — well, it's one of the most perfect pairings imaginable. What else could take the blandness of a beef tenderloin and help transform it into beef Wellington? Dough, that's what! And there's nothing quite made for dough like pot pies!
Pot pies are my go-to leftover meal. You've roasted a whole chicken, a leg of lamb and a beef pot roast, and have enjoyed a day or two of leftovers, but now you're feeling like you might need a bit of variety in your life. Pot pies are here to offer you the change you need!
But first, a quick and easy dough recipe:
Ingredients
For the dough:
1¼ cup all-purpose flour
¼ teaspoon salt
¼ cup ice water
½ cup cubed and chilled butter
Directions
For the dough:
In a food processor, blend flour and salt until fully combined.
Using the pulse function, add in butter until your mixture is coarse, followed by water — a tablespoon at a time — until a ball is formed.
Dump the dough onto a floured cutting board and knead into a ball. Wrap it in plastic and off to the fridge to rest for 30 minutes. You can certainly increase your batch size, as this dough freezes great.
Okay, so your dough is ready. Let's get to stuffing meat inside! First up: chicken.
Chicken Pot Pie

I roast a chicken or two a week, so that means a ton of leftovers. I most often do a simple skillet style with dough on top, but you can easily adopt this for a double crust.
Ingredients
2 cups homemade chicken stock
2 cups of leftover skinless chicken from the breast, thigh and leg
½ cup diced carrot
½ cup diced celery
½ cup diced onion
¼ cup flour
¼ cup half-and-half
4 tablespoons butter
1 egg yolk
Salt and pepper to taste
Any other spices/herbs you feel like adding
Directions:
Melt the butter in your skillet over medium-high heat and toss in your veggies when it starts to bubble.
In about five minutes, when the onions turn translucent, they're done. Pour in your chicken and flour and combine well, mixing for about a minute or so.
Next, add in the chicken stock and allow it to thicken. If you want it thicker you can always add more flour, but be sure not to just add it straight in, as it'll clump.
Mix your desired amount of flour with a bit of water or even more butter before adding it to the skillet. Conversely, if it's too thick, just add more stock. Once it's started to thicken, feel free to add in any additional spices as well as your half-and-half.
Remove the skillet from heat and allow to cool while your oven reaches 375°F.
Roll out your piecrust on a floured surface and lay it over the top of skillet, pressing it firmly against the sides. Use a knife to cut small slits in the dough to allow some steam to escape. Finally, brush the dough with the egg wash.
Bake for roughly 30 minutes. If you notice your piecrust edges starting to burn quickly, wrap some tinfoil around them. I prefer to let my pot pie set for a bit before cutting into it. If you can wait, it's worth it. I also like it cold the next day.
Shepherd's and Cottage Pie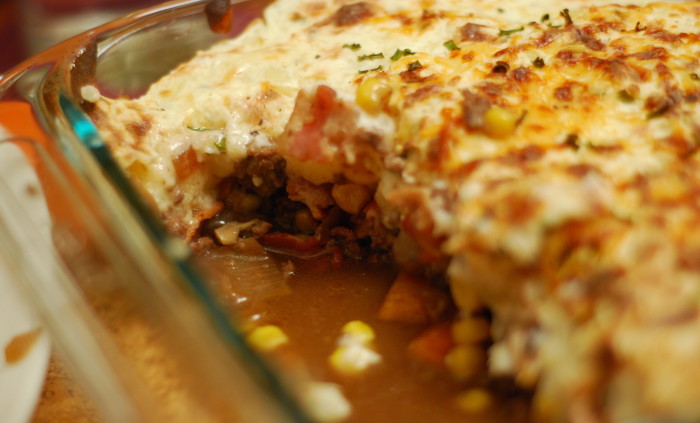 Okay, first things first. These are not the same pies. The meat is the difference here. Shepherd's pie contains lamb, and cottage pie contains beef. And while I'm straying a bit here from meat-filled dough, I think we can make a concession for the potato. I mean, that's what gnocchi is made of, right? There's flour in there, and if you serve it with a Bolognese, you've got meat.
Just like our chicken pot pie above, feel free to use frozen veggies or cook down some fresh ones, or use a mix of the two. Leftovers are the key here, and that can be your meat and your potatoes. Feel free to use lamb or beef, just be sure to call it by its proper name.
Ingredients
For the meat:
Beef or lamb, cubed, diced, ground — really anything that you have from leftovers. For ground, use 1 pound. For all the rest, about 2 cups.
1 cup beef or lamb stock
1 cup diced onion
1 cup diced carrot
½ cup frozen peas and corn (if desired)
1 clove minced garlic and any other spices/herbs you like
2 tablespoons flour
2 tablespoons butter
1 teaspoon Worcestershire sauce
Salt and pepper to taste
For the potatoes:
Roughly 2 pounds potatoes (Yukon Gold or russets work fine), peeled and cubed
¼ cup half and half
3 tablespoons butter (room temperature)
¾ teaspoon salt
¼ teaspoon pepper
1 egg yolk
Directions:
Peel and dice the potatoes into ½-inch cubes and place into a medium pot covered with cold water. Cook on high heat, covered until they boil.
Once boiling, uncover, reduce heat and cook until tender. Usually that means you can crush them with a pair of tongs — roughly ten minutes. Drain the potatoes into a colander and then return to your pot and mash, combining the half-and-half, butter, salt, and pepper, until smooth. Finally, add in the egg.
While your potatoes are cooking, you can prepare the meat filling. Melt the butter in a cast-iron skillet until it starts to bubble. Add the onion and carrots and cook through until the onions are translucent, approximately five minutes. Stir in the garlic.
Add your beef or lamb, along with salt and pepper, and combine thoroughly. Mix in the flour and cook for one minute, making sure everything in your skillet is coated.
Add your stock, Worcestershire sauce and any additional herbs, bring to a boil, then reduce the heat to low and simmer until thickened, roughly ten minutes. If you're using frozen veggies, you can add them now. I like to cook this as a one pot/skillet meal, so I'll remove the skillet from the heat and allow to cool a bit while my oven reaches 425°F.
Starting around the rim, spread your potatoes over the meat filling, making sure to create a seal to prevent the filling from bubbling out. Bake for about 25 minutes or until potatoes start to brown. For an even better crust, grate some cheddar cheese on top, or for a more traditional Cumberland Pie, add some breadcrumbs.
You don't have to stick to just a skillet, either. You can always pour your filling into a loaf pan, pie dish or even a muffin tin, making sure to use a double crust for this one.