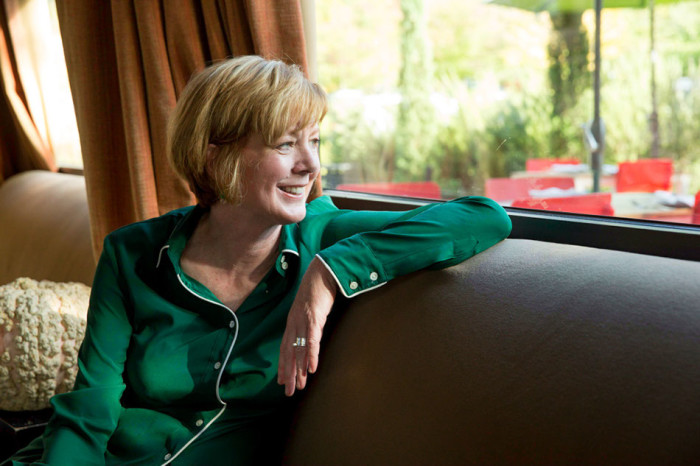 In honor of Food Republic's annual Healthy Living Month, we reached out to chefs about their diet and fitness routines and are featuring these interviews throughout January. Next up is Cathy Whims of Portland, Oregon's Nostrana.

Cathy Whims has trained and mentored many of Portland's new generation of chefs and was even a pioneer of wood-fire cooking in the city. Now, at 60 years old, this six-time James Beard Award nominee is no longer on the line but is still keeping close tabs at her acclaimed Italian restaurant, Nostrana. While she's tried all fad diets imaginable, Whims thinks it best to just keep health in mind and treat yourself once in a while.

What's the first thing you eat or drink in the morning?
An Emergen-C, followed by a small illy cappuccino, and in the winter months a small glass of fresh squeezed orange juice. 

How do you manage to keep in shape and not snack while always being in kitchens?
I no longer work the line, so I am able to schedule lunches and dinners mostly. Still, if working a special event, either in-house, or outside of the restaurant, I end up (regretfully) grazing all day as I feel I need to taste everything to make sure it is right. Also, at lineup before a service with the servers and head chefs, there are lots of opportunities to taste the new dishes. So much so that I sometimes don't feel I deserve to eat dinner that night!

What's your fitness routine, if any?
I train with a private trainer five days a week. Recently, I broke the second metatarsal in my foot and I truly needed constant supervision when I was working out in order to not reinjure myself! It also helps to motivate myself! I like to throw in one to three private Pilates sessions as well to keep myself flexible.

Do you practice any wellness routines, such as meditation, acupuncture, massage?
I try to have a massage once a week, and use acupuncture and visits to the chiropractor only when injuries happen.

Any New Year's eating resolutions?
I don't usually make New Year's resolutions, but I had the great fortune to teach cooking classes at the wonderful health spa Rancho de la Puerta [in Tecate, Mexico] for the first week of January this year. I resolved to eat much lower on the food chain, and to consume lots of fresh vegetables, even more than I usually do! Deborah Madison's famous black bean chili is for dinner tonight, as well as a red cabbage and a Brussels sprout salad (perfect dinner for a snow day here in Portland).

Have you ever done a fad diet? Juice cleanse?
I have tried fad diets, juice cleanses, Atkins and others I don't remember, but I always fail miserably after day two. Better for me to try to eat as reasonably healthy as best as I can, particularly at home, and to allow room for splurges.

Any food or drinks you actively avoid?
I never eat fast food; I'm not even tempted. But with potato chips or someone else's French fries, I'm a seagull!

Have you ever struggled with your weight?
I doubt few chefs and cooks don't struggle with their weight. In high school I played soccer, and I was a dance major in college, so exercise is important to my mental well-being (and my physical well-being, of course!). But I often find myself battling the classic five to 10 pounds. It's depressing sometimes. A chef has to taste, taste, taste.

Do you have any go-to, quick-fire healthy recipes that you can provide us off the top of your head?
Zuppa all Frantoiana is one of my favorite healthy soup recipes. I enjoyed teaching this recipe when I was in Mexico a few weeks ago at Rancho de la Puerta.
Zuppa di Frantoiana
Late fall harvest soup of the olive worker
Yields 4-6 servings
Ingredients
1 cup dried white beans such as Corona* or cannellini
2 to 2 1/2 quarts reduced-sodium chicken broth, or water
10 garlic cloves, crushed, divided
10 fresh sage leaves
1/2 teaspoon red chile flakes, divided
About 1/2 teaspoon kosher salt
2 bunches (1 pound) Tuscan kale, stems and coarse ribs removed
About 1/3 cup extra-virgin olive oil
1 tablespoon chopped fresh rosemary leaves
4 anchovy fillets, finely chopped (optional)
6 ounces day-old whole grain bread, crusts trimmed, torn into 1 1/2-inches pieces
1/2 teaspoon pepper
About 1/2 cup grated pecorino cheese
Olive oil for garnish
Directions
Soak beans in a bowl with water to cover at least 4 hours (at least 6 hours if using Corona*) or overnight. Drain, put in a 5- to 6-quart pot, and add 2 quarts broth, 6 garlic cloves, the sage, and 1/4 teaspoon chile flakes. Bring to a boil, then reduce heat and simmer until tender, 40 to 80 minutes, adding 1/2 teaspoon salt during last 15 minutes.
Fill another large pot about three-quarters full of water and bring to a boil over high heat. Submerge kale and boil gently until tender, 10 to 15 minutes. Drain, then coarsely chop.
Heat 1/3 cup oil over medium heat in pot used for kale. Chop remaining 4 garlic cloves and add to pot with remaining 1/4 teaspoon chile flakes and the rosemary; sauté until garlic is fragrant, about 2 minutes. Add anchovies, if using, and kale and cook a few more minutes. Stir in beans and their liquid. Cover and bring to a boil, then reduce heat and simmer 10 minutes. Remove from heat.
Stir bread into soup with pepper and salt to taste. Cover and let stand until bread is very soft, 20 minutes to 1 hour.
Reheat soup over medium heat until steaming, adding more broth if you'd like a looser texture. Ladle into bowls and add pecorino and a generous drizzle of olive oil for garnish.