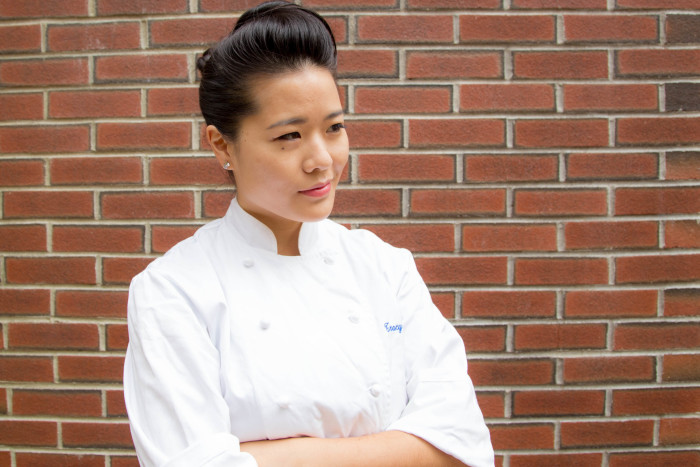 In honor of Food Republic's annual Healthy Living Month, we reached out to chefs about their diet and fitness routines and will be featuring these interviews throughout January. Next up is Tracy Chang of Pagu in Cambridge, Massachusetts.

Having grown up in her grandmother's Japanese restaurant and trained at Paris's Le Cordon Bleu and later in Spain at a three-Michelin-star restaurant, Tracy Chang mixes European and Japanese flavors at newly opened Pagu. Whilst opening a restaurant, some may find it difficult to fit exercise into their routine. Not for Chang. She finds a way to perform squats and push-ups during her morning and evening routines. Chang has also served as a teaching fellow at Harvard's science and cooking program.

What's the first thing you eat or drink in the morning?
A smoothie of açai, banana, blueberries, strawberries, almond milk and sheep's-milk yogurt.

How do you manage to keep in shape and not snack while always being in kitchens?
I play soccer and go to hot yoga (vinyasa). I am tasting throughout the day in the kitchen. I also have quite a large team and try to sit down with a different group each day for family meal.

What's your fitness routine?
With a restaurant opening, it's hard to make time for a "fitness routine," but I take advantage of idle time in the bathroom. When I wake up in the morning and before I go to bed, while I brush my teeth, I do squats and calf raises. When I rinse with mouthwash, I do push-ups against my bathroom sink. 

Do you practice any wellness routines, such as meditation, acupuncture, massage?
I recently found an incredible massage place in Chinatown that does ba guan (cupping) and gua sha (spooning). I also take a bath a few times a week and "meditate."

Any New Year's eating resolutions?
More time to share meals with friends and family. The whole point of opening a restaurant was to share meals with friends and family, but during service, it's hard to walk away from the expo and kitchen and sit down with a table and eat something.

Have you ever done a fad diet? Juice cleanse?
Never. I believe in moderation and not "shocking" my body. However I won't say a juice cleanse retreat in Bali doesn't sound enticing…mostly from the standpoint of can I mentally do it versus physically. I like to believe I can physically do anything.

Have you ever struggled with your weight?
I was a tri-season athlete growing up (soccer, basketball, lacrosse) and had a very healthy appetite. It wasn't necessarily healthful (there was a lot of junk food readily available at school — candy, chips, ice cream). These experiences motivate me to create healthier snacks (e.g. Pagu granola!). As an athlete, I never struggled with weight. If anything, I was always slightly underweight as a kid compared to my peers.

Do you have any go-to, quick-fire healthy recipes that you can provide us off the top of your head?
I love to eat eggs, namely omelets. I love watching the Jacques Pepin and Julia Child video on omelets. I make mine with Spanish olive oil, not butter. Don't tell Julia.

Tools
Medium mixing bowl
Medium whisk
1 8-inch nonstick pan
1 pair wooden chopsticks
Plate
Ingredients
3 eggs, whisked well to incorporate whites and yolks
¼ teaspoon fine sea salt
1 tablespoon Spanish Arbequina Olive Oil
¼ teaspoon cracked black pepper
½ teaspoon chives, finely sliced
Directions
In medium mixing bowl, whisk eggs well to incorporate whites and yolks.
Add salt and whisk well.
Heat pan on medium-high.
Add olive oil.
Add eggs and using chopsticks, immediately stir vigorously, shaking pan in circular motions to incorporate air.
Eggs should be fluffy and runny.
Turn heat to low.
When eggs are still slightly runny, add chives and black pepper.
Using Jacques and Julia's technique, fold eggs back with chopsticks, rolling egg unto itself to form a leaf shape.
If still running, heat a bit. If not, remove from heat and plate.
I like a light golden exterior (lends a bit of sweetness when eggs caramelize) and a soft, slightly runny, fluffy interior. For the light golden exterior, you can also crank the heat to high for the last 10 seconds.