In honor of Food Republic's annual Healthy Living Month, we reached out to chefs about their diet and fitness routines and will be featuring these interviews throughout January. Next up is Leah Cohen of NYC's Pig & Khao.
Whether you recognize her from her days as a contestant on TV's Top Chef or from her tireless work in the kitchen of her vibrant Southeast Asian restaurant Pig & Khao on the Lower East Side, you likely know Leah Cohen as one of the country's most innovative chefs. Opening a restaurant in the Big Apple is no easy feat — let alone doing so before your 30th birthday. The half Russian–Romanian Jewish, half Filipina chef has certainly learned a lot of things in her near half-decade at the helm of her first restaurant. Here's how she manages to keep in shape.
What's the first thing you eat or drink in the morning?
The first thing I drink in the morning is a cup of coffee. I cannot function without caffeine. I got a Nespresso as one of my wedding gifts and put it to good use. I'm not much of a breakfast person, but when I do eat it, I usually have eggs or something terrible like chocolate babka.
How do you manage to keep in shape and not snack while always being in kitchens?
I am a total grazer (as most chefs are), which makes it hard to lose/maintain weight. When I am at work, which is most of the time, I try to incorporate a lot of vegetables into my diet to fill up on. I also try to keep low-carb, which is hard for me because I love rice so much. Portion control is the key for me to maintaining any diet. I never want to deprive myself of something delicious.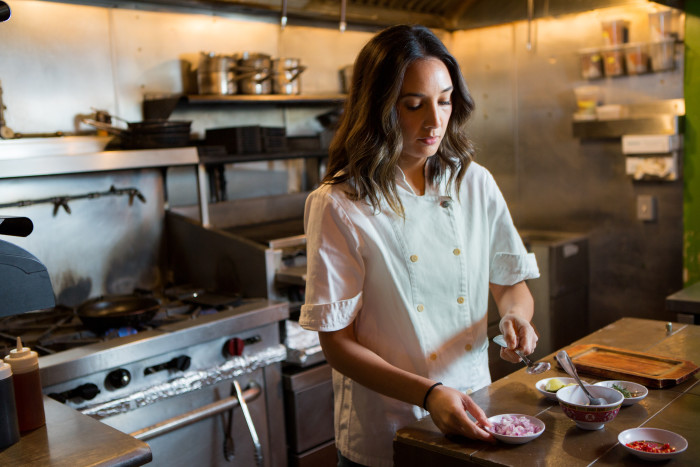 What's your fitness routine, if any?
I work out 4 or 5 times a week, which is what helps me stay in shape. I see a trainer once a week, do an SLT class, Soul Cycle and then weight training on my own.
Do you practice any wellness routines, such as meditation, acupuncture, massage, etc.?
I see a Hilot (Filipino healer) every other week in Queens. He does deep-tissue massage primarily.
Any New Year's eating resolutions?
I lost 15 pounds for my wedding last July. My resolution is to keep the weight off.
Have you ever done a fad diet? Juice cleanse?
I've done them all! I did the juice cleanse, the no-carb, the no-fat, the no-sugar diet. They all work but are impossible to maintain.
Any food or drinks you actively avoid?
I try to avoid dairy in my everyday life, but when I go out to eat, all bets are off.
Have you ever struggled with your weight?
Story of my life! I was chubby as a kid, and I always fluctuate in my adult life. It's hard to be thin and especially hard when you work with food.