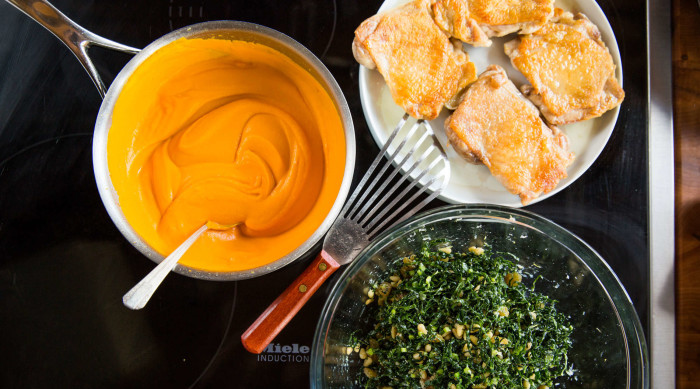 If you are old enough to remember a world without the Internet, you may also have enjoyed a childhood in which the chicken nuggets at a certain ubiquitous fast-food chain were consumed largely without question. Remember those golden bird bites — crispy on the outside, tender on the inside, magnificent when doused with spicy mustard sauce?
If you did not grow up on the nug, fear not. Because our friends at ChefSteps are going to help you experience everything good about that eating experience, only instead of mystery meat, they're using skin-on, flavor-packed chicken thighs — just as fresh and wholesome as you please. They lose the bone and pound 'em flat, then cook them sous vide for that impossibly juicy interior. Then they sear those suckers skin side down in a hot pan and serve with any number of sides for a weeknight meal that feels like a treat but is easy to pull off and simple to source at your favorite grocery store or organic market. And if you decide to serve these thighs with salty fries and a toy promoting the latest Disney film, well, who are we to get in the way of your '90s nostalgia? Watch the instructional video and check out the full recipe below.
[Editor's note: ChefSteps cooks sous vide with the Joule, a tool created by its in-house team of chefs, designers, and engineers. Joule is a Wi-Fi-connected device that you control with your smartphone. For more, check out Food Republic's independent review of the device.]
Crispy Chicken Thighs
Servings: 4
Ingredients
4 chicken thighs, bone in, skin on
Salt, as needed
Black pepper, as needed
Olive oil, as needed
Directions:
Heat Joule to 167°F.
Cut out that bone. Place a thigh, skin side down, on your work surface. If necessary, peel skin back to expose the bone and trim off any excess skin. Begin slicing around the bone with your knife until you can lift it out and away from the thigh. Repeat with the remaining chicken thighs.
Flip thighs so that the skin faces up, and use a meat tenderizer or wooden mallet to flatten them until they're even in thickness.
Season thighs on both sides with salt and pepper. If you're in the mood, add some fresh herbs or additional seasonings.
Transfer thighs to ziplock-style bags and add a glug of olive oil. Make sure your chicken pieces don't overlap, or they might stick together as they cook.
Lower the bag or bags into the water. Your chicken will be ready in 45 minutes (65 minutes if you are using frozen thighs).
ChefSteps comprises a team of award-winning chefs, filmmakers, scientists, designers and engineers focused on revolutionizing the way people cook by inspiring creativity and encouraging expertise in the kitchen. You can also get access to all of ChefSteps' Premium content — including paid classes and dozens of recipes available only to Premium members for a onetime fee — for the special price of $24 (regularly $39). Classes include Sous Vide: Beyond the Basics, Fluid Gels, French Macarons and more!