What's In Season: Tahitian Squash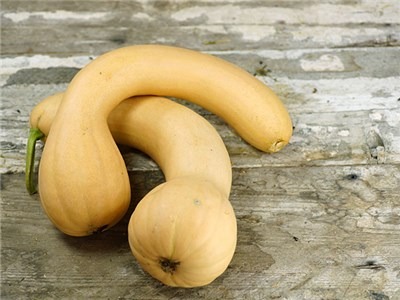 For some things, size really does matter. Take the Tahitian squash, for example. It's a mammoth plant that can feed a massive crowd during the holidays, growing up to 30 pounds. "Tahitian squash has a unique flavor that is rich like kabocha but sweet like butternut, and the color is a perfect egg yolk yellow," says chef Zak Walters of Salt's Cure in Los Angeles. "It's a giant compared to other cooking squashes, and you's think it would not be as flavorful as others, like acorn, but it ends up being better." Hear that? Not only is it delicious, but the squash is good-looking, too, which makes it a shoo-in for your holiday spread or for any day you want to block out the bleakness of winter with some bright, seasonal color.
Where It's From
According to the horticulture experts at Baker Creek Heirloom Seeds, the Tahitian squash made its way from Tahiti to the the United States in the 1960s, when a  sailor brought the seeds over. The seed company first got its supplies in 1977 from Steve Spangler of Exotica Rare Fruit Nursery in Vista, California. They say he was one of the earliest growers of this gigantic squash. Aside from the aforementioned moniker, you may also see it referred to as the Tahitian melon or melon squash. While this variety of squash isn't well known, it's slowly gaining popularity due to its size and delicious sweet flavor.
When It's in Season
You may find Tahitian squash in specialty markets right now and throughout the early winter, but in general, this giant gourd isn't very common. If you do find or grow it, keep in mind it's one of the heartier squashes and keeps well in root cellar conditions (cool, dark places). Stored properly, it's known to last even longer in storage than its smaller brethren.
What to Look For
You're on the hunt for a giant butternut squash with a longer neck. The color ranges from pale apricot-cream to yellow-gold, and any samples you find should have a consistent hue throughout. Choose a hard squash with no soft spots or patches of discoloration. A few bumps and scars are fine, as long as they don't go too deep. Knocking on the squash is also a good idea — it should sound hollow, like an wooden door.
How to Store It
Throw this beauty in the root cellar or simply keep it at room temperature, and it will stay fresh even if you cut into it. After all, how often do you need to work with 10 to 15 pounds of squash? The squash can sit on your counter after trimming, where air will help the cut side harden, almost like an extra skin. Then, when you're ready to cook more, you simply cut the hardened part away and dig back in.
How to Prepare It
One benefit to this huge squash is the sheer volume of workable produce you get from it. On average, the Tahitian weighs about 12 pounds, and the long neck is seed free — all the goop concentrates at the very bottom of the gourd. That means you can feed a lot of people with this awesome squash, and next time you come across one you certainly should.
How to deal with this mammoth squash once you do get one? Chef Walters likes to make a classic soup (recipe below). "We cook it gently with onion and butter to release all its juices, and then we puree to our desired consistency," he says. "You can also roast, steam, grill or bake the vegetable — it's really versatile."
Another great way to eat this sweet, meaty squash is to bake it in the oven so the flesh gets semi-caramelized. Serve it like this as a side dish or mash it up with cinnamon, maple syrup and nutmeg for a dessert-like mash. The inside looks a little like spaghetti squash, and since the meat isn't as dense as other types, you can also eat the Tahitian raw if you're so inclined. It's definitely a showstopper on a table laden with the usual brown, white and dark green fare.
Tahitian Squash Soup Recipe
Courtesy of Salt's Cure
Serves around 25, though you can halve the squash for a smaller batch.
Ingredients
5 pounds Tahitian squash, large dice
1/2 pound unsalted butter
2 cups yellow onion, chopped
10 cloves garlic, smashed
2 bay leaves
1 tablespoon white peppercorn, ground
1/2 teaspoon mace, ground
Salt to taste
2-4 quarts water
Directions
1. Gently sweat onion, garlic, bay leaves, white pepper and mace in butter, about 20 minutes.
2. Add squash and cook on medium heat for another 20 minutes.
3. Lightly salt and mix. Add enough water to cover the squash by two inches and bring to a simmer.
4. Cook for 60 to 90 minutes, or until squash is tender and breaks apart easily with a fork.
5. In batches, add cooked squash with liquid in a blender and puree till smooth. After it's all pureed, salt to taste.