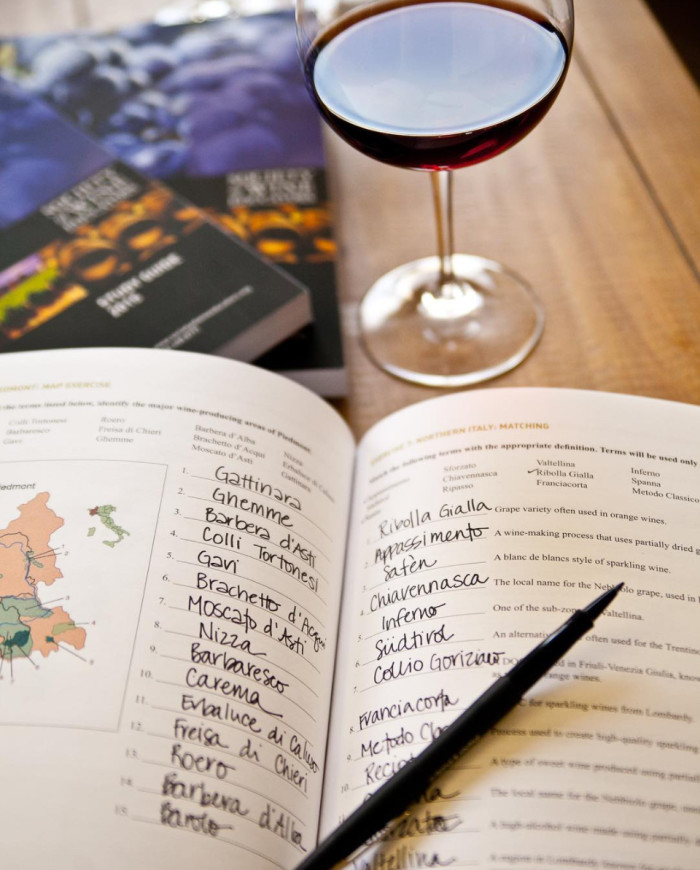 Films like Somm, Red Obsession, Bottleshock and even the earlier Sideways point the way toward a heightened appreciation of wine and the near-mythical status of the Master Sommelier. The Master Sommelier exam is a title requiring maniacal dedication, and by many accounts, it is the most difficult exam in the world. On the other hand, the process of reaching the Master of Wine designation is considered the most grueling, and its corresponding certification the highest wine achievement in the world. So what's the difference between the different wine education certifications? Currently there are four major bodies for wine certification: the Court of Master Sommeliers, the Wine and Spirits Education Trust, Institute of the Masters of Wine and the Society of Wine Educators.
If you're interested in wine and want to take it to another level, which program is right for you? What are their differences and similarities, and how difficult are they really? Let's take a look at each.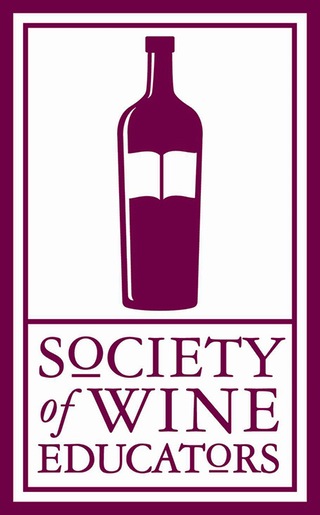 SWE promotes continued education among wine and spirits professionals and eventually gives them the tools to be instructors themselves. The course programming is fairly compact, with no official class time required to sit for an exam. It is entirely an independent study program. After passing an exam, the credentials are appended to an individual's name, which is appealing for those aiming to make themselves more marketable in the wine and spirits industry. In addition to demonstrating knowledge in the arenas of wine or spirits, candidates for the Educator certifications must display the ability to impart this knowledge to others, as well as conduct engaging and well-organized wine and spirits classes. The Educator exams include written theory examinations, which rely on well-developed writing skills as well as blind tasting portions. The Specialist exams are multiple choice with no tasting or service portions, though there will be questions on those topics. If teaching others the merits of wine and spirits is your goal, these are the certifications to go for.
What are the levels?
Certified Specialist of Wine (CSW)

Overall difficulty (0-100) is 35

Certified Specialist of Spirits (CSS)

Overall difficulty (0-100) is 35

Certified Wine Educator (CWE)

Overall difficulty (0-100) is 65

Certified Spirits Educator (CSE)

Overall difficulty (0-100) is 65
What is covered and how is it presented?
Candidates must rely on home study and further reading to be able to pass these exams. Basic information is required for the Specialist certifications, which are prerequisites to sit for the Educator exams. Educator exams put emphasis on blind-tasting clean wines as well as faulty ones, testing the candidate on the difference. The presentation-skills portion of the Educator examination requires that candidates exhibit artful and engaging command of a wine or spirits topic and be able to retain an audience's attention. Unlike the WSET education qualification, the CSE and CWE exams allow their certificate holders to instruct on a wide array of topics, affording them further marketability. The Society of Wine Educators is just what it purports to be: an entity for creating certified educators in the wine and spirits community.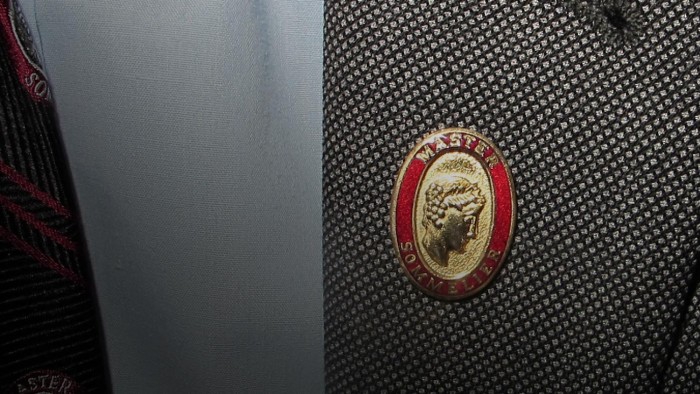 This is the distinguished organization that offers that prestigious title of Master Sommelier. It is also the only organization that can award the official title of sommelier — a nefariously defined term. In its strictly technical definition, it is a wine professional who curates, tends to and serves a collection of wines in a restaurant setting. Others disagree, stating that sommeliers can hold posts as distributors and salespeople. The Court of Master Sommeliers guides its education standards by the narrower definition, with a sharp focus on wine service and customer interaction. If working in the limelight as a beverage director for an esteemed restaurant group sounds appealing, this is the path to follow!
What are the levels?
Introductory Sommelier Course

Overall difficulty (0-100) is 40

Certified Sommelier Course

Overall difficulty (0-100) is 50

Advanced Sommelier Course

Overall difficulty (0-100) is 75

Master Sommelier Diploma

Overall difficulty (0-100) is 93
What is covered and how is it presented?
The goal of the Court of Master Sommeliers is to give working restaurant professionals the tools to know how to store, prepare and serve wine, as well as how to explain a wine's features, history and style and how to best pair it. Although the introductory level does not include a scored tasting portion, the candidates will be asked in all other courses to blind-taste a series of wines and give their best conclusions about a wine's grape variety, location of production and vintage. For levels Certified through Master, the exams include a service portion with questions about service, origins, pairing and even beer and cocktails, all while serving a table of Master Sommeliers. To even sit for the Master exam, the Examinations Committee (comprised of Master Sommeliers) must approve candidates who have first passed the written theory portion before moving on to the service and tasting portions. All three portions must be passed within a three-year time span, and if they're not, the exam must be restarted after a yearlong hiatus.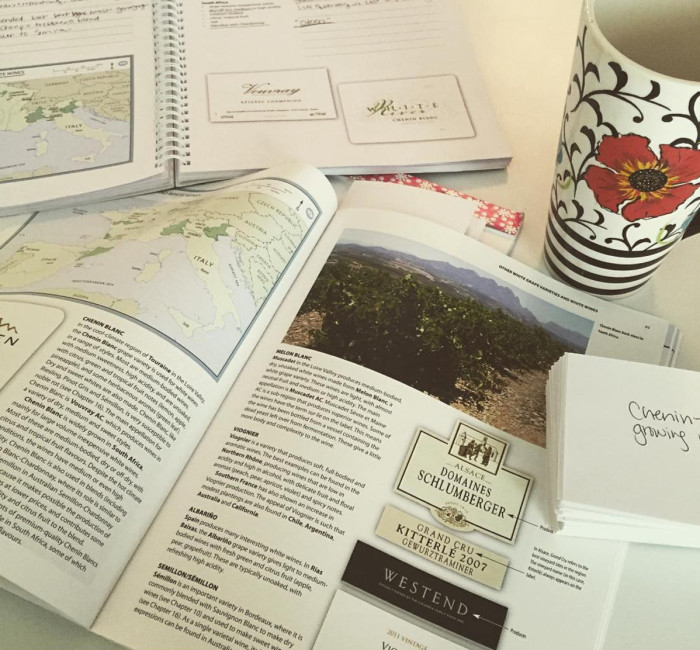 This London-based organization began with a focus on providing professional education to those in all tiers of the wine trade, not solely service. That tradition continues today, and the WSET diploma is the certification most targeted by individuals in the fields of winemaking, importing, distribution and retail. Whereas the Court of Master Sommeliers focuses on the rapid recall of wine knowledge to dispense tableside, the Trust desires to impart more wine theory, history and practical application of a wine's qualities. Like the CMS, there is also focus on spirits, sake, tea and beer, which creates a well-rounded beverage professional. Unlike the CMS, the program begins with the bare bones of beverages, allowing those with no prior knowledge to begin their studies with clear direction and guidelines. WSET is also considered the "feeder" school for those seeking the Master of Wine (MW) title. If working for an importer or distributor is what you seek, these are the courses to choose.
What are the levels?
Level 1 Award

Overall Difficulty (0-100) is 10

Level 2 Award

Overall Difficulty (0-100) is 25

Level 3 Award

Overall Difficulty (0-100) is 50

Level 4 Diploma

Overall Difficulty (0-100) is 85
What is covered and how is it presented?
Initially begun as a series of courses geared toward wine professionals, the WSET has expanded to include anyone interested in understanding the field of wine and spirits. The courses begin with the beginner's basics of wine and spirits information, and increasingly gain in depth as candidates move up the levels. Unlike the CMS, this institution requires a specific number of hours in class and extracurricular study for each level. Levels 1 and 2 include instruction in the WSET method of blind tasting, but these skills are not graded until levels 3 and 4. The level 4 diploma features examination and critical assessment in six separate portions, one of which focuses intently on the global wine market, its legalities and marketing within the wine business. Equal attention is given to spirits, which have their own portion of assessment. There is no service assessment, and many portions of the exam require developed essay writing and analysis.
Deemed by many the highest achievement in wine education and research, the Masters of Wine program is a rigorous, time-consuming and ever-rewarding school. If WSET was a bachelor's program, Masters of Wine is grad school and doctorate in one. The school requires a minimum time investment of three years, though some have spent up to five in order to pass. Inherently grounded in research, theory and practical application of wine knowledge, the school seeks to educate those on the leading edge of the wine world. The graduates of the program include authors, journalists, educators, restaurateurs, CEOs and a diverse array of others on the forefront of wine. The program culminates in a 10,000-word research paper on an approved topic of the candidate's choice. This usually becomes their specialization in their professional wine career. Although the WSET is the entry school into the MW program, they accept applications of equal merit, such as an Advanced level in the Court of Master Sommeliers. If you want to earn your doctorate in drinking in order to write about and research wine and its market, look no further than this curriculum.
What are the levels?
Stage 1 (Year 1)

This stage includes a residential seminar and critical assessment pieces throughout the year that culminate in a 12-wine tasting paper and two theory essays. Overall difficulty (0-100) is 93.

Stage 2 (Year 2)

This stage is much like year one, with further seminars, study and critical assessment. Year 2 ends with the closed-book portion of the MW exam — Theory and Practical Assessment. Theory assessment includes five research papers with an array of topics ranging from grape-growing to contemporary issues in wine business. Practical Assessment is three 12-wine blind-tasting papers where wine is assessed and conclusions are drawn. Unlike the Master Sommelier exam, the reasoning for conclusions must be shown in a cogent argument. Overall difficulty (0-100) is 98.

Stage 3 (Year 3)

At this stage, candidates will begin work on their research paper topic that can be chosen by the candidate but must be approved by the Institute. Regardless of native language, all papers must be presented in English and be between 6,000 and 10,000 words, with cited references and sources. Overall difficulty (0-100) is 100+.
What is covered and how is it presented?
In the Master of Wine program, candidates hone their critical assessment skills and apply them to all aspects of the world of wine. In short, no aspect is left unexplored by rigorous and thorough research. Toward the last stage of the program, candidates may branch out to guide their own study and pursue their particular interests and strengths. Unlike the Court of Master Sommeliers, the grading process through all portions is transparent through critical assessments. During the Master Sommelier exam, a candidate may miss the blind-tasting wines and never know what they were. They will receive very little feedback and instruction in order to improve their weaknesses.
This is not the case with the Master of Wine program. Candidates are assigned mentors who are already Masters to guide their education and help improve their abilities with clear instruction and feedback at every stage. Unlike the Master Sommelier program, students do not serve wines or imitate work tableside in a dining setting. The Master of Wine program also requires more travel and hands-on research than the Master Sommelier program, meaning it can be more costly. Employing theory examinations, candidates must develop a strong writing style to convey their ideas, unlike the Master Sommelier course. Although the stages may be repeated once, if one is not passed the second time, the candidate will be asked to take a year hiatus before reapplying and starting the MW program from the beginning.
Every candidate from each program will have their own perspective on the courses and differing insights, and many even still will say that wine certifications are unnecessary and it's practical experience that really matters. But if being an individual certified to drink, talk about it or even write about it seems like an exciting career, make the wise choice of exploring the available schools a bit further. Even a basic knowledge of the world of wine can prove invaluable in an array of social situations, and what's better than a school where studying includes sipping something delicious?