Thanksgiving is just a few days away. We're here with practice rounds, and plenty of time to spare. Tonight, pick a great Thanksgiving vegetable salad and/or side and master it. That way when the big day comes, you'll be able to whip up a great side, say, "Oh, it's just something I whipped up," and actually be able to mean it. Unlike last year when you passed off a takeout side as your own. Yeah, they knew. They just didn't say anything cause they're polite.

Carrots are an indispensable part of every kitchen. Not only are they used to flavor stocks, stews and roasts, they also serve as nutritious snacks for kids and adults alike. For this dish, I wanted to bring carrots to the forefront. They have an earthiness about them and an intriguing sweet flavor that's so undervalued. Once cooked and pureed, the crisp carrot is transformed into a bright and smooth puree that complements the crunchy pumpkin seed vinaigrette in this dish.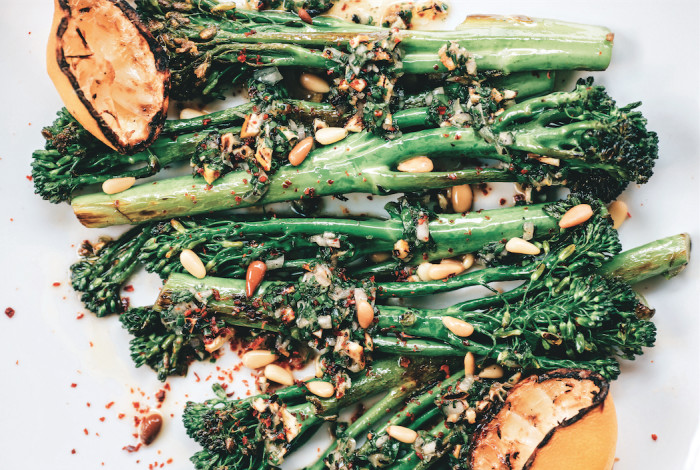 I love broccolini. The entire vegetable is edible, but my favorite part is the stalk. To me, the flavor is less bitter than broccoli and has a sweetness that is closer to asparagus without the astringency. These flavors are balanced with some heat from the Aleppo chili and a good amount of acid from the grilled lemons.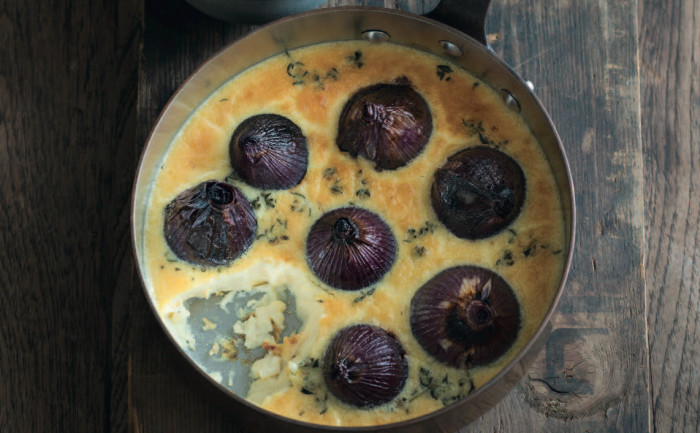 This baked onions in Brie custard is great as a standalone vegetarian dish or as a fancy side dish to roast chicken. I have used Brie in this recipe, but you could use any mold-ripened cheese that has a bit of flavor. You could even use a funky washed rind if you like.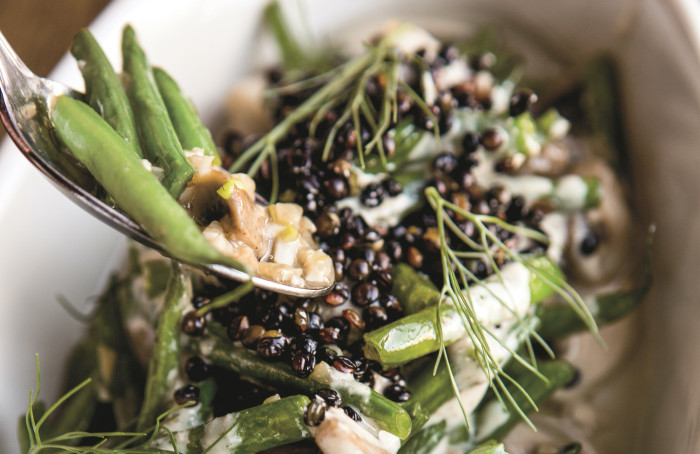 I created this dish for a Chanukah meal at Zahav in 2013, the year that the first day of Chanukah coincided with Thanksgiving. Since this hadn't happened in over 100 years (and won't happen again for another 77,000), we decided to have fun and merge some of our Israeli flavors with traditional American Thanksgiving casseroles. This is our riff on the classic green bean casserole, with tehina standing in for the cream of mushroom soup.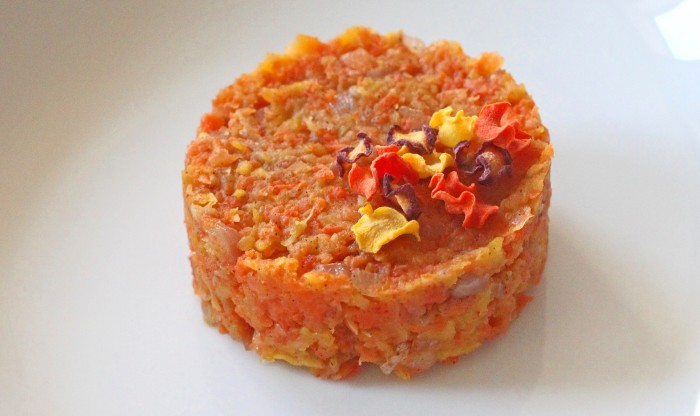 The inspiration for the tartare is an Ethiopian dish called kitfo, a steak tartare that has been warmed in butter infused with a bunch of spices. It is out of this world! Ethiopians eat the tartare several different ways: t'ire (raw) or leb leb (medium-rare) and sometimes cooked further. The spices play really nicely with the sweetness of seasonal carrots here in lieu of beef. I par-cook the carrots to get rid of that raw taste before grinding. Also, I like to toast up the spices first in the butter with some shallots and garlic. Browning the butter, making beurre noisette, adds even greater complexity.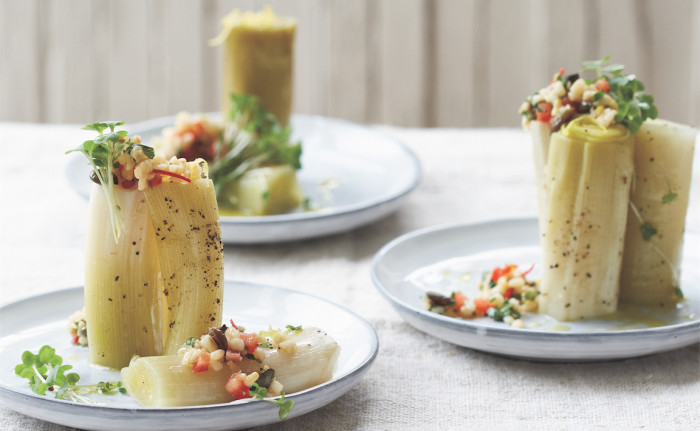 I like leeks. They are different, they taste amazing, they are easy to cook, and they are not too expensive. Often, they are merely a component in a recipe, but here they take center stage on the salad plate. To add a little more substance I have teamed them with plump pearls of Israeli couscous, some seeds for crunch and taste, and fresh herbs. Simple, tasty, striking.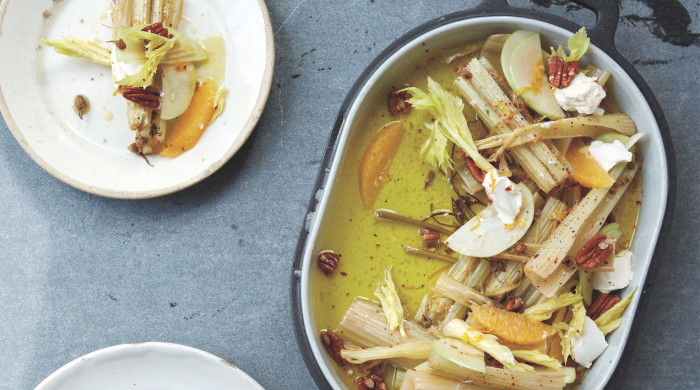 It is not often you see celery taking center stage on the plate; it is usually just an add-on, like chopped onions. But celery has great flavor and deserves to be enjoyed for what it is. So here is a recipe to get it out of the crisper and onto the table. It's equally good as a room-temperature side dish for grilled meats.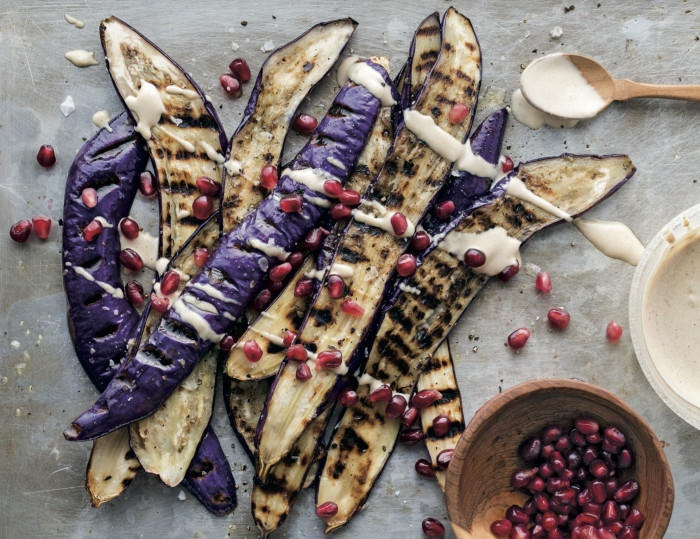 If you like Middle Eastern food, try this easy grilled eggplant dish. Fanning out the eggplants on the serving plate makes a stunning presentation. Tahini gives the dish some creaminess, and pomegranate seeds bring sweet crunch and color.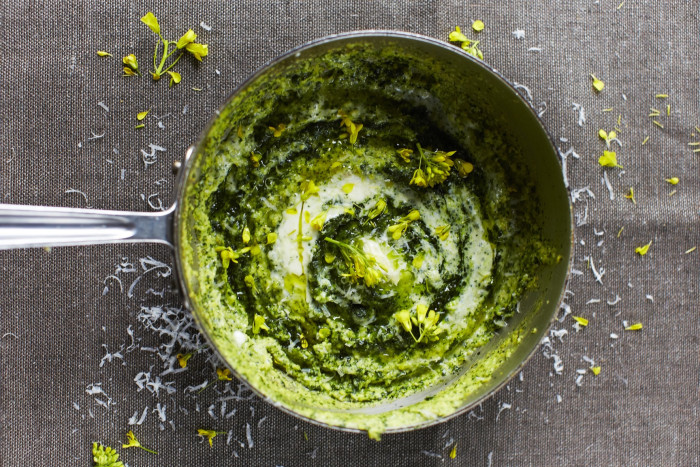 This take on polenta is a showstopper in its own right: Its striking green color is beautiful and unexpected. It's so stunning, you can skip the board and just haul the pot to the table. The healthy dose of kale puree that colors the cornmeal adds lots of flavor, too. You taste the sweetness of the corn polenta first, then a hint of garlic and finally that green minerality of kale at the end.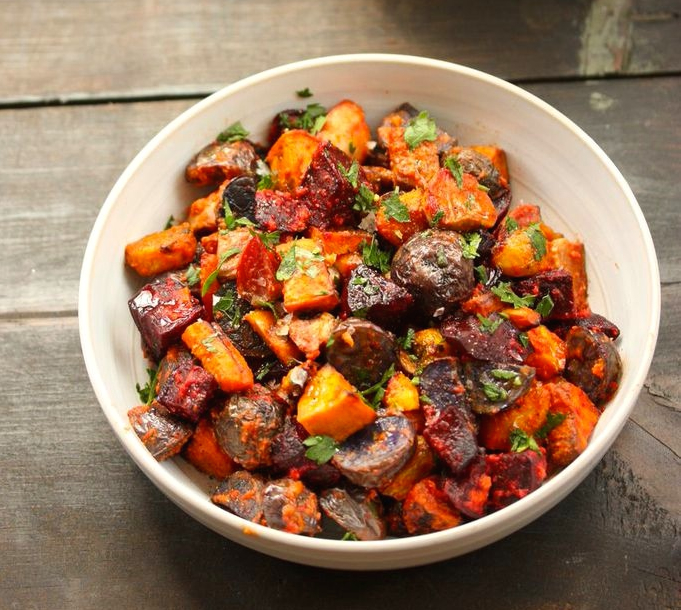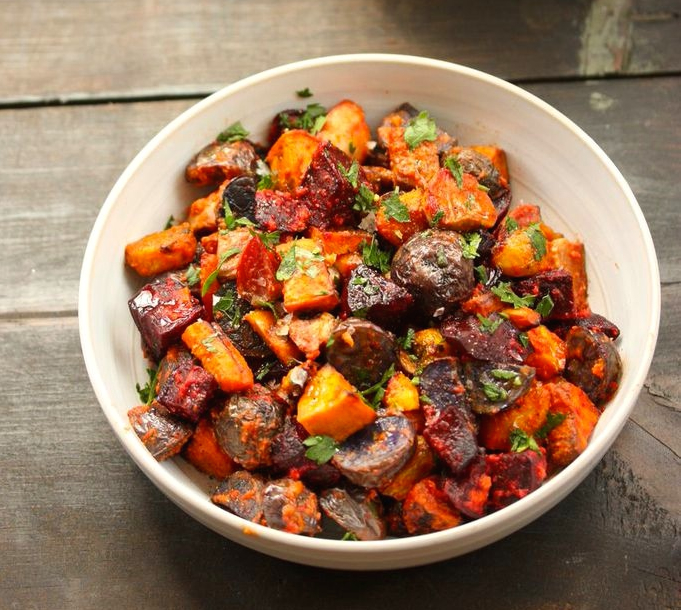 Romesco is a garlicky sauce that originated in Spain. I've encountered quite a few variations on this mild sauce over the years and seen it used in many ways—over vegetables, with fish, and even with a salad. Here I've paired it with roasted vegetables, but it's even good just spread on a piece of warm baguette.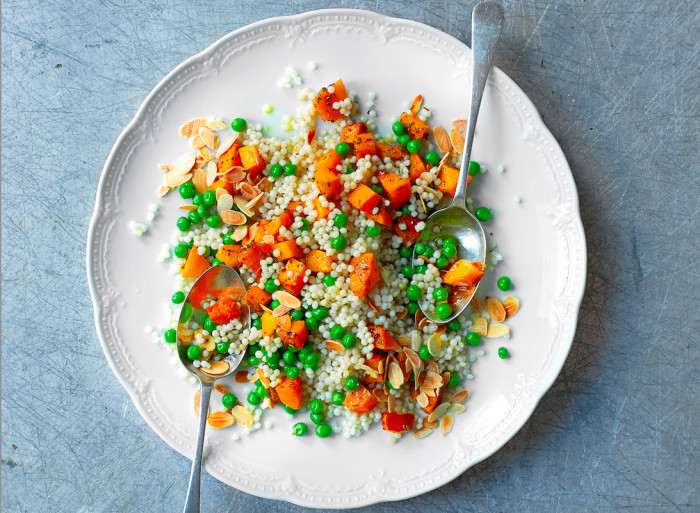 The sage and rosemary are crucial in making this recipe seasonally apt (I do try!), with the lightly toasted almonds lending some much-needed crunch—for me, texture in vegan food is the key to a winning dish, and this one succeeds on all fronts.