Fall Fare: Our Favorite Pub Food Recipes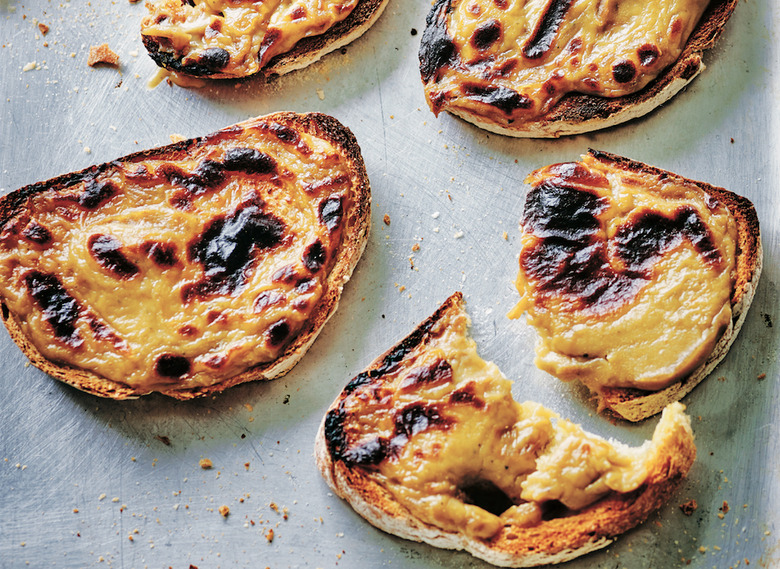 British pub food is having an American renaissance! A plethora of dedicated pub fare cookbooks (and cookbooks with pub fare sections) have crossed our desks lately, and we're loving every eggy, cheesy, meaty, pickled bite! From the simplest snacks to the complex but worth-the-effort deep-fried treats, we're pulling pints for this humblest of filling food, and these nine recipes are some of our favorites.
Recipe: Blue Cheese And Onion Rarebit
Cheese on toast needs no introduction, nor does a good rarebit. I add onion jam to mine, which is fine to buy — you can find it in plenty of shops. Cheese and onion is a match made in heaven, so it made sense to get it in here somehow.
Recipe: Black Pudding Scotch Eggs
Here black pudding and egg are teamed up to make the most perfect match. Eat them warm with spicy mustard.
Recipe: Mac And Cheese Hash Browns
Mac and cheese hash browns may sound too American to succeed across the pond, but there you have it.
Recipe: Chicken Fries
When you think of chicken fries, you may think of a certain fast-food item, and you may think of it as an abomination of food. But honestly, you'd be wrong. It's just a long chicken nugget. You like chicken nuggets, right? Of course you do.
Recipe: Eggy Bread Bacon And Cheese Sarnie
Eggy bread is something my mum used to make me as a kid when I was sick, so for me it conjures up memories of days off school watching kids' TV. The power some food has to transport us back to our childhood never ceases to amaze me. Here, I've added bacon and cheese because, well, why not...
Recipe: Homemade Fried Fish Sandwich
There are some things in life that just sound like they wouldn't work. One of those things is McDonald's Filet-O-Fish, a breaded, fried fish "square" topped with American cheese and tartar sauce on a standard squishy white bun. Doesn't sound great, does it?
Recipe: Curry Onion Tart
My twist on quiche, this tasty tart is filled with onions cooked the South Indian way, with fresh curry leaves, mustard seeds and red chilies. They work as a treat with this smoked paprika pastry, which has an attractive reddish hue. Serve slices of this tart with a spoonful of coconut chutney.
Recipe: Rhode Island Clam Cakes
A masterful street food, Rhode Island clam fritters (aka clam cakes) aren't cakes at all — the best are briny Southern hush puppies. Think clam beignet: crispy and golden brown on the outside, pillowy and light inside, with savory bits of chewy minced clams and steam rising from the first bite.
Recipe: Spuntino's Salt Beef Slider
The classic salt beef sandwich, of course, consists of salted brisket cut thick, served between two slices of rye bread with pickle and mustard. Like all classics, you don't mess with the formula. At Spuntino, we simply put it in a slider bun.