So They're Making Girl Scout Cookie Cereal, Eh?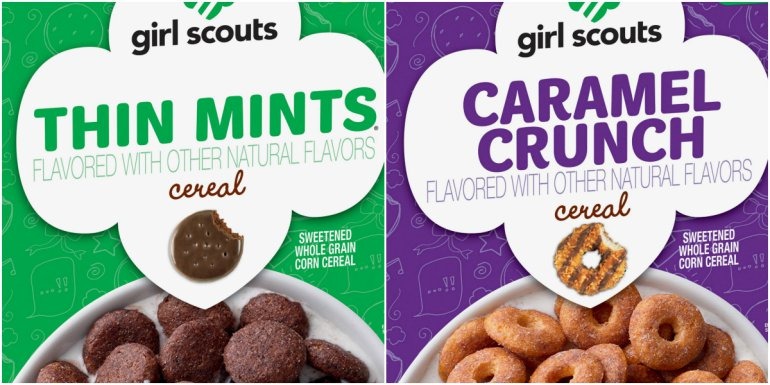 Food processing giant General Mills confirmed Monday that it will team up with the Girls Scouts of America to launch a duo of limited edition cereals beginning in January. This isn't the first Girl Scout licensing deal to hit supermarkets — Pillsbury, Dreyers and Nesquik have all rolled out cookie-themed products as well — but each partnership seems to be getting further away from the nonprofit organization's hundred-year-old pledge to "help people at all times."
Flashback: I was a Girl Scout for a hot second. I remember a pretty badass field trip to the local police station for a lesson on criminal processing. At seven years old, I learned the difference between jail and prison, how bail works, the typical diet of an incarcerated person and what it's like to spend 15 minutes in a cell (complete with the officer pretending to walk away while saying, "Well, good night, scouts"). It was awesome — being a Girl Scout is about occupying your time with worthwhile activities. Selling cookies is educational and empowering. Letting General Mills rent the rights to a nonprofit's logo and trademarked formulas in order to hawk even more refined sugar as the first meal of the day is none of those things. At least Pillsbury's Girl Scout baking mixes involve a little grunt work and are clearly dessert.
Furthermore,"Caramel Crunch" is a terrible name for a cereal in the age of widespread sugar reduction. It's not even a Girl Scout cookie flavor! Are they referring to Samoas, the only crunchy caramel cookie of the bunch? And why are those called Samoas? If you search "Samoa caramel" you only get Girl Scout cookie–related results, not a thing about the Polynesian nation. Is it because the cookies are sprinkled with coconut? How do you get from "sprinkled with coconut" to Samoa? Alas, a long-winded question for another day.
While it may be easy to write off the collaboration as a guaranteed brand-building badge to bolster sales, the corporate influence inherently dilutes the quality and ownership of the lessons learned during the annual cookie sale. Twitter, however, would have you believe otherwise.
. @GeneralMills IS RELEASING GIRL SCOUT COOKIE CEREAL pic.twitter.com/tSYzwBJaT9
— Gabriel aka Spraytan (@fonzy94) October 25, 2016