As the holidays near and party planning begins, now is the perfect time to start considering how to up your wine game while entertaining at home. Wine service at home parties has evolved and morphed as the information and labels available have expanded. Globalization has made it possible for someone in Alabama to drink a bottle from Lebanon or for someone in Chile to sit down with a perfect California Cabernet Sauvignon, like J. Lohr Estates Seven Oaks. If you feel a bit overwhelmed walking into a wine store, don't worry, because you aren't alone.
For Lawrence Lohr, director of wine education for J. Lohr Vineyards & Wines, what we are drinking hasn't changed as much as how we are consuming it.
"I think back to when I was younger, and I have fond memories of family gatherings and of wine being an important part of our time together," he says. "Oftentimes, when we were sitting around the dinner table, there was usually one person who took charge and became the wine steward for the evening. That person was the one who opened the bottle and served it. Wine has been demystified for millennials. I've found they often don't get into the formality of it. That structure of serving is not as important. However, wine is still very much a part of the gatherings."
This holiday season — whether you're 23 or 83 — here are some great guidelines for buying the perfect bottle for an intimate dinner party or a larger holiday-themed celebration.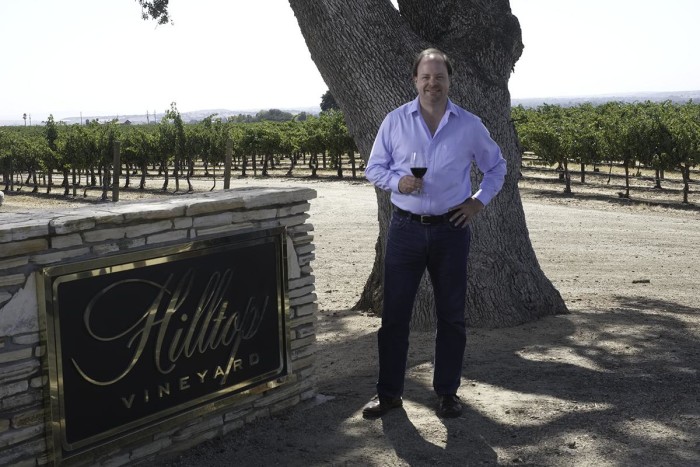 Heading to the store? Don't stress the selection.
"Wine is a lifelong experience of learning," offers Lohr. "If you are new to wine, maybe approach one varietal. Spend ten minutes in a section. Don't take on too much at once."
There's certainly no shame in sticking with what you know and love, particularly if you have other stresses from holiday planning already on your plate.
"For me, if you are not very keen on wine or confident, it's easiest to find midpriced California wine," advises Francesco Ferrario, manager, wine buyer and sommelier at the Lobster — a legendary seafood restaurant that opened in Santa Monica in the early 1920s.
"California has great weather — the vintages are beautiful because we have that weather. I would say stick to classic, well-priced Cabernet if you are comfortable with that. J. Lohr has continuously put out wonderful bottles of wine, and we continue to carry them year after year," says Ferrario.
Another crucial step is to pick the right store, with a proper level of customer service, and to not be afraid to ask questions.
"I would say, first find a great wine department or store," says Michael Cristillo, corporate wine and spirits buyer for Bristol Farms — a lauded, multi-operation wine retailer out of California. "There needs to be a clerk or sommelier there. Once you get that relationship going, it's like a butcher or fishmonger. If you know them, you can trust them. 'How much do you want to spend?' should never be their first question. It should be 'What are you cooking? What's the party?'"
Beyond that, you can look to the actual shelves for information.
"The wines in a good wine store should have what we call a shelf talker," Cristillo says. "It's a silent salesperson in the form of written information, giving you more information."
When you're looking at labels…
"I try to glean as much as I can from the front and then turn it over and read the entire back label," Lohr offers. "The back is often going to be more important. It will tell you the story. Look for 'produced and bottled by' on the label, as this is a both a sign of pride for the winery and an indication of quality wine. You know that this winery went to great care to grow and harvest the grapes, make the wine and then age, bottle and craft the wine. That's what we do at J. Lohr. If you don't know where a wine is produced, it's harder for you to learn about it."
How much do you need?
"You will get approximately six glasses per bottle, but that should not be your only basis for deciding on the number of bottles to purchase," advises David Hatzopoulos, assistant manager for Union Square Wine & Spirits in Manhattan.
"You have to understand what kind of party it is before getting a bottle count," he says. "Is it a PTA party or a dinner with friends who love drinking? Is it in the afternoon? All of these questions should pare down how much to buy. I always err on the side of buying two bottles too many."
I bought two too many, so now what?
So you took Hatzopoulos's advice and now there are two extra bottles of J. Lohr Estates Seven Oaks Cabernet Sauvignon sitting out — what do you do?
"There are no promises that an open bottle of wine that is properly stored will be good three days later," Lohr says. "My feeling, and it's not a golden rule, is to drink open wines within 48 hours."
An unopened bottle is perfect to save for next week's dinner, and if you're left with an open bottle, you already have your wine picked out for dinner tomorrow!
---
The 2014 J. Lohr Estates Seven Oaks Cabernet Sauvignon is dark in color with a bright hue at release. Layered fruit aromas of cherry and plum are accented by an authentic barrel bouquet of hazelnut, dark chocolate and toasted pastry. Sturdy tannins strike the palate and finish with the high-toned fruit signature that typifies the Paso Robles appellation and makes it the perfect accompaniment for so many recipes.