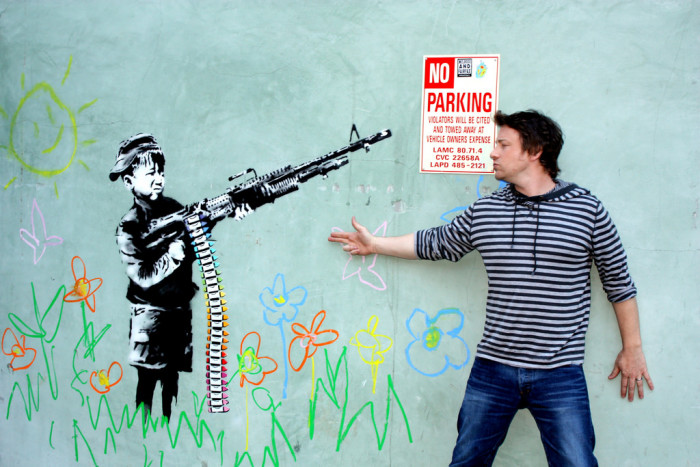 British celebrity chef Jamie Oliver is certainly passionate about cooking and food issues. Sometimes to his own detriment. His latest scuffle is with all of Spain, a nation up in arms over his use of sausage in a paella recipe. Here, we look at this incident and other times when the host of the well-meaning if controversially preachy Food Revolution, the U.S. version of his Ministry of Food, stirred up a dish or two with an unintended side of animosity.
Oliver's Not-So-Rice Paella
Oliver recently posted a recipe for his own "twist" on paella, the classic Spanish rice dish that incorporates chicken thighs, chorizo and rice. According to The Guardian, Spanish Twitter users had a heyday with the recipe, saying authentic paella would never use the paprika-spiced sausage. While Oliver took heat for his mistake, it's not the first time such a recipe has been published. A simple Google search for "chorizo paella" delivers four recipes from the likes of Epicurious, Bon Appétit, Food Network and, of course, Oliver himself. To be fair, Oliver's isn't made in a paella pan, which warrants its own outrage.
@jamieoliver The britified version of paella. As far as I know, we don't put chorizo in a paella. It takes over all the flavours.

— Joanfihu (@joanfihu) October 4, 2016
Adele Sends Her Distaste to Oliver
Another one of Oliver's good intentions was publicly ridiculed on stage at a Q&A with fellow British star Adele this past March. Oliver recently made a push for the encouragement of breastfeeding among English mothers, according to the Daily Mail. The chef told a radio show that the country's breastfeeding rate is one of the lowest in the world, and as a result, he is pushing for an initiative that will create comfortable environments for mothers feeding their children. When asked about the initiative, Adele, a new mother, said that the pressure to breastfeed is "f–king ridiculous" and that Oliver's proposal alienates those who physically cannot breastfeed. She also said that those doing the pressuring can "go f–k themselves." Oliver has since an apology of sorts for his statement.
L.A. School Districts Expel Oliver
In 2011, Oliver, along with his family, moved westward to Los Angeles to criticize the unhealthy lunch options children face at their public schools in Food Revolution's second season. The Daily Mail reported that the celebrity chef petitioned for healthier food for the children, but district officials pushed back and blamed budget cuts for the lack of fruits and vegetables at lunchtime. Seventy-five school districts in the Los Angeles area refused to allow Oliver to shoot on campus.
Oliver's Beef With Beef Products Inc.
In a 2011 episode of Food Revolution, Oliver visits Beef Products Inc., a beef processing plant in South Dakota that makes "lean, finely textured beef," according to The Independent. After he called the stuff "pink slime," "shit" and unsafe to consume, the owners of the plant sued Oliver for defamation for $1.2 billion. The episode led to a nationwide boycott of the company's products, which further led to lost revenue and 700 layoffs.
Oliver Tries to Rewrite the Fast Food Nation's Anthem in West Virginia
The first season of Food Revolution took place in Huntington, West Virginia, and aired on ABC in 2010. The town was named America's unhealthiest city by the Associated Press back in 2008, which propelled Oliver to head Stateside and film his show there. The Atlantic reported that Oliver butted heads with Huntington cafeteria workers as well as parents who had to hear from Oliver that they were "killing" their children with their unhealthy meals. Some cafeteria workers resisted Oliver's advice, which led to the nation wagging its finger at the town once the show aired.