Welcome to the FResh List! Each week, the dedicated staffers in FR's New York City office compile a list of all the random things on their minds about the world of food and drink and beyond. These are their latest obsessions, rounded up in a somewhat organized fashion:
1. Tomato sandwiches: so juicy right now.
2. Related: "Heirloom tomatoes." Can you explain the term?
3. Popcorn (thanks, yet again, to TV's Mr. Robot)
4. Ghost pepper ice cream — after recovering from an ulcer, this is how a food writer walks on the wild side:

5. Olympian Simone Biles eating pizza after every meet
6. Singer Adele giving up pizza to save her voice
7. Is pizza purgatory even a thing? (Yes.)
8. Hattie B's hot-chicken dinner at the James Beard House in NYC. This dish really is going to take over the country soon.

9. Sauvage in Brooklyn: totally passes the "dad test."
10. Tartine Manufactory in San Francisco: where beautifully designed furnishings meet even more beautifully baked goods.
11. Pitmaster Josh Bowen's new Mothership Meat Co. in Astoria, New York: preview is Monday (get tickets here).
12. Pete Wells is right: That Serbian-style sour-cherry jam at Gramercy Tavern is no joke.
13. Speaking of Pete Wells: Has anyone spotted the covert New York Times dining critic recently?
14. Blue Ribbon Sushi Izakaya > Ivan Ramen > Pig & Khao = the right way to do a wine-fueled Asian food crawl in NYC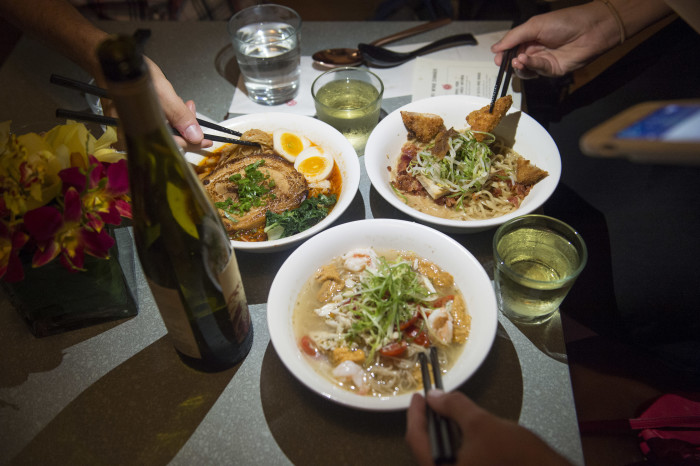 15. Have you seen Sausage Party yet? This is one food-focused movie that will not stoke your appetite.
16. Not one mention of "butterbeer" in Harry Potter and the Cursed Child??? This is an outrage.
17. Does Yelp seriously have a "pokéstop nearby" criterion? (Yes.)
18. The U.S. Open's new retractable roof. (Look! It even has its own Twitter feed.) Is this just a marketing ploy so you can consume more Honey Deuces without passing out from heatstroke?
This year the #usopen presents a whole new take on under the lights 🔦 #roof. #TransformationTuesday pic.twitter.com/sngGYF3ZeT

— US Open Tennis (@usopen) August 9, 2016
19. ICYMI, the "Honey Deuce" = vodka + raspberry liqueur + lemonade + honeydew melon "tennis" balls + stiff dose of Grey Goose branding
20. Pop quiz: You're planning an outdoor BBQ. You check the weather forecast. What percentage chance of rain would cause you to move the party indoors?
21. Shit. Is it really going to rain this weekend? Let's find out:
The weekend is almost here – @NY1Weather has a preview. Full forecast: https://t.co/fEQRmY8APn pic.twitter.com/uCQcQRXuS2

— NY1 News (@NY1) August 18, 2016