5 Chefs Imagine A Different Washington, D.C., Dining Scene Under President Trump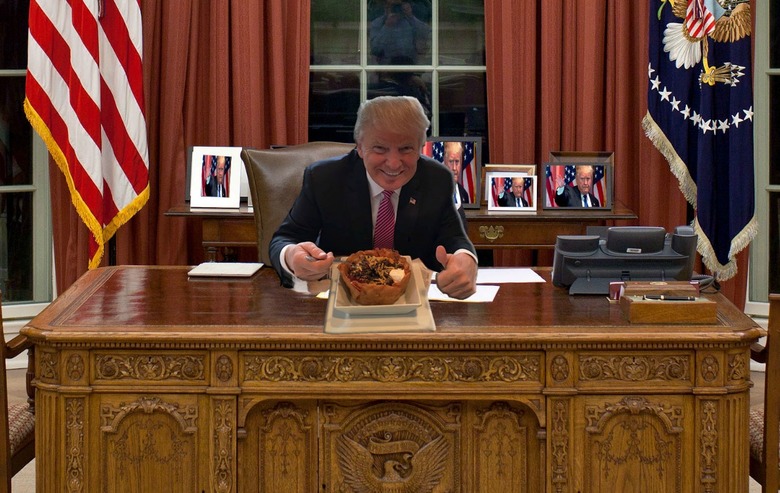 It's been said that the White House sets the tone for social life in Washington, D.C. If that's true, then President Barack Obama and First Lady Michelle Obama deserve some credit for the pushing the D.C. dining scene to an unprecedented level of national and international prominence.
Just last week, influential food magazine Bon Appétit named the nation's capital "Restaurant City of the Year," describing the local culinary community as "bubbling with momentum." That momentum really picked up under the Obamas, whose frequent and vigorously chronicled mealtime excursions generated tremendous buzz for restaurants across the District and surrounding suburbs — a big change from the reputed stay-at-home presidency of Obama's predecessor, George W. Bush. Moreover, the Obamas set an example for food policy at home, growing fresh produce on the White House lawn, raising honey bees, even brewing beer.
Now, after eight years, Obama's reign as the capital's foodie-in-chief is coming to an end. And it will be up to the next chief executive to help keep the momentum going...or not.
Depending on the outcome of the general election in November, the District could be headed for another social shift, particularly if the American public chooses Donald Trump as Obama's successor.
Trump's entire campaign is built on his image as the anti-Obama, and his taste in food seems to support that. "A junk food aficionado, he is hoping to become the nation's fast food president" is how the New York Times recently described Trump's ambitions, citing his outspoken love for McDonald's, Burger King and KFC.
Great afternoon in Ohio & a great evening in Pennsylvania – departing now. See you tomorrow Virginia! pic.twitter.com/jQTQYBFpdb
— Donald J. Trump (@realDonaldTrump) August 2, 2016
Trump's relationship with the D.C. chef community is off to rocky start, to say the least. Even before winning the Republican nomination, the brash real-estate mogul and former reality TV star became embroiled in a contentious legal fight with Washington's most famous chef, José Andrés, who backed out of a high-profile hotel-restaurant deal with Trump — located just blocks from the White House — over the candidate's derogatory comments about Mexican immigrants. Another famed chef, Geoffrey Zakarian, is also battling Trump in court for the same reason.
I'm proud to announce that I will join Mr. Trump campaign as an advisor on Immigration, Walls and Tourism.#MakeAmericaGreatAgain
— José Andrés (@chefjoseandres) March 31, 2016
How do other D.C. chefs feel about the possibility of a Trump presidency and its potential impact on the capital's restaurant economy? Food Republic wanted to find out, so we headed to the historic James Beard House in New York City last week for a dinner organized by the Restaurant Association of Metropolitan Washington, featuring a group of visiting chefs from the greater D.C. area.
---
"Restaurants will have rivers running through them again, just like Red Sage. Avocado crabmeat towers and river restaurants, that's the Trump era." —Maketto chef Erik Bruner-Yang
---
After serving up a lovely squid ink tagliolini with tuna crudo and fiery nonnata di pesce, Amy Brandwein, chef and owner of the Italian-themed restaurant and market Centrolina, admitted the notion of a Trump victory in November gives her a profound sense of agita. "God, I hope we don't have to live to see that day," said Brandwein. The veteran pasta-maker cited Trump's comments about ethnic groups as particularly troubling for the restaurant industry, given the high number of Latinos working in U.S. kitchens. "It would be highly concerning to have a president of the United States who is so closed-minded when it comes to what America is," she said. "That is actually scary to most chefs and restaurateurs because we all succeed based on a multitude of different types of people."
Brandwein suggested that economically and culturally, the impact on the District could be significant with Trump in office. "So many people are actually fearful of a Trump presidency, I would think they might be more conservative with their dining budget," she said. The city's demographics, too, might skew differently. "Right now, the city is booming with young, hip, smart intellectuals," said Brandwein. "The city always changes according to who's president. I would expect [Trump] to bring in more conservative country-club types."
Osteria Morini's Alex Levin, named D.C.'s "Pastry Chef of the Year" in 2016, said Trump's contentious fight with the popular chef Andrés sets a bad precedent. "I don't know that he would be very well received in our community," said Levin, whose whipped ricotta cheesecake with passion fruit curd, compressed peaches, almond crunch and white peach sorbet proved a delightful ending to the evening's meal — more delightful than a Trump victory, in his eyes.
"It's been a very special time to be in Washington," Levin said of the Obama era, a time marked by unprecedented growth for previously forlorn District neighborhoods, such as the Navy Yard in southeast D.C., where Osteria Morini is located, he noted. "I've gone and cooked at the White House three times for Obama, and it was an honor to do that," said Levin. "All I can tell you is I would not cook at the White House again if [Trump] were president."
Meanwhile, Maketto's Erik-Bruner Yang (one of Food Republic's New Chefs Rising) warned that démodé styles of dining, the stuff of D.C.'s past, could make a comeback if Trump is elected. "All of those old-school restaurants — the Watergate, Red Sage, the classy things that we reminisce about — those were all, like, bad president–era restaurants," said Bruner-Yang. "Red Sage will reopen when Trump is president, that's my prediction," he added, referring to the extravagantly decorated downtown D.C. restaurant that closed in 2006, a place where the chef himself once dined before his high school prom. "Restaurants will have rivers running through them again, just like Red Sage," he said. "Avocado crabmeat towers and river restaurants, that's the Trump era."
Of all the D.C. chefs we spoke with at the Beard dinner, Masseria's Nick Stefanelli was perhaps the most diplomatic. "I've got two rules: no politics and no religion," said Stefanelli, whose restaurant has nonetheless hosted the first lady on four separate occasions.  "I hope whoever goes into the White House embraces the city for what it is and enjoys it for what it's become and what it's going to become."
---
"There's a spotlight on D.C. that's never been there before, and I don't see that changing for any real reason."—Del Campo chef Victor Albisu
---
For more perspective, we later reached out to Del Campo's Victor Albisu, one of the most politically outspoken chefs in the District and also the guy tapped by the Washington Post to prepare a meal made from real newspaper after Trump secured the GOP nomination, forcing columnist Dana Milbank to literally eat his own words on Facebook Live.
Albisu gave credit to the Obamas and former White House chef Sam Kass for "putting food and dining front and center" and for looping in the chef community on larger issues like hunger and food production. He further noted that Trump's opponent in the upcoming election, Democratic nominee Hillary Clinton, started a culinary diplomacy program while serving as secretary of state, kicking off a new era of engagement between chefs and leaders from around the world. "I cannot tell you enough how impressed people in other countries are with it, how much it helps relations, how much tangible positivity has come from it," Albisu said.
Regardless of the outcome in November, Albisu believes the D.C. restaurant scene will continue to thrive. "There's a spotlight on D.C. that's never been there before, and I don't see that changing for any real reason," he said. "It's been incredible to have been able to serve and cook for the president and Mrs. Obama on multiple occasions. That's been a great boost for the scene. But I had the pleasure of cooking in the White House when George W. Bush was president, too, and it was a positive experience all the way around."
Whoever prevails at the polls will invariably inherit a laundry list of real-life issues — "better practices with regard to growing food, selling food, food for children," Albisu says —  and that person will need to lean on chefs and other food-world professionals for help. "It helps to have an advocate for these issues in the White House, and I think hopefully that will continue into the future."