Learn To Make Piedmont-Style Pasta At Chicago's Osteria Langhe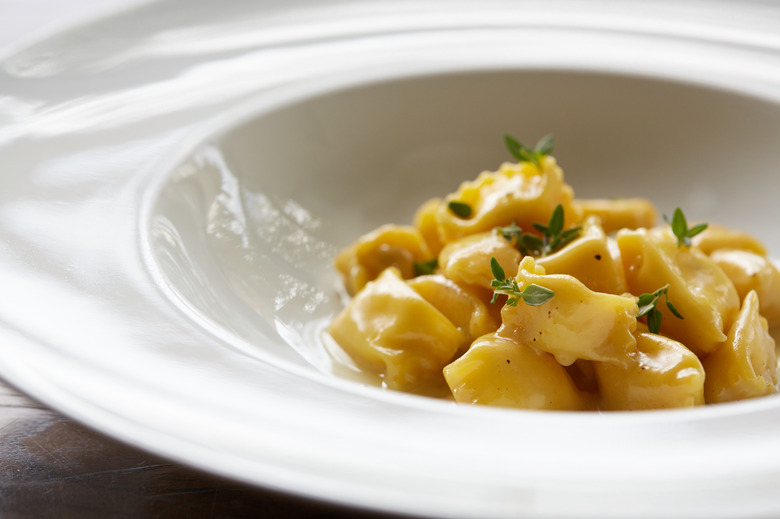 Osteria Langhe's best seller, the plin, or hand-pinched pasta, has gotten so popular that chef Grant has begun selling it in grocery stores. (Photos: Galdones Photography.
Osteria Langhe chef Cameron Grant has always had an appreciation for hyperlocal and fresh ingredients. Born in Edinburgh, Scotland, he grew up alongside a sprawling fruit and vegetable garden, which his mother relied on frequently for the family's home-cooked meals. But it wasn't until his stage at La Ciau Del Tornavento, a Michelin-starred restaurant in the Barbaresco zone of Piedmont, Italy, that he realized his admiration for a different region of Europe entirely.
"I lived above the restaurant and worked 110 hours per week for free — it was the summer of a lifetime," he recalls. "I really fell in love with the food and way of life, and realized how important it was to pair great wines with great food."
That epiphany prompted him to open his own restaurant in Piedmont just five years later, where he continued to work 100-hour weeks. After two years he returned to the States, but his zeal for all things Italian lived on. In May 2014 he teamed up with Aldo Zaninotto to open Osteria Langhe, a Piedmontese restaurant in Chicago's Logan Square neighborhood. "We both have such a passion and love for the region, its people, and its food and wine," Grant says. "Opening a region-specific restaurant just made so much sense to us. We knew how good the food was and how good the wine was — how could it not work in a food-loving city like Chicago?"
The Second City is getting another taste of what they're up to: The team recently opened Animale, a restaurant showcasing takes on Italian street food. "We want to offer a casual dining experience — think homemade pastas, paninis and a rotisserie," Grant says.
That from-scratch approach has taken off wildly at their first venture, especially when it comes to one particularly in-demand dish: plin, or hand-pinched pasta. "It's our best-seller — so much so that I've started to make it and sell it at grocery stores," Grant notes. While the ravioli spinoff can be filled with anything from rabbit to artichokes, Grant reaches for La Tur cheese before tossing the pillowy miniatures with butter, thyme and stock. "There's nowhere to hide as a chef with this dish — it's about using a great product and serving it very simply," he says. "I think that's really the essence and the beauty of Italian food."
The region is also famous for its risotto and is home to Acquerello, a favored rice producer that cures and ages its products for a year before canning them. "I've been making risotto for about 15 years now, and it's a tough dish to achieve on a daily basis," says Grant. "It's such a labor of love, and you have to be sure to give it the proper attention in stirring it, adding the stock, letting it rest and finishing it with butter and Parmesan."
While Piedmont may be well known for its pasta, its offerings go far beyond primi piatti. Vitello tonnato, a plate of thinly sliced veal that's served with a tuna-caper-anchovy dressing, may sound like a mystifying combination, but Grant suggests that one bite will change that. "It's one of those dishes you just need to taste," he insists. "The flavors are so light and great for summer — it's a really fun play on carpaccio."
Rabbit is an ingredient that makes its way into several of the area's dishes, and often is considered the "chicken of Piedmont." Says Grant, "Very few people serve chicken in the region, and when done properly, rabbit is such a juicy and flavorful white meat." While the traditional version calls for bone-in rabbit with onion, garlic and loads of bell peppers, the restaurant takes another route, wrapping it in prosciutto and serving it over creamy polenta, sautéed mushrooms, fontina cheese and truffle jus. But there's more: Grant finishes the dish with truffles, too, shaving whichever ones are in season — that means black in summer — over the top.
Sometimes the real test for a chef reveals itself come dessert time — especially if it's one as easily fumbled as panna cotta, a softly set pudding comprised of cream, sugar and gelatin. "The biggest mistake in making panna cotta is not incorporating the gelatin properly or controlling its ratio," says Grant. "When you stick a spoon in it and the spoon stands up, that's no good." Grant has a different litmus test for ensuring the dish is a success: "If you shimmy the plate, it should jiggle just a little bit, like Jell-O." Classically speaking, the dessert is vanilla flavored and served with chocolate sauce or berries,  with variations few and far between.
"That's what's kept Italy and its recipes great — they refuse to evolve when it comes to the traditions of their food," Grant says. Still, he notes the relevance of adaptation, especially as encountered during his time at La Ciau Del Tornavento. "That's the best scenario, when you have the ability to evolve dishes into something new while still paying respect to the fundamentals of the tradition that made it great in the first place."
---
Pan Roasted Quail, Gorgonzola And Leek Risotto, Peppered Honey
Ingredients:
1 yellow onion, diced finely
1 stick unsalted butter, cubed
4 cups Aquarello carnaroli rice
3 large leeks, diced small
1 bottle arneis white wine
1 quart heavy cream
1/2 cup mountain Gorgonzola
1/2 cup Grana Padano Parmesan, grated
2 gallons chicken stock
Kosher salt
1 cup fresh ground black pepper
1 pint thistle honey
1 pint Barolo vinegar
3 quails
3 sprigs rosemary
1 bulb garlic
1 pint extra virgin olive oil, Ligurian
Directions:
Dice onions, peel garlic, cut leeks, grate Parmesan, debone quail, and mix honey, vinegar and black pepper in a sauce pan and simmer. (20 minutes)
Heat a saucepan. Add a piece of butter. Sear the rice but don't allow color. Add onions; stir. Deglaze with wine. Season rice, then add leeks and chicken stock. Continue to stir and add chicken stock slowly for 16 mintues. The total cook time will be 18 minutes for the rice. Once rice is cooked, taste and season. Add cream, Gorgonzola, Parmesan and butter and allow to rest. During risotto cook time I will cook the quail with garlic, rosemary. (20 minutes)
Finish quail in the oven and baste with butter.
Plate dish. (5 min)
Vitello Tonnato
It is a Piedmontese classic. It is a traditional recipe I learned living there for over two years.
Ingredients:Beef
1/2 eye of round Piedmontese
1 crovac bag
Salt and pepper to taste
A drizzle of olive oil
Tonnato sauce
1 can of albacore tuna
2 ounces anchovy filet
2 ounces white anchovy
2 ounces capers
2 ounces cornichons
2 ounces pickled onions
The juice of 3 lemons
1/2 ounce black pepper and more to taste
4 ounces aioli or mayo
Tabasco to taste
Salt to taste
Crispy egg
6 duck eggs
Salt to taste
Vinegar splash
Water to fill
Flour to coat
Egg to coat
Breadcrumbs, blitzed, to coat
Directions:Beef
Crovac Piedmontese eye of round. Cook at 130 degrees for 24 hours. Shock in ice bath until completely chilled. Remove from bag and season with salt and pepper. Sear in a hot pan until entire eye is caramelized. Cool beef. Slice on a slicer into rounds to desired thickness. Plate.
Tonnato sauce
Robot coupe canned albacore tuna until evenly fluffed. Remove tuna and place in bowl. Robot coupe anchovy, capers, cornichons, pickled onions, lemon juice, and black pepper. Add aioli or mayo and blitz to incorporate. Place mix in the bowl with tuna. Mix well. Add tabasco and salt to taste. Add more lemon, salt, and black pepper to taste.
Crispy egg
Bring salted water with vinegar to a boil. Add duck eggs. Cook for exactly 7 minutes. Immediately put in an ice bath. When chilled, peel off the shell. Roll in flour. Dip in beaten egg. Roll in blitzed panko breadcrumbs. Deep-fry to order until golden brown. Cut in half. The yolk will be runny.
Dress some arugula leaves with olive oil, salt, and pepper.
Place on top of presliced and plated beef. Spoon tonnato dressing into the middle of the plate. Drizzle plate with olive oil, and spinkle with black pepper. Serve.
---
Want to learn how to make pasta unique to Italy's Piedmont region? You can now use your MasterCard to make, knead, form and cut your own plin pasta with Osteria Langhe's chef and owner, Cameron Grant, and sip fine wines from beverage director and co-owner Aldo Zaninotto on Saturday, August 20 and September 17. The price is inclusive of food, drink, tax and gratuity. Be sure to book this unique experience today!