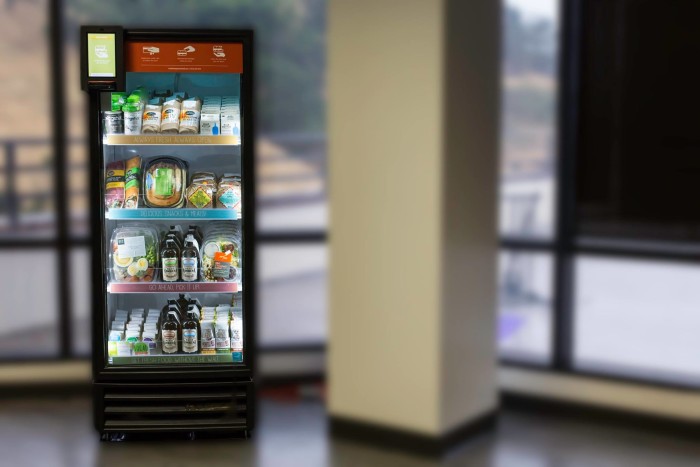 Ten startup companies have been selected as finalists at the next FoodBytes! San Francisco, according to Business Wire. The annual summit is dedicated to promoting innovation in food and beverage technology and agribusiness.

This year's lineup includes everything from cricket flour–based protein bars and "ugly produce" to vending machines for tireless office workers and seaweed-based pasta. Each presenter will have five minutes to present their ideas in front of investors and media, much like ABC's Shark Tank. Sustainable seafood is a hot topic this year, with four of the 10 pitches relating in some way to the long-term vitality of aquatic life.

According to Business Wire, the 10 companies are:

Byte helps feed office workers fresh, healthful food at any time of day by using smart refrigerators enabled with radio-frequency identification technology.

Chapul advocates for the introduction of edible insects into Western cuisine as a healthy and sustainable protein. Chapul has international distribution of an award-winning line of gourmet energy bars containing a signature protein powder derived from crickets.

HarvestPort is a shared-economy marketplace for seasonally used agricultural equipment, allowing farmers the option to save renting equipment for peak needs and earn in the off season lending idle assets.

One in five fruits and vegetables grown in the U.S. go to waste because they don't meet cosmetic standards. Imperfect Produce works directly with farmers to find a home for this "ugly" produce through a produce delivery subscription in the Bay Area. And because this produce looks a little funny, the prices are 30 to 50 percent less expensive than grocery stores.

New Wave Foods is a leader in sustainable seafood. Its mission is to create food that is healthier and better for the environment while providing ingredients for outstanding culinary experiences.

In the Hawaiian language, "olakai" means "health from the sea." With a mission of building transformative technologies to bring sustainably grown foods from our oceans to people everywhere, Olakai, Inc. also aims to enhance plant culture and cultivation in saltwater aquaponic systems.

Salty Girl Seafood was founded out of a love for the ocean and the belief that serving sustainable, traceable seafood dishes should be fun and easy. Its seafood is portioned and entirely traceable back to the fishermen or fishing community where it was caught.

Seamore has launched "I sea pasta," a 100 percent seaweed product that resembles tagliatelle pasta. Seamore aims to unlock the true potential of the world's most sustainable food: seaweed.

Guided by the belief that greenhouse growing is critical to the future of agriculture because of the pressures of climate variability, Soliculture helps reduce the capital costs associated with greenhouse growing by integrating solar technology into greenhouse roofs. With strong connections from Silicon Valley to the Salinas Valley, Soliculture is poised to aid growers in generating fresh produce and electricity — efficiently.

The Salad Bar Nutrition Company offers a new way for healthy professionals to get veggies while on the go: in a snack bar. Both of its delicious flavors, Carrot Spice and Kale Quinoa, deliver a full serving of veggies and a ton of fiber without any added sugar.

These 10 companies were selected from almost 200 applicants. Nine runner-up companies will be given the opportunity to give 60-second pitches to investors as well. There will also be an open mic session at the June 16 summit in San Francisco for startups looking for a chance to pitch their ideas. Tickets to the event can be purchased here.