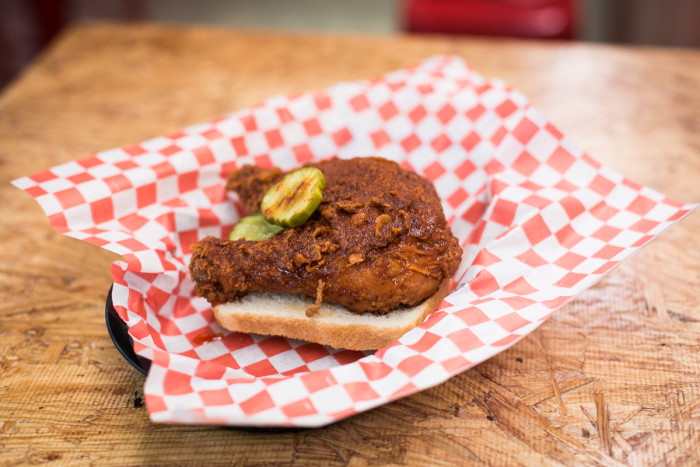 Upon first glance, the chicken seemed pretty harmless. Chef Johnny Ray Zone of Chinatown's Nashville-style hot-chicken shop Howlin' Ray's told me it was medium heat, but medium heat to him turned out to be extremely hot for me. Standing in the backyard of his Los Angeles home while his two puppies ran around, I picked up the chicken and took a bite. I anticipated it instantly burning my tongue off, but it didn't. I tasted crunchy sweetness and thought, "Okay, not too bad, I can handle hot chicken." But any hot-chicken aficionado knows the first bite is a trickster. By the time I finished it, my nose was running, I was pouring sweat and my mouth was burning. And I wanted more.

Before May 2015, I had no idea I needed hot chicken in my life. I don't think many people in Los Angeles knew, either — Zone and his wife and business partner, Amanda Chapman, included. Zone, an L.A. native who had previously worked with Thomas Keller, Gordon Ramsay and Nobu Matsuhisa, had never heard of the Nashville specialty until he began staging with Sean Brock at Husk Nashville. "I saw Sean Brock in a few different episodes of Mind of a Chef, and the way he was cooking really blew my mind," Zone says. "He really showed a different side of Southern cooking that has barely been scratched on the surface — the respect for antebellum ingredients, vegetables and beans." And so, in October 2014, Zone made his way to Husk.

Related: Watch Sean Brock Hallucinate While Eating Prince's Hot Chicken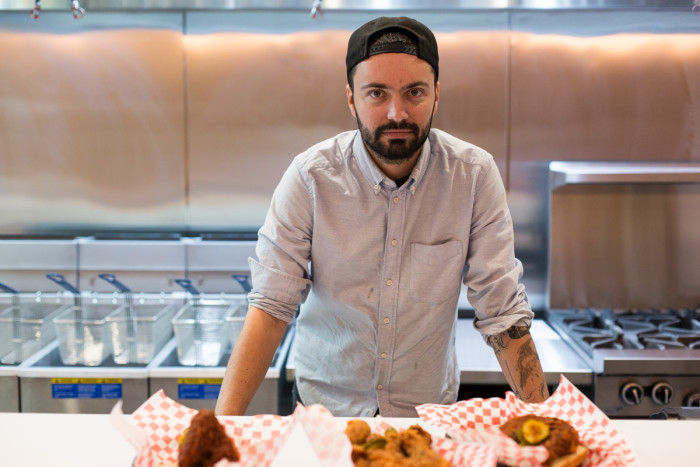 "It was like stumbling upon something that you couldn't believe you lived your whole life without," says Zone, recalling his first time eating hot chicken. "I fell in love immediately with the flavor, the heat, the people, the city — everything about it. I felt like I was high or something. I can't describe it, really. The closest thing would be pure bliss."
After his time at Husk, Zone went back to Los Angeles, but the hot chicken left a mark on him. While talking about it with a friend from Nashville, he decided to bring hot chicken to L.A. And not just any hot chicken, but proper, authentic hot chicken. Soon after that, Zone and Chapman went on a chicken tour through Nashville, eating as much as any human can from places like Prince's, Hattie B's and 400 Degrees.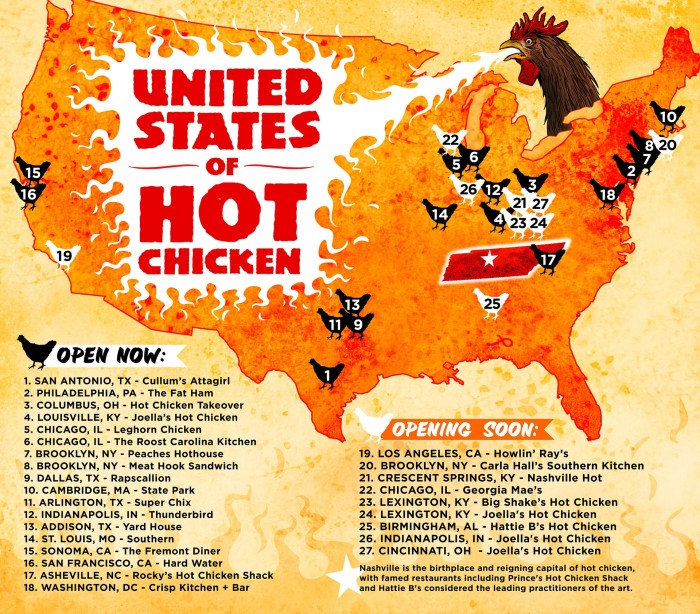 That was the easy part. The tough part was introducing a totally new concept to an already overwhelmed market like Los Angeles, so instead of trying to open a restaurant, Zone thought a food truck would be a good first step. "We wanted to do it our way, without any outside restrictions or influences. It was very difficult to pull it off on the truck logistically, but ultimately I know it was the right choice. It was the platform we needed to get things rolling." Then there was the product. Do you tweak the recipe to cater to L.A. taste buds? The answer was clear. "We kept it authentic and never tried to make it more accessible. We felt it had to be real Nashville hot chicken or it wasn't worth doing."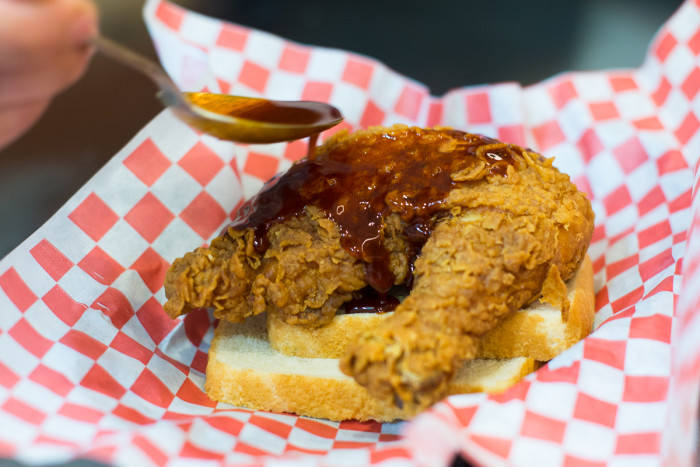 After months of research, taste-testing, and getting feedback, they finally rolled out their truck in June 2015. Even before the debut, there was already a lot of buzz around Howlin' Ray's, and after the debut, business just took off. "Luckily, people loved it and we were able to grow quickly enough to open up our shop in Chinatown this year. I think that L.A. genuinely loves fried chicken, so when we came along and introduced this new variety that many of the people here had never tasted, it was really exciting."
"Our goal was to do Nashville proud, and I hope we've accomplished that so far," says Zone. And it seems that Nashville is proud because Kim Prince of the Prince's Hot Chicken family gave her blessing, and Aqui Hines of 400 Degrees has been supportive by giving critiques and feedback. "We have just been really blessed to have lots of amazing people support us on this entire journey, and we have so much gratitude. We couldn't ask for anything more."
Howlin' Ray's
727 N. Broadway, #128
Los Angeles, CA 90012
(213) 935-8399
Open Wednesday through Sunday, 11 a.m. to 4 p.m.