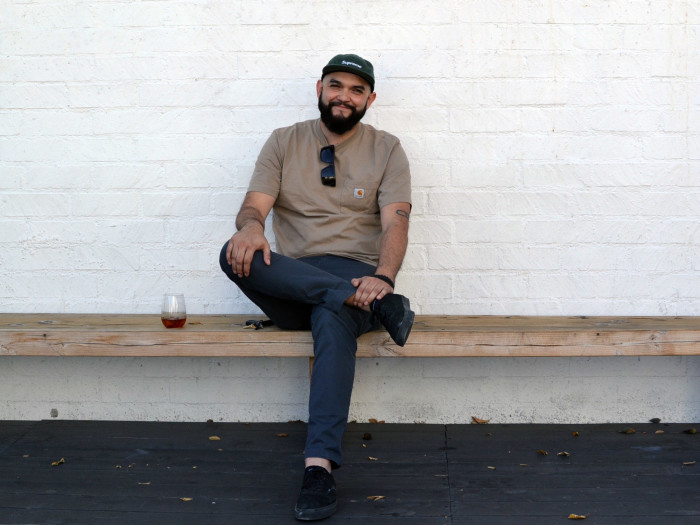 Koreatown has become one of L.A.'s most exciting eating neighborhoods, with regional cooking and specialty restaurants devoted to ingredients like duck, soondae and small intestines. However, K-town hasn't been able to land many cutting-edge non-Korean concepts. Enter chef Jonathan Whitener, who served as Jon Shook and Vinny Dotolo's chef de cuisine for three years at Animal and has embarked on a unique culinary path.
Whitener and business partner Lien Ta, who was a front-of-house manager during his Animal days, are opening Here's Looking at You, bringing Asian-Latin fusion to Koreatown this month, and they aren't shying away from the "fusion" aspect of it. Whitener comes from a mixed background, with a German father, an Army brat who was mainly raised in South Carolina, and a mother who hails from Guadalajara, Mexico. He was also raised at an international crossroads, near both the center of Little Saigon, Orange County's Vietnamese mecca, and a Japanese hotbed in Huntington Beach. The CIA grad previously worked at Craft in L.A., Marché Moderne in Costa Mesa, and for Mauro Colagreco at Mirazur, a two-Michelin-star restaurant in Menton, France, before joining Shook and Dotolo in SoCal.
Whitener and I met recently at Document Coffee, a K-town coffee bar down the street from their restaurant, which was still under construction. Whitener was wearing a Supreme hat and a thick black beard and was joined by Lien Ta, his petite Vietnamese-American business partner, who's like a sister to Whitener at this stage but still figured she might learn something. Learn more about his diverse culinary influences and plans for Here's Looking at You in the latest FR Interview.
What have you gotten out of trips down to Guadalajara, in terms of culinary education?
A lot. If you compare Mexican food to what people say about Italian food…they're both very regional. Where my mom's from, birria's a big thing. I can cook a pretty mean birria because of my family taking me to various places. For a big soccer game, my uncle is famous for making his goat birria.
Will you have a version of birria on the menu?
No, but I used to do a version of it on Animal's menu.
How would you describe the food that you'll be doing at Here's Looking at You?
The food that we'll be doing is an expression of everything, from me being French trained. I grew up in a large ethnic community. Especially in L.A., being surrounded by everything, I find it hard to categorize the cuisine. It's fusion food, but what food isn't in Los Angeles? It's a lot of French technique incorporating a lot of flavors that I know: Southeast Asian, Vietnamese, Mexican and Latin American.
So you don't think "fusion" is a dirty word?
I can't think of a restaurant in this city that's not a traditional restaurant that's not fusion somehow.
Did you do anything else for a living leading up to cooking?
I've been in the kitchen since I was 13. In high school I used to deal in vintage midcentury furniture, but for the most part it's always been cooking.
Will the midcentury furniture experience inform the aesthetic at the restaurant?
Yeah, quite a bit. Lien and I are designing the place ourselves.
When and where did you first start cooking professionally?
I used to cook at this place called the Californian in the Hyatt Hotel in Huntington Beach. I started off there like a little prep guy. They made me peel stuff all the time and finally gave me a chance. I made pastries for three to four years. From there, I took a really big liking to cooking and decided, "This is something that I could do for a career."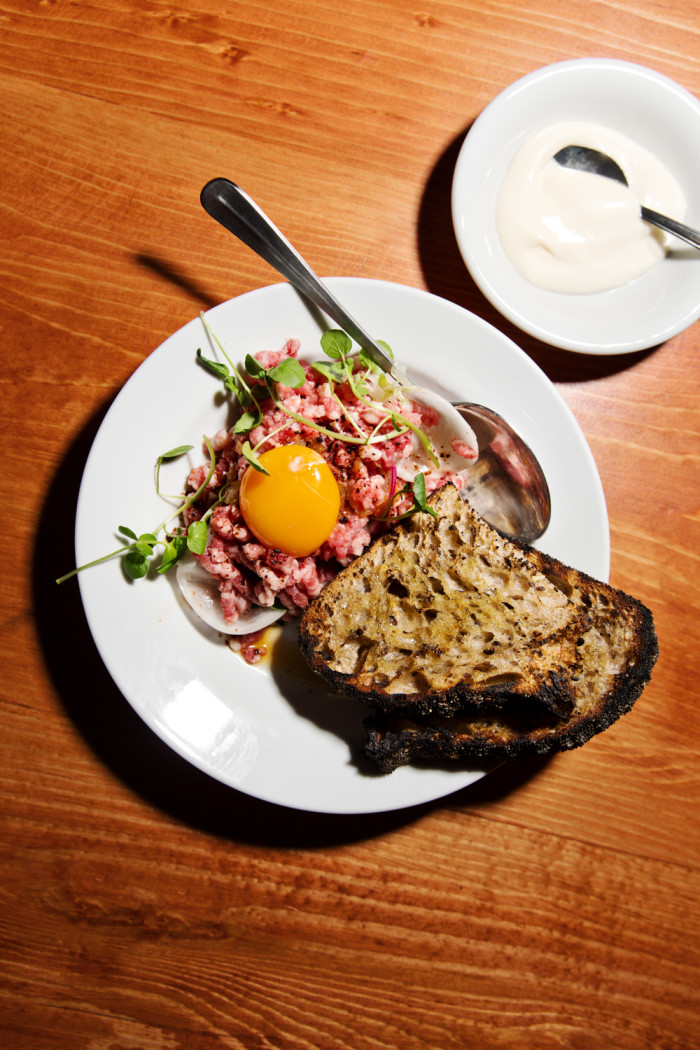 Who are the people that have had the biggest impact on your culinary outlook, and what did they teach you?
I can think of four. Chef Matt Accarrino, when I was at Craft, really honed me on my technical skills and learning new ingredients. He taught me to be a very serious cook. He made me cutthroat, too, tougher as a line cook.
Mauro in the south of France taught me a lot about really being a leader. I was chef de partie there and had a team of people that I worked with, so it helped mold me into learning how to run a group.
Jon and Vinny pretty much taught me how to be a chef, how to run a restaurant, gave me a lot of creative freedom and taught me how to develop a menu. They helped round me off and taught me how to open a restaurant.
Why is this the best time to open a restaurant?
We're going to be a crucial part of the people who take K-town into the future. For the most part, it's mainly just traditional Korean food in this part of the city. On the other hand, it gives us this opportunity to bring something non-Korean to this area, help fill it out and give people something new.
How will being in Koreatown influence your menu?
I don't think I'm going to be taking too much from Koreatown. I'm going to try and stay as much away as we can from using too many Korean ingredients. I'll focus more on South American, Japanese and Latin American flavors…. I don't want to use things in the food that you can get down the street.
Your connection to Mexican food is pretty clear. Where does your connection to Japanese cooking come from?
From growing up in Huntington. I had tons of Japanese friends. Hanging all the time at their houses and eating it there. A lot of the friends I had in high school were first-generation Japanese kids. Their parents came to the States. One friend in specific, his dad worked for Benihana, and his job was to train all the sushi chefs on the West Coast. He got me into Japanese food and would teach me things. I got really into it because the flavors were super-clean. Mexican food — especially where my family's from — tends to be really heavy.
Where do you like to shop for Mexican and Asian ingredients in L.A.?
If I need Japanese things, I like going to Marukai or Mitsuwa to find offshoots of little condiments. For Southeast Asian things, I like to go to LAX-C or A-Grocery in Silver Lake. Most of the Latin stuff, you can buy at almost any grocery store. I tend to go to La Oaxaqueña off 8th. They have pretty high-quality dried chiles and piloncillo paste. It's dark caramelized cane sugar. I like to get the ones that are a season behind, right after summer. That way they're really caramelized. It has a really deep, rich flavor.
What are the menu categories at your restaurant? How are you looking for people to experience your food?
There really won't be any categories. We will pretty much have our menu from the cheapest to most expensive dish and have servers train people to walk through things. There will be a lot of vegetable dishes and a lot of proteins, each one executed in different ways. We're going to be doing two different types of grills at the restaurant: a regular smoke-assisted grill and a hibachi to do smaller items at higher heat.
What kind of smoke will you incorporate?
We'll be doing a mix of mesquite and hickory. I'm working on a smoked hen dish now.
How would you say working for Jon and Vinny at Animal affected your cooking style?
Jon and Vinny definitely helped me cook for an L.A. crowd. I got so stuck in cooking traditional French food. Early on, Vinny would say, "Don't forget, we're feeding the American public. Don't be afraid to do something common." My food was kind of pretentious when I was younger. They helped me to rein it in and serve the public really tasty food.
In what ways do you and Lien complement each other as partners? How did this partnership come about?
First of all, when we met, we hated each other. We despised each other. We grew to love each other after a while. At this point, Lien's one of the best people I know in my life…. Now it's like family. On both ends, we have our strengths…Lien's very positive. I can be negative sometimes, and she helps bring me up.
What's the collaboration like with you and Lien, not just the menu, but also the aesthetic, the vibe? What are you shooting for?
We both think alike on what we want a restaurant to be. It's got to be an extension of us. We want the dining room that's really wacky, that's us. It's very simple, but also very complex at the same time. Lien said it best: "It has to feel sexy." You want people to hang out and stay here. That's what we shot for. It came out pretty well.
How did you decide on the name Here's Looking at You? Who's the major Casablanca fan, or is there another inspiration?
Traditionally, it's a toast. I'm a big tiki fan, and Lien had a thank-you card she was going to send me, a tiki card.
Lien Ta: It had a little tiki girl on it. It said, "Here's looking at you."
Whitener: We almost named it Jacaranda.
Ta: One of our investors thought it was an amazing idea. It was just a placeholder name because the jacarandas were in bloom.
If somebody wants to work at Here's Looking at You, what are the attributes they have to have?
The people I have coming on board, I've known for the past three to four years from other restaurants and from working at Animal. They have to be very, very professional, but also need to know how to have fun. I don't want it to be super-serious. They have to have a good repertoire and know — "I need you to do this" — I need to be able to walk away and not worry about it. It's really not going to be the type of restaurant where I need to be building a cook from the ground up and train them… I don't have time for that.
What are a few dishes that you're pretty sure are going to make the cut?
Things like our beef tartare that we've done in testing has always been everyone's favorite. People seem to be really tight on my salads and my seasonal stuff. Again, I do weird things. Like Cara Cara oranges with avocado, nori paint, dukkah, and fennel. Things that are harsh and bright and have these tie-ins. "Why is there wakame?" Just fucking eat it and you'll see it makes sense. I always do things that are classically good. There's just that one weird thing that people aren't expecting that ties it all together.
What is the dessert program like?
The dessert program is going to be very classical. I don't like funky desserts, although we will make a lemon yuzu tart that's going to have some white chocolate on it, and some coal toasted meringue. Simple.
If you were going to choose a couple of songs that best represent Here's Looking at You, and that might be playing when I walk into the door, what would those be?
I can't say songs. I can say artists. I just made a new playlist yesterday. You're going to hear things like Otis Redding and Smokey Robinson and even things like the New York Dolls and the Smiths. Very fun, thoughtful music will be playing.