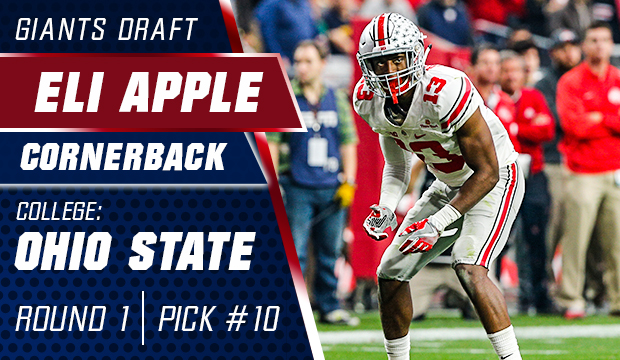 There are always a couple of certainties at the annual NFL Draft. Commissioner Roger Goodell will undoubtedly be harassed mercilessly throughout the evening. New York Jets fans will lustily boo all night long…regardless of the team's picks. And apparently — new this year — eligible college players must be able to cook in order to maintain their high-pick status. That's right, cook — "to prepare food for eating," as Merriam-Webster so eloquently defines it.
This particular controversy arose during the past week, as an anonymous NFL scout voiced these concerns regarding Ohio State cornerback Eli Apple: "I worry about him because of off-the-field issues. The kid has no life skills. At all. Can't cook. Just a baby. He's not first round for me. He scares me to death." Yes, that was printed for all to see during pre-draft coverage.
Cook? Cook? Has that seriously become a legitimate criteria for potential first-round selections nowadays? Quickly springing to Apple's defense, fellow Buckeye Ezekiel Elliot — drafted last night fourth overall by the Dallas Cowboys — defended his former college teammate on Twitter:
Eli has made me some fire fried chicken and mac and cheese. The source seems to be pretty unreliable 😂😂

— EzekielElliott#⃣1⃣5⃣ (@EzekielElliott) April 27, 2016
I guess we're happy to shamelessly share with Apple — and all our readers — a link to our extensive on-site recipes section, while we're discussing.
As the newest member of the New York Giants, who were apparently unconcerned with his lack of acumen in the kitchen and ultimately made him the 10th overall selection in the draft, Apple will line up on defense across the likes of Dominique Rodgers-Cromartie and the newly signed Janoris Jenkins this season. No word yet on whether he is planning to head up a rookie-cooked dinner, but we'll keep you posted.