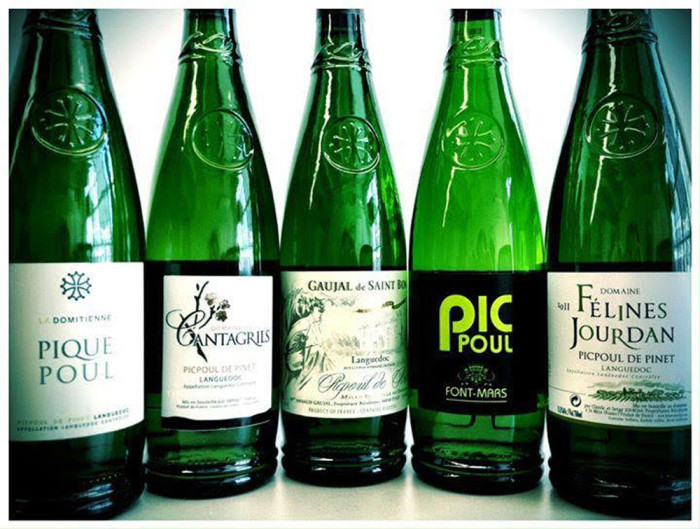 The two wines sitting before us, in the dining room of a 15th-century house in the Languedoc region of the South of France, look very, very different — but they are made from the same grape, by the same winemaker. They are Picpoul de Pinet, the only white wine appellation in this hot, sunny part of France, and a delicious and affordable alternative to Chablis when you're craving a mineral white to pair with seafood. Even the bottle shape is the same: A very recognizable, sexy curve is the hallmark of the "Neptune" bottle that the Picpoul appellation designed for itself, in order to stand out among the world's many more well-known white wines. But one of these wines has been aged underwater for six months. This is going to be a very interesting tasting, we know.
Piquepoul — that's the actual name of the grape, but I won't use it again since it's confusing that it has two spellings — is only grown in this tiny appellation of Pinet (pronounced with or without the "t," depending on whom you ask), but it's fairly easy to find in the U.S. Every time I pop a bottle I'm amazed at how elegant, bright, and mineral it is — especially considering that it costs all of $13, usually. I'm something of a wine connoisseur, so it's normally difficult for me to enjoy average, lower-priced bottles. Most of them are made in veritable wine factories that churn out millions of bottles each year, with no respect to quality or tradition. But with Picpoul de Pinet, this is not the case. The wine is well made, even when it's produced by one of the cooperative wineries. In fact, it rivals one of the world's most beloved — and expensive — white wines, the Chardonnay-based Chablis. I dare say that a $13 Picpoul, tasted beside a $20 Petit Chablis (the lowest classification in that region), can be equally nuanced, delicious and food-friendly.
Despite this, Picpoul and the broader region of the Languedoc are not appellations that most wine lovers geek out over. Unlike white Burgundy, or Loire Valley Chenin Blanc, poor Picpoul doesn't have sommeliers devoted to tooting its horn endlessly. But the terroir of the Languedoc is excellent, with wild herbs growing all over the place. And the climate is ideal for quality wine, with consistent sun for good ripening, and strong winds preserving the acidity of the grapes. Yet Picpoul is considered a humble white wine. And that might be partly why Julie Bineau, a young winemaker who has taken over the domaine (that's French for "wine estate") from her father, decided to brave the literal waters of experimentation.
Her underwater-aged Picpoul is a deep shade of gold, compared to the pale, barely yellow wine beside it made from the same grape, the same vineyards. It has a wax cap, a symbol of artisanship — winemakers apply a wax cap by hand to very special bottlings. For this one, only seven barrels were made, and for the same reasons, the bottle is a slightly smaller size, at 500 mL, as opposed to the usual 750 mL. "This is a special approach," explains Bineau, who is very blasé about how fascinating underwater aged wine is. Of course, she's aware that it's been attempted in a few other places — California's Napa Valley and Portugal, for example. But we have never tasted one of these wines. Bineau explains the process: When the fermentation finishes, the wine is moved from tank into barrels, and then lowered into the Mediterranean sea in an oyster cage where it stays in motion, rocked by the soft waves, for eight months. It's appropriate that an oyster cage is used here. Picpoul grows on soil that is rich in limestone and sand deposits, and there are oysters growing everywhere.
So, you're probably wondering: How did the underwater aged wine taste? On the nose, it was powerfully aromatic, like a fruit bowl of peaches, strawberries and bananas. The oak aging was somewhat noticeable, but most of the wine was salty, like saltwater taffy you ate at the beach as a kid. In comparison, the Bineaus' traditionally made Picpoul displayed all the "typicity" of the grape — meaning, it tasted like it's supposed to. Fresh flowers, lemon on the nose, followed by refreshing minerality and mouthwatering acidity on the palate — does that not sound like the perfect wine to drink alongside oysters? Well, it is.
Along with Bineau's wines, there are several other Picpoul de Pinet options available in the United States. They are excellent alongside all manners of seafood, or just for some afternoon sipping on a warm day. Try one, nicely chilled, and you might be swayed to give up your Chablis habit. Your wallet certainly won't mind. Here are six to try: